USD Law Alumnus Brian Peck '88 (JD) Appointed GO-Biz Deputy Director of International Affairs and Business Development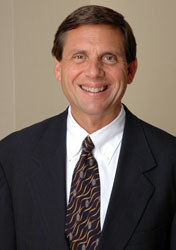 Sacramento, Calif. (August 15, 2013) – California Gov. Jerry Brown today appointed University of San Diego School of Law alumnus Brian Peck, '88 (JD), deputy director of international affairs and business development at the Governor's Office of Business and Economic Development (GO-Biz).
Peck has been policy director at the Internet Corporation for Assigned Names and Numbers since 2011 and a lecturer in law for international trade policy at the University of Southern California Gould School of Law since 2009. He was an adjunct professor of international intellectual property at the Chapman University School of Law in 2010, registrar liaison manager at the Internet Corporation for Assigned Names and Numbers from 2009 to 2011 and an attorney in private practice from 2008 to 2009.
Peck served as counsel for international trade and intellectual property at Crowell and Moring LLP from 2005 to 2008 and held multiple positions in the Office of the U.S. Trade Representative, Executive Office of the President from 2001 to 2005, including senior director of intellectual property and director of Japanese affairs. He was a general international attorney at the U.S. Department of Commerce, Office of the Chief Counsel for Import Administration from 1998 to 2001 and import department manager at FOR-A Company, Limited in Tokyo from 1992 to 1995.
Peck was general manager of the Employees' Welfare Association at the American Embassy in Tokyo from 1988 to 1992 and director of Far East operations at Wine Exports International from 1986 to 1988. He has served as co-chair for international trade policy at the Los Angeles Area Chamber of Commerce Global Initiatives Council since 2008.
Peck graduated Order of the Coif and received his law degree, cum laude, from the University of San Diego School of Law, where he served as a member of the San Diego Law Review. He received his B.A. from the University of California at Berkeley.
The deputy director position does not require Senate confirmation and the compensation is $110,004.
About Go Biz
The Governor's Office of Business and Economic Development (GO-Biz) was created by Governor Edmund G. Brown Jr. to serve as California's single point of contact for economic development and job creation efforts. GO-Biz offers a range of services to business owners including: attraction, retention and expansion services, site selection, permit streamlining, clearing of regulatory hurdles, small business assistance, international trade development, and assistance with state government.
About the University of San Diego School of Law
Recognized for the excellence of its faculty, curriculum and clinical programs, the University of San Diego (USD) School of Law enrolls approximately 900 Juris Doctor and graduate law students from throughout the United States and around the world. The law school is best known for its offerings in the areas of business and corporate law, constitutional law, intellectual property, international and comparative law, public interest and taxation.
USD School of Law is one of the 81 law schools elected to the Order of the Coif, a national honor society for law school graduates. The law school's faculty is a strong group of outstanding scholars and teachers with national and international reputations and currently ranks 23rd worldwide in all-time faculty downloads on the Social Sciences Research Network (SSRN). The school is accredited by the American Bar Association and is a member of the Association of American Law Schools. Founded in 1954, the law school is part of the University of San Diego, a private, nonprofit, independent, Roman Catholic university chartered in 1949.