USD School of Law Alumni, Faculty Named 2013 San Diego County Top Attorneys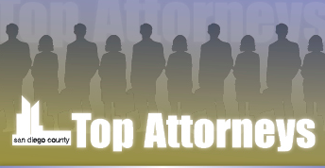 San Diego (July 31, 2013) – The San Diego Daily Transcript announced today its annual list of San Diego's "Top Attorneys." Among the 2013 list of 151 outstanding San Diego attorneys, alumni and employees from the University of San Diego (USD) School of Law captured 42 spots: 40 law school alumni, one law school professor, and one law school administrator.
The Daily Transcript conducts a peer voting process to determine the best lawyers in private, corporate, academic and government practice in San Diego County in key categories selected to represent the main areas of law practiced in San Diego County. Eligible are lawyers in good standing with the California State Bar who live and work in San Diego County.
USD School of Law Alumni "Top Attorneys"
Bing Ai, '02 (JD)
Fausta Albi, '96 (JD)
Kevin Alexander, '94 (JD)
Judy Bae, '02 (JD)
Jeff Baird, '98 (JD)
Sandra Brower, '78 (JD)
Michele Brown, '94 (JD)
Matthew Butler, '98 (JD)
Richard Carpenter, '84 (JD)
Charles Christensen, '73 (JD)
Ben Coughlan, '12 (JD)
Charles Fanning IV, '05 (JD), '06 (LLM)
Robert Francavilla, '83 (JD)
Allison Goddard, '00 (JD)
Erika Hiramatsu, '97 (JD)
Traci Hoppes, '92 (JD)
David Huffman, '76 (JD)
Danielle Humphries, '00 (JD), '01 (LLM)
Michelle Ialeggio, '04 (JD)
Jerilyn Jones, '84 (JD)
Lynne Lasry, '79 (JD)
Jack Leer, '96 (JD)
Randal Lejuwaan, '99 (JD)
Marty Lorenzo, '96 (JD)
Sharon Mehlman, '98 (JD)
Brandon Meyer, '08 (JD)
William Naumann, '80 (JD)
Paul Neuharth, '89 (JD)
Karl Rand, '90 (JD), '99 (LLM)
Joshua Richman, '05 (JD)
Kristin Rizzo, '06 (JD)
Brian Seltzer, '77 (JD)
Andrew Serwin, '95 (JD)
Ronson J. Shamoun, '98 (BA), '02 (JD), '03 (LLM)
Walter Spath III, '95 (JD), '96 (LLM)
Cynthia Stratton, '96 (JD)
Jason Thornton, '96 (JD)
Stacey Tyree, '07 (JD)
Sandra Wagner, '77 (JD)
David Wiggins, '02 (JD)
USD School of Law Faculty "Top Attorney"
Frank Partnoy, the George E. Barrett Professor of Law and Finance and 
co-director of USD's Center for Corporate and Securities Law
USD School of Law Administrators "Top Attorney"
Julie Remer, Assistant Director, Law Office for Career and Professional Development
About the University of San Diego School of Law
Recognized for the excellence of its faculty, curriculum and clinical programs, the University of San Diego (USD) School of Law enrolls approximately 900 Juris Doctor and graduate law students from throughout the United States and around the world. The law school is best known for its offerings in the areas of business and corporate law, constitutional law, intellectual property, international and comparative law, public interest law, and taxation.
USD School of Law is one of the 81 law schools elected to the Order of the Coif, a national honor society for law school graduates. The law school's faculty is a strong group of outstanding scholars and teachers with national and international reputations and currently ranks 23rd worldwide in all-time faculty downloads on the Social Sciences Research Network (SSRN). The school is accredited by the American Bar Association and is a member of the Association of American Law Schools. Founded in 1954, the law school is part of the University of San Diego, a private, nonprofit, independent, Roman Catholic university chartered in 1949.