Business Law Society Champion Phil McGill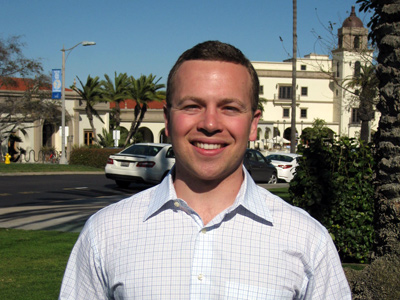 San Diego (March 12, 2013) – Phil McGill, '13 (JD), often seems to have an inside track on what's happening. Just consider the title of his award-winning paper, written in 2008 when he was a junior at UC Irvine: "The Increasing Threat of Global Financial Crises."
After graduating with a political science major and a minor in accounting, McGill started his own accounting consulting practice and advised small business owners on accounting and business planning issues. (He had first worked as a personal assistant to a Bakersfield entrepreneur, but things quickly evolved from there.) Although his business was very successful, McGill came to realize that he wanted to expand his skill set and advise clients about the legal matters that affected their businesses.
McGill was accepted to several good law schools. He wanted a good school with a sense of community, an excellent faculty and a strong business and tax program. While mulling over options in California, McGill emailed Professor Frank Partnoy: "I'm debating where to go to law school. Can I meet with you?" They did meet, and Profressor Partnoy talked to McGill for about 20 minutes. "We had a lot of interests in common. Then he apologized and said he had to go because a senator was on the line waiting to speak with him. I was sold."
But when McGill arrived at USD, he was disappointed to learn that the Business Law Society no longer existed. "I'd really been looking forward to getting involved in BLS. Then I decided this was my chance to take charge, build my profile, and bring benefits to other students as well." As president, McGilll moved to revitalize the reconstituted society, which now has the largest membership of any at the law school. "I wanted BLS to be informative and relevant. Many first-year students, including myself at the time, don't even know the difference between transactional practice and litigation; they don't know what jobs to apply for if they're interested in business law, or what internships would make the most sense for them. We try to provide mentoring and informational programs to address those needs." In the spring of 2012, McGill's hard work for the Business Law Society won him the USD School of Law Enhancement Award for his work to improve and enrich the USD School of Law community. Others also took notice of his efforts: he was awarded the Michael A. Connor Horizon Law Group Scholarship for interest and proficiency in business law.
In 2013, McGill served on BLS's advisory board, with second-year students taking on the leadership positions. "Creating continuity is very important, and we don't want the organization to die once the founders graduate. It's key to ensuring BLS stays relevant to USD and the San Diego community at large." McGill is excited about BLS's newest venture, California Business Practice, a student-managed online magazine which feautures practical articles by students, faculty and alumni on current issues in business law of immediate interest to practicitioners.
McGill credits his high school wrestling with teaching him about perseverance. (Be sure to ask him what he thinks about the recent International Olympic Committee decition to eliminate wrestling from the 2020 games!) Though he doesn't wrestle anymore, McGill occasionally coaches, and he stays physically active through weightlifting and participation in intramural flag football and softball. He worked part time as an intern for Cooley LLP and as a research assistant for Professor Mark Lee's treatise, Organizing Corporate & Other Business Organizations. Additionally, he worked as the Academic Success Program learning assistant for Professor Kelly's Contracts class. "I'm bothered when people limit themselves by thinking they can't do things. It's incredibly rewarding to help the first-years gain perspective and share with them all that I've learned about how to do well in law school."
About the University of San Diego School of Law
Recognized for the excellence of its faculty, curriculum and clinical programs, the University of San Diego (USD) School of Law enrolls approximately 900 Juris Doctor and graduate law students from throughout the United States and around the world. The law school is best known for its offerings in the areas of business and corporate law, constitutional law, intellectual property, international and comparative law, public interest and taxation.
USD School of Law is one of the 81 law schools elected to the Order of the Coif, a national honor society for law school graduates. The law school's faculty is a strong group of outstanding scholars and teachers with national and international reputations and currently ranks 23rd worldwide in all-time faculty downloads on the Social Sciences Research Network (SSRN). The school is accredited by the American Bar Association and is a member of the Association of American Law Schools. Founded in 1954, the law school is part of the University of San Diego, a private, nonprofit, independent, Roman Catholic university chartered in 1949.