Tyler Krentz Wins 2013 Paul A. McLennon, Sr., Honors Moot Court Competition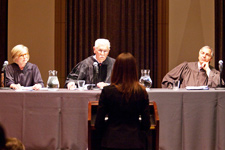 San Diego (February 27, 2013) - University of San Diego (USD) School of Law second-year student Tyler Krentz won the 10th Annual Paul A. McLennon Sr., Honors Moot Court Competition.
Held at the university's Joan B. Kroc Peace & Justice Theatre, the annual intramural event provides USD law students an opportunity to develop their brief-writing skills by testing them in an open and rigorous competition. After filing a written brief, participants are given 15 minutes to argue their positions in the first round, and 20 minutes to do so in the semi-final and final rounds. Semi-finalists are required to argue both sides of the issue as they advance in the competition.
In this year's fictional case, Prescott v. Gerard, Jordan Gerard sued petitioner Angela Prescott, claiming that the petitioner defamed the respondent in a post written on the petitioner's blog titled "Lawyers Love Laughter (LLL). Second-year law student Tyler Krentz argued for the petitioner (Prescott). Patrick Mulkern, also a second-year student, argued for the respondent (Gerard).
The final round oral argument was presided over by the Honorable J. Clifford Wallace, Senior Circuit Judge, U.S. Court of Appeals, Ninth Circuit; the Honorable Louisa Porter, Magistrate Judge (ret.), U.S. District Court, Southern District of California; and the Honorable Alex McDonald, Associate Judge, California Court of Appeal, Fourth District.
After both finalists finished their arguments, the judges deliberated and announced Krentz as the winner. In their remarks, the judges agreed that both students were excellent advocates for their respective sides and it was an extremely difficult decision. One judge commented that it was one of the best moot court arguments he has seen.
The Paul A. McLennon, Sr., Honors Moot Court Competition provides an opportunity for students to develop their brief writing and advocacy skills and to test these skills in an open, rigorous competition. Organized by the Appellate Moot Court Board, the competition consists of several primary rounds, culminating in the final round argued before a distinguished panel of judges. This competition was established by USD Professor-in-Residence Michael Devitt to honor longtime family friend, attorney and naval officer, Paul A. McLennon, Sr.
2013 McClennon Results
Winner: Tyler Krentz
Second place: Patrick Mulkern
Semifinalists: Cathy Huang and Nick Johnson
Best Oralist:
Alex Aronov
Catherine Huang
Natalie Rogers
Dan Taskalos
Best Petitioner Brief:
Yangkyoung Lee
Alex Aronov
Tim Oster
Catherine Huang
Best Respondent Brief:
Ashley King
Natalie Rogers
Dan Taskalos
Tiffany Smith-Nguyen
About the University of San Diego School of Law
Recognized for the excellence of its faculty, curriculum and clinical programs, the University of San Diego (USD) School of Law enrolls approximately 900 Juris Doctor and graduate law students from throughout the United States and around the world. The law school is best known for its offerings in the areas of business and corporate law, constitutional law, intellectual property, international and comparative law, public interest and taxation.
USD School of Law is one of the 81 law schools elected to the Order of the Coif, a national honor society for law school graduates. The law school's faculty is a strong group of outstanding scholars and teachers with national and international reputations and currently ranks 23rd worldwide in all-time faculty downloads on the Social Sciences Research Network (SSRN). The school is accredited by the American Bar Association and is a member of the Association of American Law Schools. Founded in 1954, the law school is part of the University of San Diego, a private, nonprofit, independent, Roman Catholic university chartered in 1949.