Sam Laughlin, 'Motions' Editor-in-Chief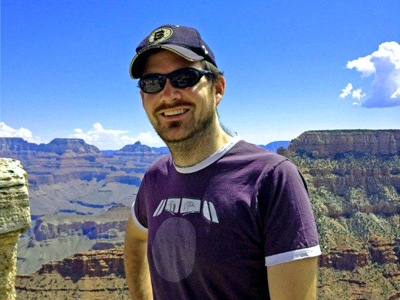 San Diego (March 8, 2013) – Sam Laughlin, '14 (JD), has been working hard to bring "Motions," the law school newspaper, into the computer age.
"When I took over as editor-in-chief," Sam explained, "the paper was in debt, due in part to high printing costs." There are other advantages besides cost-savings to making the move to electronic form, Laughlin explained, "We can get a story written, approved and ready to go in about a week, and this keeps our news current."
The newspaper will still publish a few hard copy issues a year. "Some students seem to prefer the paper issues, while others like the move to an online form. We need to find ways to get our students in the habit of checking the online paper on a regular basis. One way we're doing this is to start a new feature—a classified ad section—that I think students will really like, sort of an electronic Craigslist for USD law students where they can find apartment listings or carpool information or used law books for sale. We hired someone to help us design the new section, and we had to get the university's lawyers to approve it."
Laughlin's interest in journalism started when he was a boy growing up in Birmingham, Alabama. He liked drawing cartoons and thought it would be fun to work as a newspaper cartoonist when he grew up. His aunt introduced him to the cartoonist for the Birmingham News, who convinced him that this was not a good career choice because there are so few jobs available. Laughlin just continued with cartooning as a hobby, and it was as a cartoonist that he began work at "Motions" in his first year.
Another of his passions, which he pursued as an undergraduate, was film. "I worked in L.A. for several years after graduation, moving from project to project until finally realizing that film just wasn't turning into the fulfilling career I had hoped."
Fortunately, Laughlin had a backup interest: law. His aunt (the same aunt who introduced him to the cartoonist) is a judge, and he has been around lawyers all his life. Then, too, his work in the entertainment industry naturally led him to consider entertainment law as a possibility. "I know that entertainment law is a narrow field, and there aren't likely to be lots of job openings, but I'm passionate about the issues, and I'm going to give it a try." Sam clerked for a federal judge in Alabama after his first year of law school and also worked for his aunt in order to get experience. Not surprisingly, considering his interests, Sam especially enjoyed his Art Law class with Professor Lazerow; Professor Ramirez is also a favorite: "I think she reminds me of my aunt, smart and grounded in the real world."
Laughlin has additional plans for the future of the paper. "I already have excellent assistant editors who cover national, local, and law school news, and we have a blogger as well. What I really need now is to find more writers, and I'm also looking for someone to help with web design. This is an exciting time for students to get involved with the big changes happening at 'Motions.'" The vital role of the press in a free society is a topic Sam can be eloquent about, and he points out that the role of the press in the smaller world of the law school is important, too. "The press needs to be there watching things. We need to be on top of the stories, getting at the truth before the gossip mill takes over."
About the University of San Diego School of Law
Recognized for the excellence of its faculty, curriculum and clinical programs, the University of San Diego (USD) School of Law enrolls approximately 900 Juris Doctor and graduate law students from throughout the United States and around the world. The law school is best known for its offerings in the areas of business and corporate law, constitutional law, intellectual property, international and comparative law, public interest and taxation.
USD School of Law is one of the 81 law schools elected to the Order of the Coif, a national honor society for law school graduates. The law school's faculty is a strong group of outstanding scholars and teachers with national and international reputations and currently ranks 23rd worldwide in all-time faculty downloads on the Social Sciences Research Network (SSRN). The school is accredited by the American Bar Association and is a member of the Association of American Law Schools. Founded in 1954, the law school is part of the University of San Diego, a private, nonprofit, independent, Roman Catholic university chartered in 1949.