Former Marine Charles Ronan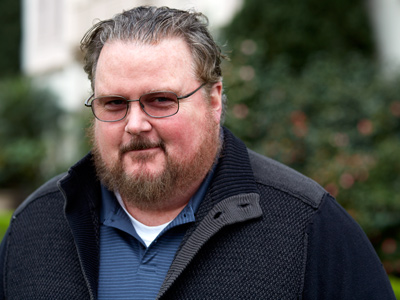 San Diego (March 8, 2013) – Classmates who know alumnus Charles Ronan, '13 (JD), will be surprised to learn that at 17, he was a shy, retiring teenager. Twenty years in the Marines changed all that.
When Ronan graduated from high school, his family didn't have the resources to send him to college, so he decided to join the Marines. Why the Marines, and not the Army or Navy? "Well, if I was going to do it, I wasn't going to do it halfway. And I liked the uniform."
After basic training, Ronan was sent to Japan for two years. "This was in the 80's, before Skype or email. I had to stand in line for hours each week to get a chance to make a 10-minute collect call to my family. The separation forced me to come out of my shell, and I began to develop as a leader, in part due to the marine philosophy that each soldier needs to be trained to take charge if necessary."
In the beginning, Ronan trained to provide water purification, and also electricity and plumbing, to a landing force. "Interestingly, my knowledge of how to provide drinkable water is now pretty much irrelevant: the marines can just bring in a pallet of Avion." Charles has seen many other changes over the years, remembering that when he was stationed at El Toro in Orange County, there were still orange groves along the 5/405 split.
In the course of his 20-year service, Ronan played many different roles: he underwent harsh training at Camp Lejeune in North Carolina ("I'm glad I went there for all the presure and responsibility I learned to handle, and I'm glad I never had to go back after that"); he was a recruiter in the Bronx during the worst of the crack epidemic ("like living in an episode of 'The Wire'"); he taught new Marines how to shoot at Camp Pendleton; and he wrote correspondence courses for Marines seeking promotion. Ronan's last years in the Marines were made difficult by arthritis, which caused his joints to stiffen painfully. "The new and better medication the doctors have me on now has made a big improvement."
Whenever he could, Ronansought to further his own education, taking night classes at six different colleges as he moved around the country. "When I finally decided to apply to law school, I had just four units left to complete in order to get my undergraduate degree."
On leaving the Marines, Ronan worked with his wife for a decade in a successful tutoring business she had started on the east coast. "We moved here in 2008 just before the economic meltdown, which was definitely not good for our business. So my wife went back to teaching school, and I needed to get back into the workplace as well. I always liked the identity that came from being a professional in the Marines, and that's part of what attracted me to the law; the sense of being connected to a profession from day one."
"That first year," recalled Ronan, "was kind of a blur. I hadn't been a full-time student since high school. I was definitely not the typical law student. It was a little strange hanging out with 24-year-olds and being the only person to laugh when a professor referenced some movie from the '80s." But Ronan feels good about how things went for him at USD. His grades improved every semester, and he points to rewarding experiences in the Entrepreneurship Clinic and in an internship at Geocon. Also during law school, Ronan, who owns a small recording studio, mixed two cd's for east coast indie rock bands: "A lot of work, but fun." Ronan graduated with a concentration in business and corporate law.
About the University of San Diego School of Law
Recognized for the excellence of its faculty, curriculum and clinical programs, the University of San Diego (USD) School of Law enrolls approximately 900 Juris Doctor and graduate law students from throughout the United States and around the world. The law school is best known for its offerings in the areas of business and corporate law, constitutional law, intellectual property, international and comparative law, public interest and taxation.
USD School of Law is one of the 81 law schools elected to the Order of the Coif, a national honor society for law school graduates. The law school's faculty is a strong group of outstanding scholars and teachers with national and international reputations and currently ranks 23rd worldwide in all-time faculty downloads on the Social Sciences Research Network (SSRN). The school is accredited by the American Bar Association and is a member of the Association of American Law Schools. Founded in 1954, the law school is part of the University of San Diego, a private, nonprofit, independent, Roman Catholic university chartered in 1949.