Rosibel Mancillas-Lopez: 'Rosy, Where Are You?'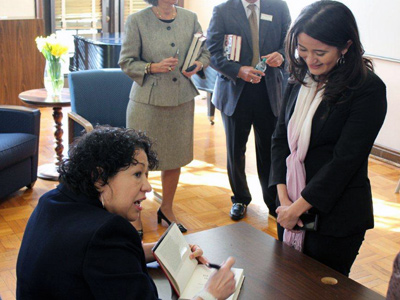 San Diego (March 7, 2013) – When U.S. Supreme Court Justice Sotomayor came to USD recently for a book-signing, she looked around the room and asked, "Rosy, where are you? I wrote this book for you." The "Rosy" to whom she referred was law student Rosibel Mancillas-Lopez, '13 (JD), who had been introduced to the justice before her talk.
Learning about Rosy's life story helps explain why the justice felt the connection she did, and why she thought her book would speak so directly to Rosy.
Rosy was born in Tijuana and came to the U.S. when she was six, speaking no English. "I was immersed in the language in school, and my aunt, who did speak English, kept after me and my brothers, telling us that first spring we were here that we wouldn't get an Easter basket unless we learned the new language. My parents still speak very little English, so my brothers and I have to help them navigate the system."
Two years after receiving her permanent resident status, Rosy became a U.S. citizen. She attended Mount Miguel High School and then USD, earning her degree in political science and economics and then getting a job as an executive assistant with University Ministry. The first year of law school was daunting. "I had to get up early to help my mom deliver papers; then I went to my full-time job. Some nights I was so burnt-out that I fell asleep in class." Rosy credits her legal analysis instructor Professor Linda McCloud with boosting her confidence in her second year by giving her the exam-writing and study skills she needed to succeed. "I have loved the closeness of the part-time cohort," says Rosy. "We were together not just in the first year, but also through civil procedure and constitutional law in the second year, and that solidified the group."
As if being a law student and full-time employee weren't enough, Rosy has volunteered much of her remaining time to a variety of causes. Noteworthy was the time she spent in Chiapas, Mexico working with indigenous people to help start a much-needed medical facility in the region. Rosy travelled twice to Chiapas and provided logistics for the project, including translating for the medical professionals who came to help.
It can sometimes be difficult for part-time students with full-time jobs to participate fully in all of the law school's programs. Fortunately for Rosy, her boss allowed her to take Thursdays off in her last two years to work as an intern with the Legal Aid Society of San Diego, focusing on immigration issues. As a result of her efforts, Rosy was awarded a prestigious two-year Equal Justice Works Fellowship at Legal Aid to start after she takes the bar exam.
"I'm also hoping to travel to Mexico City with my parents after graduation to visit the basilica and give thanks for the last four years I've spent here in the law school, and for the wonderful people who've helped me and the opportunities I've been given."
About the University of San Diego School of Law
Recognized for the excellence of its faculty, curriculum and clinical programs, the University of San Diego (USD) School of Law enrolls approximately 900 Juris Doctor and graduate law students from throughout the United States and around the world. The law school is best known for its offerings in the areas of business and corporate law, constitutional law, intellectual property, international and comparative law, public interest and taxation.
USD School of Law is one of the 81 law schools elected to the Order of the Coif, a national honor society for law school graduates. The law school's faculty is a strong group of outstanding scholars and teachers with national and international reputations and currently ranks 23rd worldwide in all-time faculty downloads on the Social Sciences Research Network (SSRN). The school is accredited by the American Bar Association and is a member of the Association of American Law Schools. Founded in 1954, the law school is part of the University of San Diego, a private, nonprofit, independent, Roman Catholic university chartered in 1949.