Vernon Evans' Path to USD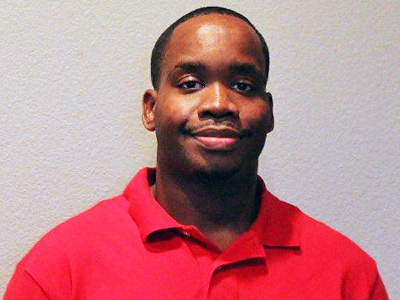 San Diego (March 7, 2013) – The path to law school for Vernon Evans, '14 (JD), was not an entirely smooth one. A native of Oceanside, Vernon went east to Ohio State to begin his college studies. "My cousin, whom I really admired, was on the football team, and that's what attracted me there. The problem was, once I arrived, I spent my time on just about everything but my studies. My mom was not too happy with me, and that meant an end to her financial support."
After leaving Ohio, Vernon eventually made it back to California and sat down to do some serious soul-searching. "I made myself a list of goals. Number one was to enroll in community college and make straight A's. I almost achieved that goal, but I did get a B+ in statistics." Next goal on the list was graduating from a four-year college, and Vernon was able to put a check next to that goal when he received his BA from Berkeley.
"My third goal was maybe a little unrealistic: attend Harvard Law and change the world!" My motto is, "Aim for the sun; if you miss, you'll still be in the clouds." And that's what happened. "I didn't make it to Harvard, but I did start law school. My first-year grades were very good, and I was able to transfer to USD at the beginning of my second year."
Adjusting to USD was a little tricky at first because Vernon was accustomed to an approach that almost exclusively emphasized rule-based, black-letter law." I kept waiting during the first few weeks of classes for my professors to stop theorizing and just tell me what I needed to know. I finally realized that that wasn't going to happen, that I'd better start taking notes and getting used to this new way of thinking about the law." Fortunately, Professor Campbell, who taught Vernon's legal analysis class, was able to give him a lot of help, especially when it came to practice exam-writing. "I realize my writing is not the best, so I'm taking an elective in Legal Drafting this semester to keep improving my skills." In addition to making a successful academic transition to USD, Vernon and his partner Brad Muldrow competed in the western regional Frederick Douglas Moot Court Competition, taking the best respondent award; they've progressed to the national to be held in March.
Vernon is interested in both corporate and criminal law. In spring 2013, he had an internship with Sony Corporation so he can explore the corporate option in depth. "The internship was in north county, so I was able to get home to Oceanside to see my mom a little more often. I've come a long way since my rocky start at Ohio State, and we have a great relationship now."
About the University of San Diego School of Law
Recognized for the excellence of its faculty, curriculum and clinical programs, the University of San Diego (USD) School of Law enrolls approximately 900 Juris Doctor and graduate law students from throughout the United States and around the world. The law school is best known for its offerings in the areas of business and corporate law, constitutional law, intellectual property, international and comparative law, public interest and taxation.
USD School of Law is one of the 81 law schools elected to the Order of the Coif, a national honor society for law school graduates. The law school's faculty is a strong group of outstanding scholars and teachers with national and international reputations and currently ranks 23rd worldwide in all-time faculty downloads on the Social Sciences Research Network (SSRN). The school is accredited by the American Bar Association and is a member of the Association of American Law Schools. Founded in 1954, the law school is part of the University of San Diego, a private, nonprofit, independent, Roman Catholic university chartered in 1949.