Human Rights Advocate J.C. Sheppard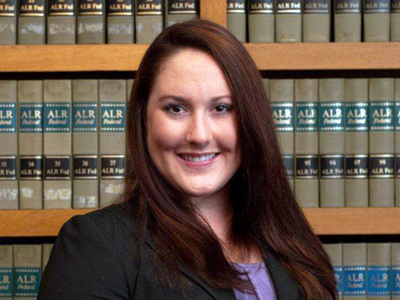 San Diego (March 7, 2013) – J.C. Sheppard, '12 (JD), interned the summer after her second year with Advocacy Forum in Nepal in Kathmandu, preparing a petition to be submitted to the International Human Rights Committee in Geneva.
"This wouldn't have been possible," said Sheppard., "without the Community Service Grant I received from the law school to cover my travel expenses and living costs."
Sheppard's interest in international law, and in Nepal, goes back to a semester she spent there in her undergraduate years at Cornell. She learned the language and gained familiarity with the culture during that time, which led to her submitting her application to Advocacy Forum, a group she learned about online: "I was interviewed for the internship on Skype by someone in London."
Once in Kathmandu, Sheppard began collecting data and researching precedent on behalf of her client, a Nepali woman who had been tortured by the government, resulting in long-term health problems.
"Reading about so many cases of abuse and torture was traumatic," recalled Sheppard "We submitted our petition, but there won't be a final decision from the International Human Rights Committee for about two years, and even if our petition is granted, there's no guarantee the Nepali goverment will comply with any ruling."
"I learned a lot about international law, of course," said Sheppard, "but even more valuable was what I absorbed from being with Nepali people. The tea-cart lady came by each afternoon at four, and that's where you picked up all the best gossip."
Kathmandu itself was not an easy city to live in."There were frequent protests against the government, and it was monsoon season as well, so we had power only about half the time."
Some of Sheppard's adventurous nature may be in her blood: her parents met in Kathmandu decades ago when they were trekking to the Mt. Everest base camp. This February, she studied for and passed the Foreign Service Officer Test, and is looking forward to using her legal training to make her a more effective public servant.
About the University of San Diego School of Law
Recognized for the excellence of its faculty, curriculum and clinical programs, the University of San Diego (USD) School of Law enrolls approximately 900 Juris Doctor and graduate law students from throughout the United States and around the world. The law school is best known for its offerings in the areas of business and corporate law, constitutional law, intellectual property, international and comparative law, public interest and taxation.
USD School of Law is one of the 81 law schools elected to the Order of the Coif, a national honor society for law school graduates. The law school's faculty is a strong group of outstanding scholars and teachers with national and international reputations and currently ranks 23rd worldwide in all-time faculty downloads on the Social Sciences Research Network (SSRN). The school is accredited by the American Bar Association and is a member of the Association of American Law Schools. Founded in 1954, the law school is part of the University of San Diego, a private, nonprofit, independent, Roman Catholic university chartered in 1949.