USD Law Profs Miranda McGowan and Jordan Barry Weigh In on Media Coverage of Supreme Court Health Care Reform Decision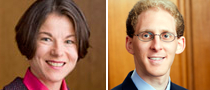 San Diego (June 29, 2012) - University of San Diego (USD) School of Law professors Miranda McGowan and Jordan Barry were interviewed and quoted in a San Diego Daily Transcript article about the landmark Supreme Court decision that upheld President Barrack Obama's Patient Protection and Affordable Care Act. The decision was announced on Thursday, June 28.
Although a suprise to most, McGowan predicted Cheif Justice John Roberts as the "swing vote" on the case in a recent San Diego Union-Tribune article. "He's someone who generally wants to avoid the taint of judicial activism," she says, "and wants to defer to democracy as much as possible."
In considering ways around the "individual mandate," the section of the legislation that requires most Americans to carry health insurance or face a penalty, Barry points out the penalty isn't necessarily enforceable. In a recent article in Tax Notes, Barry and co-author Bryan Camp examined the tax collection process to see how the IRS might enforce the individual mandate. They conclude that resistant taxpayers can generally be forced to pay the tax penalty only if they are entitled to receive refundable tax credits that exceed their net federal tax liability.
Read the full San Diego Daily Transcript article online.
About the University of San Diego School of Law
Recognized for the excellence of its faculty, curriculum and clinical programs, the University of San Diego (USD) School of Law enrolls approximately 900 Juris Doctor and graduate law students from throughout the United States and around the world. The law school is best known for its offerings in the areas of business and corporate law, constitutional law, intellectual property, international and comparative law, public interest and taxation.
USD School of Law is one of the 81 law schools elected to the Order of the Coif, a national honor society for law school graduates. The law school's faculty is a strong group of outstanding scholars and teachers with national and international reputations and currently ranks 23rd worldwide in all-time faculty downloads on the Social Sciences Research Network (SSRN). The school is accredited by the American Bar Association and is a member of the Association of American Law Schools. Founded in 1954, the law school is part of the University of San Diego, a private, nonprofit, independent, Roman Catholic university chartered in 1949.