Professor Frank Partnoy Interviewed on KPBS Frontline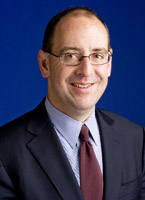 San Diego (April 25, 2012) - University of San Diego School of Law George E. Barrett Professor of Law and Finance Frank Partnoy was interviewed by Marcela Gaviria from KBPS Frontline.
Professor Partnoy discussed topics including: Occupy Wall Street, credit default swaps, derivatives, ratings agencies and market regulations. The four-part miniseries titled "Money, Power and Wall Street" provides first hand testimonials from inside the financial collapse of Wall Street and its aftermath.
Watch the Frontline miniseries, "Money, Power and Wall Street."
One of the world's leading experts on the complexities of modern finance and financial market regulation, Professor Partnoy has testified about various aspects of financial markets and regulation, before both houses of Congress, and frequently advises regulators and major corporations. He writes regularly for The New York Times and the Financial Times, and has appeared on numerous media programs, including 60 Minutes, The NewsHour with Jim Lehrer, and The Daily Show with Jon Stewart.
Professor Partnoy is director of USD School of Law's Center for Corporate and Securities Law. He teaches and writes in the areas of corporate law, corporate finance and financial market regulation. His most recent book, The Match King: Ivar Kreuger, The Financial Genius Behind a Century of Wall Street Scandals, is about the 1920s markets and Ivar Kreuger, who many consider the father of modern financial schemes. The Match King was a finalist for the Financial Times-Goldman Sachs Business Book of the Year in 2009.
Partnoy's next book is set to be released in June 2012. Wait: The Art and Science of Delay provides a necessary rebuttal to the gurus of "go with your gut." He shows that decisions of all kinds, whether "snap" or long-term strategic, benefit from being made at the last possible moment. The art of knowing how long you can afford to delay before committing is at the heart of many great decisions—whether in a corporate takeover or a marriage proposal.
Partnoy's other publications include his book on Enron, Infectious Greed: How Deceit and Risk Corrupted the Financial Markets (Henry Holt), and FIASCO: Blood In The Water On Wall Street (W.W. Norton) as well as more than 20 articles on various topics related to financial market regulation. Before joining the USD faculty in 1997, Partnoy worked as an investment banker at CS First Boston and Morgan Stanley in New York, and as an attorney at Covington and Burling in Washington, D.C. He was co-recipient of the 1999 Thorsnes Prize for Excellence in Teaching and was the 2004 Herzog Endowed Scholar.
About the University of San Diego School of Law
Recognized for the excellence of its faculty, curriculum and clinical programs, the University of San Diego (USD) School of Law enrolls approximately 900 Juris Doctor and graduate law students from throughout the United States and around the world. The law school is best known for its offerings in the areas of business and corporate law, constitutional law, intellectual property, international and comparative law, public interest and taxation.
USD School of Law is one of the 81 law schools elected to the Order of the Coif, a national honor society for law school graduates. The law school's faculty is a strong group of outstanding scholars and teachers with national and international reputations and currently ranks 23rd worldwide in all-time faculty downloads on the Social Sciences Research Network (SSRN). The school is accredited by the American Bar Association and is a member of the Association of American Law Schools. Founded in 1954, the law school is part of the University of San Diego, a private, nonprofit, independent, Roman Catholic university chartered in 1949.