USD Law Students Take Home Prized Earl B. Gilliam Bar Association Scholarships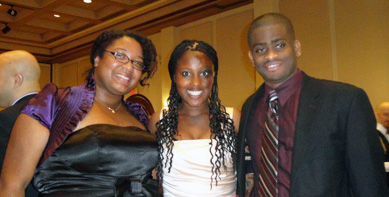 San Diego (November 18, 2011) – The Earl B. Gilliam Bar Association hosted its 35th Annual Awards & Scholarship Dinner on Saturday, November 12, 2011 at the University of San Diego, University Hahn Center. The event featured a reception, silent auction and dinner, with a keynote address by John Page, corporate vice president and general counsel of Golden State Foods, and president‐elect of the National Bar Association.
Three USD law students took home scholarships and were recognized at the event, which serves as an opportunity to celebrate and recognize the exceptional achievements of attorneys, judges, community leaders, businesses and organizations in San Diego.
Tatiana Kline, Kimberly Washington and Michael Swift each took home scholarships ranging from $1,000 to $5,000. The financial scholarships were awarded to law students who have attained academic excellence and demonstrated a commitment to community and public service.
Third-year USD law student Tatiana Kline received one of the largest awards of the evening: $5,000 funded by Carothers DiSante and Freudenberger LLP.
Kline attends the association's monthly meetings on a regular basis and is part of the mentor program, which is led by India Jewell.
"The association puts on many events throughout the year, including a student-attorney mixer that was at the home of Judge LittleJohn in Escondido last year," Kline said.
The Earl B. Gilliam Bar Association is named in honor of the late Earl B. Gilliam, who was the first African‐American United States District Court Judge for the Southern District of California, and the first African‐American to serve as a San Diego County Superior Court Judge.
EBGBA represents the interests of African-American attorneys, judges, law professors and students in the county of San Diego. The non-profit organization's mission statement communicates its commitment to "defending the legal and human rights of African-Americans; eliminating the root causes of poverty, powerlessness and racism; preserving the high standards of integrity, honor and courtesy in the legal profession; and promoting the professional and personal interests of individual members."
The EBGBA organization includes individuals who are, or have been, judges, professors, and officers of the National Bar Association, the National Association for the Advancement of Colored People, the California Association of Black Lawyers, the San Diego County Bar Association and the Lawyers Club of San Diego. Many continue to serve in leadership positions on boards and committees of the State Bar of California and other organizations.