Professor Frank Partnoy Featured on NPR's Fresh Air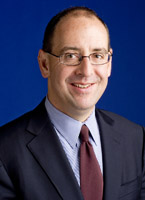 San Diego (August 29, 2011) – Earlier this month, Standard & Poor's announced that it had downgraded the U.S. credit rating from AAA to AA+, citing political risks and the nation's rising debt burden. It was the first time in history that the U.S. credit rating was lowered.
On the August 17 program of NPR's Fresh Air, USD School of Law Professor Frank Partnoy joins Dave Davies for a conversation about what S&P's decision means and how ratings agencies acquired the influence they have in our economy.
Listen to the full story on npr.com.
About Professor Frank Partnoy
Professor Frank Partnoy is the director of USD School of Law's new Center for Corporate and Securities Law. He teaches and writes in the areas of corporate law, corporate finance and financial market regulation. His other publications include his book on Enron, Infectious Greed: How Deceit and Risk Corrupted the Financial Markets (Henry Holt), and FIASCO: Blood In The Water On Wall Street (W.W. Norton) as well as more than 20 articles on various topics related to financial market regulation. Before joining the USD faculty in 1997, Partnoy worked as an investment banker at CS First Boston and Morgan Stanley in New York, and as an attorney at Covington and Burling in Washington, D.C. He was co-recipient of the 1999 Thorsnes Prize for Excellence in Teaching and was the 2004 Herzog Endowed Scholar.
About the University of San Diego School of Law
The University of San Diego School of Law is a center of academic excellence focused on preparing its students for legal practice in the new century. One of the most selective law schools in the country, the School of Law's nationally recognized faculty create a demanding, yet welcoming environment that emphasizes individualized education. USD law school graduates consistently score higher than the state average on the California Bar Exam and go on to practice law throughout the country and abroad, forming an influential network of alumni. The USD School of Law is one of only 81 law schools in the country to have a chapter of the Order of the Coif, the most distinguished rank of American law schools. The school is accredited by the American Bar Association and is a member of the Association of American Law Schools. Founded in 1954, the law school is part of the University of San Diego, a private, nonprofit, independent, Roman Catholic university chartered in 1949.