Susie Babka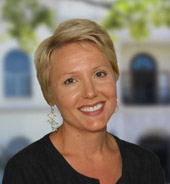 e-mail: sbabka@sandiego.edu
phone: (619) 260-2754
Featured USD Experts
Susie Babka
Assistant Professor
Theology & Religious Studies


Susie Paulik Babka, Ph.D., is excited to be a part of the community at USD that seeks to intertwine Beauty with Justice. Beauty is that which draws us out of ourselves toward something deeper; Justice is the practical work of transforming this world into the world intended by God: a world that celebrates the dignity of every human being, our inherent interdependence, and the worth of all creation.
Babka is currently working on a book, Christology of the Mercy Seat: Imagining the God Who Suffers and articles exploring the relationship between abstract art and spirituality and the incarnation and interreligious dialogue.
Her interests are in Christology; the doctrine of God (Trinity); the problem of catastrophic suffering; theological aesthetics and the connection between art and the sacred; feminist and liberation theologies; the Frankfurt School.
Educational Background
PhD, University of Notre Dame
MA, University of Notre Dame
MTS, Duke University Divinity School
BA, University of Notre Dame, Theology
BA, University of Notre Dame, The Program of Liberal Studies