Natalie Reyns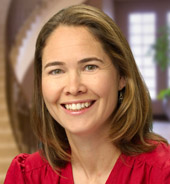 E-mail: nreyns@sandiego.edu
Phone: (619) 260-4096
Featured USD Experts
Natalie Reyns
Assistant Professor
Marine & Environmental Studies


Nathalie Reyns, Ph.D., teaches core and upper division courses in oceanography, marine ecology and how humans impact the oceans. Reyns' research interests focus on identifying the factors that influence the dispersal of marine organisms, to better understand the population dynamics of these organisms and the implications for fisheries management and marine conservation. Reyns is also very interested in advancing marine science education and improving ocean literacy, and regularly provides research opportunities for undergraduate students.
Reyns' research focuses on identifying the biophysical factors (endogenous and exogenous environmental cues, hydrodynamic conditions) that influence the transport and dispersal of marine organisms, their settlement dynamics, and recruitment to benthic habitats. Research in her lab is conducted using laboratory experiments to examine behavioral responses of larvae in still and flowing water, and field studies to quantify larval abundance and distribution in relation to oceanographic conditions. Reyns has ongoing research projects (locally and in Bahia Magdalena, BCS, Mexico) investigating a range of topics including postlarval settlement dynamics and larval behaviors. Reyns also mentors undergraduate research projects that include field work examining the population dynamics of organisms living in local rocky intertidal and sandy beach environments.
Reyns enjoys interacting with students as they often contribute a fresh perspective to the classroom and ask questions that stimulate her to think about science in different ways. As a teacher, Reyns' goals are to excite students about science (particularly those that are not science majors) and the process of learning, provide students with a learning environment that stimulates critical thinking and problem-solving and teach students the skills necessary to become successful in their scientific careers and everyday life. Reyns regularly offers Life in the Ocean, Introduction to Physical Oceanography, Marine Environment and Marine Community Ecology.
Educational Background
Postdoctoral scholar, Woods Hole Oceanographic Institution
PhD, North Carolina State University, Marine Sciences
MS, Stony Brook University, Marine Environmental Sciences
BS, University of Arizona, Ecology and Evolutionary Biology