Chairs Set up Engineering for Greater Success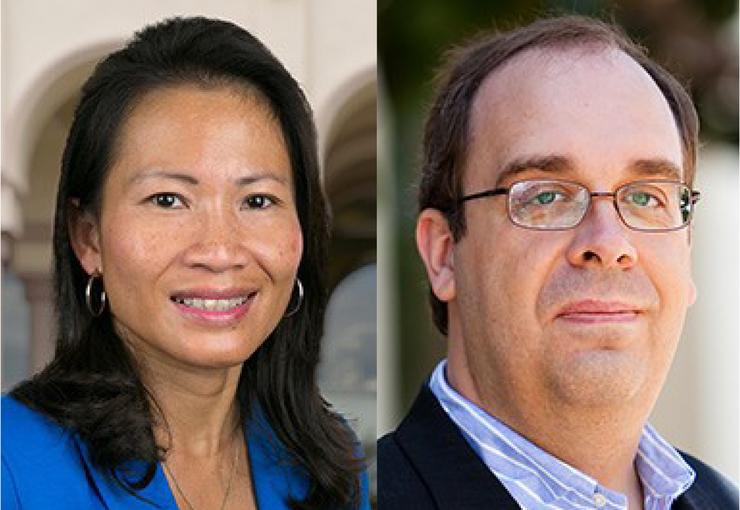 When Professor of Mechanical Engineering Ming Huang began chairing his department more than a decade ago, it had only three students.
By 2018, the number had grown to more than 300. Along the way, Huang also successfully led the program through its first ABET accreditation and two subsequent ones. The department now has a streamlined and flexible structure where students have hands-on instruction needed to successfully complete capstone projects such a mini-baja car, or solar-powered food carts.
This spring, he and Associate Professor and Industrial & Systems Engineering Chair Leonard Perry passed their leadership batons, respectively, to Professor Frank Jacobitz and Professor Truc Ngo, who plan to position the departments for even more success.
"We really rely on chairs to support our students," said Shiley-Marcos School of Engineering Associate Dean Rick Olson. "In addition to managing the growth of their programs and revising their curricula, both Dr. Huang and Dr. Perry have taught classes ranging from Engineering 101 to senior design, advised and mentored students and served on school and campus committees."
Industrial and systems engineering trains students in improving quality and productivity for health care, product distribution networks and other systems. To that end, Perry supported a variety of initiatives including the creation of an elective Lean Green Belt certificate.
Under his leadership over the past 10 years, new courses in sustainabiliy and data analytics were created and the professional practice course was revised to support the university's core requirements for advanced writing and oral communication.
Reflecting on the decision to appoint Drs. Ngo and Jacobitz to chair their respective departments, Dean Chell Roberts stated, "They have demonstrated extraordinary commitment and leadership for many years are I am confident they will lead their new department well into the future".
As he assumes his new duties, Jacobitz said he plans to "support an environment that allows our academic community to thrive" by offering even more elective courses and encouraging collaboration with other departments on humanitarian engineering and community projects.
Ngo said she plans to build on that by "engaging alumni in program activities and mentoring of current students," as well as "strengthening course curriculum to improve students' active learning and beneficial engagement."
"Dr. Jacobitz and Dr. Ngo are both committed to finding new ways to develop changemaking engineers," Olson said. "They have both won awards for their work with students and we're all looking forward to seeing how they build on the foundations left by Dr. Huang and Dr. Perry."