USD Master's in Finance Program Ranked in Top 100 Globally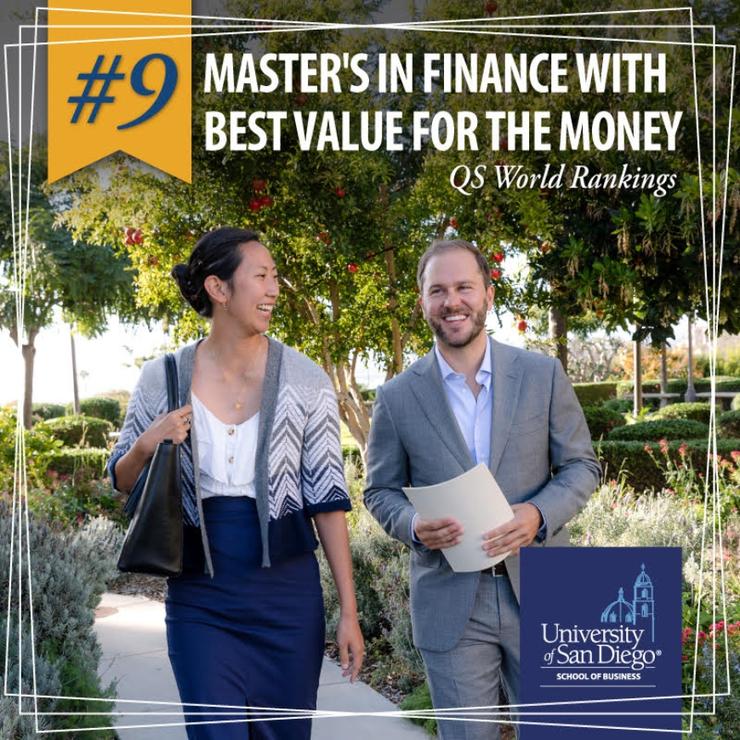 The University of San Diego Master of Science in Finance began only four years ago and is ranked in the top 100 globally for the second year in a row, according to QS World University Rankings.
The master's program ranked ninth in the world in 2018 for value for the money and also received high marks for alumni outcomes and diversity. It ranked 65th overall out of 323 programs from around the world considered for the ranking.
The program at the USD School of Business can be completed in 10 months and is STEM-designated, meaning that international graduates may be eligible to work for up to three years in the United States after completing the program. It also prepares graduates to take the first two levels of the Chartered Financial Analyst (CFA) examination.
"Our master's in finance program sets the stage for graduates to become successful financial consultants and executive decision makers in today's global workplace," said USD School of Business Dean Jaime Gómez.
Through small classes and hands-on experience, students gain expertise in global topics such as currency markets and capital flows and learn to apply the latest in financial modeling techniques and databases research to today's financial challenges.
QS Global gave USD's master of science in finance program a score of 96.1 out of 100 for Value for the Money, estimating that it will take graduates 30 months or 2½ years to payback the costs of the program, compared to the global mean of 74 months or more than six years.
Using global surveys of employers and academics, QS Global helps prospective students identify leading universities in a particular subject. Click here to see USD's full rankings.
For more information on USD's Master's in Finance, go to www.sandiego.edu/business/msf.