Athletics Roundup: Defense Leads USD Football to Win; Volleyball, Basketball, Soccer, Torero Tidbits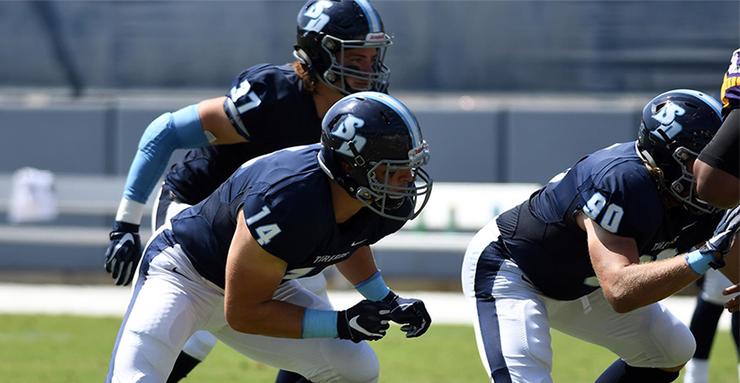 It's easy to understand why the University of San Diego football program has been so successful, especially in recent years. A high-powered offense, led by quarterback Anthony Lawrence and his many receiving targets, a running game that features Emilio Martinez, and an offensive line that provides protection, serves up a lot of points and thus, the offense more than not gets the headlines.
This past Saturday, however, was different. The Pioneer Football League team's championship aspirations got a formidable boost from its defensive unit to take down Drake, 27-10, in Des Moines, Iowa, on a cold and rainy day.
The Torero defense sacked Drake quarterback Grant Kraemer six times, intercepted him twice and kept the Bulldogs' offense out of the end zone, enabling USD's offense to do enough to score and win the game.
Key defensive players included Nick Friedel who had eight tackles, five solo, two sacks, a forced fumble and a pass break-up. Jacob Bergstrom had two sacks, Jake Wittwer had 1.5 sacks and Myles Wilson got in on one sack. Arrion Archie (seven tackles, five solo) and David Tolbert each had an interception in the game's first half.
USD's offense was led by Lawrence, who was 21 of 32 for 227 yards and three touchdowns (one passing, two that he ran in for scores). He did throw an interception that was returned for Drake's only touchdown. Martinez had 12 carries for 89 yards and Terrence Smith had 46 yards on 16 carries and one touchdown. Michael Bandy had five catches for 70 yards and caught Lawrence's one passing touchdown.
USD's win moved their record to 7-2 overall, 6-0 in PFL with two regular-season games left. A PFL title means an automatic berth in the FCS playoffs. USD's win also increased multiple win streaks: 27 straight PFL games, a 20-game home win streak and 33 straight home PFL games dating back to 2010.
Next Game: USD hosts Davidson, Saturday, 2 p.m., Torero Stadium (final regular-season home game).
The tough task for the USD women's volleyball team on Nov. 2 in Provo, Utah didn't happen. BYU, the nation's No. 1 team, defeated USD three games to one (25-19, 25-15, 22-25, 25-20), to complete a West Coast Conference sweep between the two rivals.
There was a bit of a moral victory for the Toreros: The set three win for USD marked the first time a WCC team has won a set off BYU this season in Provo. BYU has only lost a set four times all season and USD has done it twice — at home and on the road.
Set four was also close when USD had some momentum, but BYU closed out the match with a 10-2 run. BYU is now 23-0 overall and 13-0 in the WCC.
USD's top performers were Roxie Wiblin with 11 kills and four blocks, Katie Lukes with 10 kills, Addie Picha with seven kills and six blocks and Kelli Barry had 19 digs.
The Toreros, who are now 13-10 overall and 10-3 in WCC play, are playing for second place in the WCC with five matches to go. After USD's final two home matches this week, the team plays its remaining matches -- three more on the road, including the regular-season finale Nov. 20 date at Pepperdine.
Next Matches: USD hosts San Francisco, Thursday, 7 p.m., Jenny Craig Pavilion; USD hosts Santa Clara, Saturday, noon, JCP.
Men: The 2018-19 season, the first full season to be led by Head Coach Sam Scholl, will tipoff on Tuesday, 7 p.m., at home in the Jenny Craig Pavilion against Weber State. The Toreros return players who accounted for 81 percent of their scoring last season. Among them are Isaiah Pineiro, Tyler Williams, Olin Carter III, Isaiah Wright, Jose Martinez, Alex Floresca and Yauhen Massalski. Following the opener, the Toreros will play their next two games on the road, at UC Davis on Friday at 7 p.m. and at Washington on Nov. 12 at 8 p.m.
Women: Veteran Head Coach Cindy Fisher's young team — there's only one senior — opens its regular season schedule on the road Wednesday at Southern Utah in a 5:30 p.m. (Pacific) game. The team is led by sophomore guard and preseason All-West Coast Conference selection Myah Pace. The talented player from Oakland, Calif., showed some of what is expected of her this season as USD won an exhibition home game Nov. 3 against Cal State San Marcos, 64-55. Pace led USD with 17 points and 10 rebounds. Following USD's game at Southern Utah, the Toreros' home opener is at 2 p.m. on Sunday, Nov. 11 against Hawaii.
Miguel Berry scored both USD goals, the first in the 75th minute to tie the game and then the game-winning goal less than three minutes into overtime, to lift the Toreros to a 2-1 victory at Loyola Marymount in Los Angeles on Nov. 4.
Berry, the Toreros' leading scorer, scored his seventh and eighth goals of the season in the win. LMU led with a goal in the 50th minute, but Berry, off an assist by Aaron Frey, tied the game up. The overtime goal was a breakaway attempt.
USD outshot LMU 16-13 and LMU had to make seven saves compared to USD's six. The win gave Head Coach Brian Quinn and his team a 7-7-4 overall record and now a 3-1-2 West Coast Conference mark heading into this Friday's regular-season finale at home against Santa Clara.
Next Game: USD hosts Santa Clara, Friday, 7 p.m., Torero Stadium.
The USD women's soccer season concluded with a 2-0 loss at Pepperdine on Nov. 3. The Toreros, shutout for only the third time all season, were unable to get a shot past a strong Waves defense.
Summer Mason, a senior standout, led the Toreros with five shots. Pepperdine's defense is considered the best among all West Coast Conference teams as it has allowed only four goals in WCC play this season.
Pepperdine's two goals came in the game's first 25 minutes. USD, which finishes its year at 8-9-1 overall, 4-5 in WCC play, was outshot in the game 9-7. USD goalkeeper Amber Michel had three saves.
The men's and women's cross country teams will compete in the NCAA West Regional meet races in Sacramento this Friday, beginning with the first race at 10 a.m. ... USD has two players on rosters in the National Football League these days and one of them, tight end Ross Dwelley of the San Francisco 49ers, played in the 49ers' victory over the Oakland Raiders on Nov. 1. Dwelley caught an eight-yard pass. Meanwhile, Jamal Agnew, a defensive back/returner for the Detroit Lions, suffered a knee injury in an Oct. 7 game against the Green Bay Packers. He was placed on injured reserve the following week and is expected to miss at least eight games. ... The Torero Program Board is hosting a School Spirit Week on campus this week and among the events are tailgate gatherings for USD students prior to the women's volleyball match on Thursday, Nov. 8 and the men's soccer game on Friday, Nov. 9. Both events run from 6-7 p.m. in the Eagan Plaza area. … Season tickets and mini plans are on sale for the 2018-19 women and men's basketball seasons and there are opportunities available to enhance fans' game-day experience even more. Click on the links for men's basketball and women's basketball ticket information. … To keep up with all USD Athletics news, scores and information at its newly redesigned website. Follow the Toreros on social media: Facebook, Twitter and Instagram.