Athletics Roundup: Volleyball Sweep Win Streak at Four; Football, Soccer, Cross-Country, Swim and Dive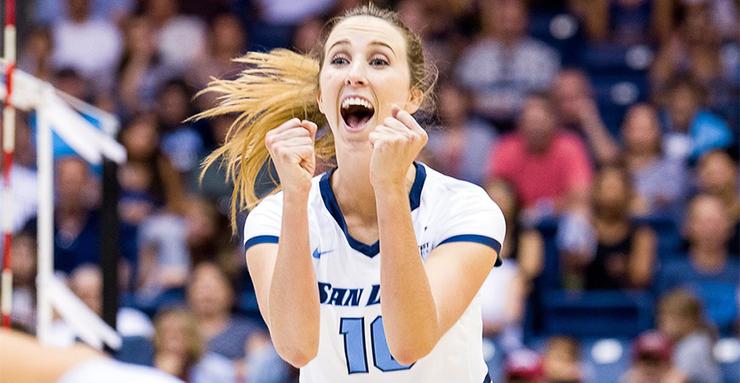 The University of San Diego women's volleyball program continues to build up its record in West Coast Conference matches. This past weekend, it was sweeping victories over Pepperdine on Oct. 18 and Loyola Marymount Oct. 20 that added momentum for the team.
Sweeps of Pepperdine 25-19, 25-21, 25-15 and LMU (25-20, 25-21, 25-16) give USD four 3-0 wins in its last four WCC matches. The two this past weekend inside the Jenny Craig Pavilion propel USD to 11-9 overall and 8-2 in WCC play. The previous two sweep wins were in Northern California against Santa Clara and San Francisco.
Four straight wins since an Oct. 5 four-set home loss to the nation's No. 1 team, BYU (now 20-0) gets USD going heading into an upcoming stretch of three road matches — two in the Pacific Northwest this week and then at BYU in Provo, Utah on Nov. 2.
To get to where they want to go, victories against Pepperdine and LMU helped. Add in that the program celebrated Jennifer Petrie's 20th season as USD head coach, hosted its annual Dig Pink Breast Cancer Awareness event (the team wore special pink jerseys) and had support from USD's BullPit and it was an atmosphere conducive to success.
Against Pepperdine, Megan Jacobsen had a team-high 11 kills (hitting .688) as the Toreros made quick work of the Waves in a match televised on ESPNU. Cami May added 10 kills, Roxie Wiblin and Katie Lukes had eight apiece and Addie Picha and Wiblin each had three blocks. Picha's first block of the match gave her 100 for the season. Kellie Barry and Annie Benbow had 13 and 10 digs, respectively for USD.
May led the way for USD against LMU, recording a season-high 12 kills and Lukes also had 12 in the victory. Picha and Wiblin each added seven kills. Picha had seven blocks, May and Hannah Patrick had three apiece. Wiblin and Barry had eight digs each. The Dig Pink campaign involves the team seeking to raise $1,000 as one of many schools across the nation involved in the Sideout Foundation fundraiser.
Next Matches: USD at Gonzaga, Thursday, 6 p.m., Spokane, Wash.; USD at Portland, Saturday, noon.
San Diego dominated every aspect during its 42-13 victory over host Butler Oct. 20 in Indianapolis to move to 4-0 in Pioneer Football League play.
Michael Bandy, Emilio Martinez and Michael Armstead generated over 100 yards of offense apiece for the Toreros (5-2, 4-0 PFL) and quarterback Anthony Lawrence finished the day 22-of-28 for 390 yards and four touchdowns.
Bandy caught five passes for 129 yards and a score. Martinez led the Toreros on the ground with 115 yards on 15 carries, including a 59-yard touchdown run to start the game. Martinez added 43 receiving yards on five catches for his third straight game with over 100 total yards. Armstead generated a season high 159 yards on four catches including a 97-yard touchdown in the first half. Armstead added three kickoff returns for 98 yards and finished with 257 all-purpose yards.
Dalton Kincaid only had two catches, but both were for touchdowns (2 and 14 yards).
San Diego's defense kept the Bulldogs off the board in the first half. Jack Michael forced a fumble on Butler's first drive of the game and Kim Mahoney recovered the ball on USD's 31-yard line. The Toreros capitalized, marching 69 yards and scoring on a 1-yard touchdown run from Terrence Smith to go up 14-0.
The Torero offense put on a show, generating nearly 600 total yards in the contest. San Diego scored on five of its six drives in the first half.
Next Game: USD hosts Jacksonville, Saturday, 2 p.m., Torero Stadium.
The fortunes of the USD women's soccer program are smiling now as a tough 0-3 record to begin West Coast Conference play at the start of the month — each an overtime loss — has been followed up with a three-game conference win streak.
On the road, the Toreros' streak started Oct. 13 at Loyola Marymount in a 2-1 double overtime victory. This past week, USD edged Saint Mary's 1-0 in Moraga, Calif., on Oct. 18 and followed it with a 3-0 triumph over Pacific in Stockton, Calif., on Oct. 20.
Against Saint Mary's, Devyn Kelsey's first goal of the season and as a Torero came in the 42nd minute and it held up. USD outshot Saint Mary's 11-3 in the first half and had five on goal. The junior defender's goal was assisted by Mina Ghazizadeh and Marley Walke. Goalkeeper Amber Michel made two saves in the game for the shutout.
Then at Pacific, it was time for USD's top two offensive threats to take charge. That they did as Milan Moses scored twice for 12 goals this season with tallies in the 15th and 19th minute, respectively. Sami Fairweather assisted on the first goal and Summer Mason assisted on the second. Mason then completed the first half scoring barrage with a goal in the 29th minute off an assist by Katie Lapomarda. The goal was Mason's fifth of the season. Michel and Allie Jara each recorded a save in the net.
Next Games: USD hosts Santa Clara, Thursday, 7 p.m., Torero Stadium; USD hosts San Francisco, Sunday, 11 a.m. (Senior Day), Torero Stadium.
Matt Wiher made five saves behind a strong San Diego defense but it was not enough to take down cross-town rival San Diego State in a 2-0 defeat on Oct. 19 at Torero Stadium.

The Toreros (5-7-3) faced 16 shots from the Aztecs with 11 of those coming in the first half. SDSU scored an early goal in the 4th minute and scored on a penalty kick in the 86th minute to secure the win.
San Diego's best offensive opportunity came in the 85th minute when Miguel Berry sent a free kick in from 40 yards out. SDSU goalkeeper Max Watkin leapt up to deflect the ball as it headed on target for the top right corner. Berry finished with three shots to lead the Torero offense.
The match was a physical battle with six yellow cards and 27 fouls between the two teams. SDSU outshot San Diego, 16-6, while the Toreros held the advantage in corner kicks, 4-2.
This game also celebrated USD's 40th men's soccer season in 2018. The program unveiled its all-time Torero "Starting 11" at halftime Friday. To learn more, see the USD Athletics story.
Next Games: USD Hosts Saint Mary's, Friday, 7 p.m., Torero Stadium; USD hosts Pacific, Sunday, 2 p.m., Torero Stadium.
The men's and women's cross country teams will vie in the West Coast Conference championship meets this Saturday morning in Provo, Utah. The meet will be run at the East Bay Golf Course. The women's 6K race will start at 9 a.m. (Pacific), followed by the men's race at 10 a.m.
The meet course has been used for multiple high-profile races over the last 20 years. The course features a one-mile grass loop primarily around the executive golf course.
Key runners for the USD women include sophomore standout Hannah Rasmussen, senior Zani Moore, sophomore Molly Klein, junior Ally Roessling and redshirt sophomore Madison Lambros. Key USD men's runners are freshman Nic Dinsdale, Patrick Bruce and Ethan Steiner.
Next Meet: USD men, women runners at West Coast Conference Championships, Saturday, 9 a.m., Provo, Utah (BYU hosts).
Alex Hubel and Dani Taylor each won two events but San Diego fell to UC Davis, 196-104, at USD's Sports Center Pool on Oct. 20.

Hubel swam quick, winning the 200- and 100-yard butterfly in 2 minutes, 5.1 seconds in the 200 fly and 56.04 seconds in the 100 fly. Taylor collected the other wins for USD, finishing the 200 free, in 1:54.43. She also won the 100 free in 53.01 and placed second in the 50 free in 24.38. Freshman Alexa Phillips placed second, right behind Taylor, in the 100 free in 55.18.
The Toreros had a strong showing in the distance races. Sam Terranova, Mackenna Briggs, and Grace Potis finished 2-3-4 in the 1,000 free, in times of 10:39.22, 10:42.62, and 10:48.82 respectively. Briggs led the team in the 500 free, placing third in 5:15.45. Potis finished right behind her in fourth in 5:17.08.

The Toreros' relay teams finished second in the 200-medley relay and 400 free relay. USD A — consisting of Taylor, Evans, Hubel and Alyssa Hornbuckle — finished hundredths of a second behind UC Davis A in the 200-medley relay in 1:47.03. In the 400-free relay, USD A — consisting of Hubel, Taylor Doherty, Briggs and Philips — finished in 3:35.63.
The USD dive team was led by Isabel Busyn, who placed third and fourth in the one-meter dive competition.
Next Meet: USD hosts WCC Cup (vs. LMU, Pepperdine), Friday, 2 p.m. and Saturday, 10 a.m., Sports Center pool.
More USD Athletics Information
Keep up with all USD Athletics news, scores and information at its newly redesigned website. Follow the Toreros on social media: Facebook, Twitter and Instagram.