2018 Women PeaceMakers Spotlight: Amira Abdulrahman Hussein Timan of Sudan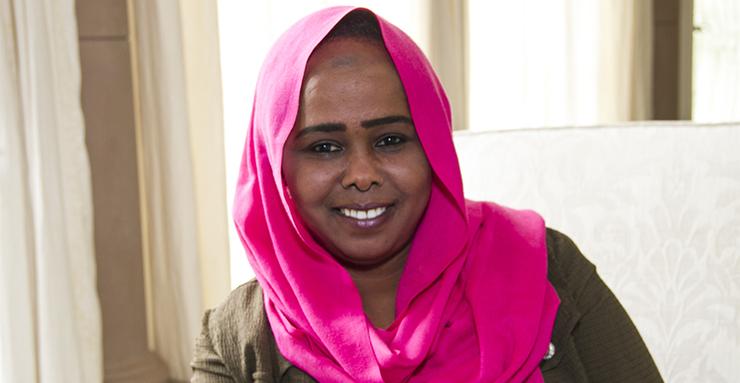 The University of San Diego is hosting four outstanding females from around the world to share their knowledge and to be present. In 2018, the 16th year of the Women PeaceMakers Program, the cohort consists of: Rosa Emilia Salamanca of Colombia, Roxana Cristescu of Eurasia, Amira Abdulrahman Hussein Timan from Sudan and Mariam Yazdani of Pakistan. They are part of a program that shines an important global spotlight on women leadership, a Changemaker spirit and how they can help to inspire female leaders-in-training. The women are at USD through Nov. 17. While they are here, they'll be working on the issue of ensuring women have a seat of power at the peace negotiation table. The USD News Center has spotlighted each of the four PeaceMakers this past week to share a little more about their backstory and to know about upcoming on-campus events featuring this impressive cohort.
Amira Abdulrahman Hussein Timan of Sudan
Bio Information: Timan is currently the Humanitarian Affairs officer with a UN/AU peace keeping mission in Darfur (UNAMID). During her work in Sudan, she was the focal point for civil society and community-based organizations, and helped to mobilize these groups to participate in the Doha peace negotiations between the Government of Sudan and the Darfur Armed Groups. Timan was able to play this vital role in this peace process given her years of work in humanitarian affairs, peace and security issues within internally displaced persons (IDPs) camps and civil society in Sudan. During this work she served as a lead on women issues in UNAMID's Humanitarian Liaison Section and was responsible for engaging women IDPs to participate in camp peace and security committees.
Questions and Answers:
Q1: What does it mean to you to be a Women PeaceMaker?
The Women PeaceMakers program means everything for me, it means passion, dedication and commitment to peaceful nations. It means our vision towards a nonviolent community to enable human development and so forth.
Q2: What advice could you give to young women who aspire to do peacebuilding work?
I would say to the young generation or young women that to be a peacebuilder you have to have a lot courage and you have to manage your fears because so many challenges are associated with our own fears, so no matter how much challenge that you are going to encounter in your life, you must always think and believe about being meaningful to your community/nations or world. We must be useful and meaningful in life.
On-Campus Events: Timan and the three other Women PeaceMakers in the cohort, Rosa Emilia Salamanca of Colombia, Roxana Cristescu of Eurasia and Mariam Yazdani of Pakistan, are participating in the USD Changemaker Hub's My Story: Badass Women on Tuesday, Oct. 23, 7 p.m. in UC Forum C. On Nov. 7, the cohort will take part in the Women PeaceMakers Panel on Nov. 7, 6 p.m. in the Joan B. Kroc Institute for Peace and Justice Theatre. Both events are free and open to the public.
Learn more about the USD Women PeaceMakers Program as well as the 2018 Women PeaceMaker Peace Researchers and the 2018 Women PeaceMaker Program's International Partners. For additional information, please contact Jennifer Bradshaw, Kroc IPJ Women's PeaceMaker Program Officer, by email at jenniferbradshaw@sandiego.edu or phone, (619) 260-4189.