2018 Women PeaceMakers Spotlight: Roxana Cristescu, Eurasia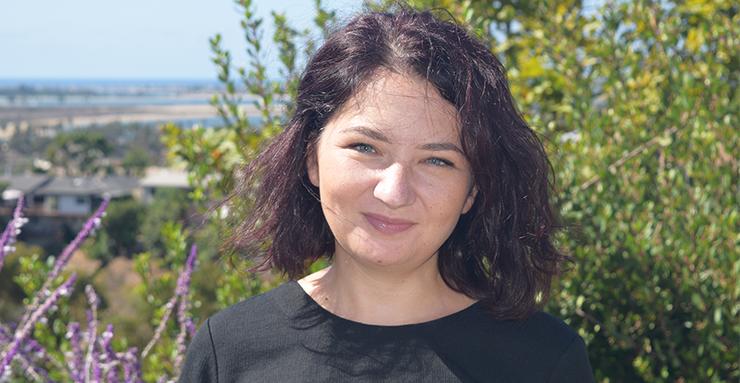 The University of San Diego is hosting four outstanding females from around the world to share their knowledge and to be present. In 2018, the 16th year of the Women PeaceMakers Program, the cohort consists of: Rosa Emilia Salamanca of Colombia, Roxana Cristescu of Eurasia, Amira Abdulrahman Hussein Timan from Sudan and Mariam Yazdani of Pakistan. They are part of a program that shines an important global spotlight on women leadership, a Changemaker spirit and how they can help to inspire female leaders-in-training. The women are at USD through Nov. 17. While they are here, they'll be working on the issue of ensuring women have a seat of power at the peace negotiation table. The USD News Center has been spotlighting the four PeaceMakers this week to learn a little more about their backstory and to know about upcoming on-campus events featuring this impressive cohort.
Roxana Cristescu of Eurasia
Bio Information: Cristescu has spent many years facilitating high-level peace negotiations. As the Head of Crisis Management Initiative's (CMI) Programme in Eurasia, Cristescu leads CMI's program activities in the region, which focus on mediation at the state and sub-national level. A native of Romania, Cristescu worked in various conflict affected areas including Ethiopia, Sudan, Kosovo (Mitrovica Region), Moldova/Transdniestria, Ukraine and Lebanon before joining CMI. Cristescu is a member of the United Nations Mediation Roster and a member of the UN Women, Central and Southeastern Europe Sub-regional Roster of Experts.
On-Campus Events: Cristescu and the three other Women PeaceMakers in the cohort, Mariam Yazdani of Pakistan, Rosa Emilia Salamanca of Colombia and Amira Abdulrahman Hussein Timan from Sudan, will participate in USD Changemaker Hub's My Story: Badass Women on Tuesday, Oct. 23, 7 p.m. in UC Forum C. On Nov. 7, the cohort will take part in the Women PeaceMakers Panel on Nov. 7, 6 p.m. in the Joan B. Kroc Institute for Peace and Justice Theatre. Both events are free and open to the public.
Learn more about the USD Women PeaceMakers Program as well as the 2018 Women PeaceMaker Peace Researchers and the 2018 Women PeaceMaker Program's International Partners. For additional information, please contact Jennifer Bradshaw, Kroc IPJ Women's PeaceMaker Program Officer, by email at jenniferbradshaw@sandiego.edu or phone, (619) 260-4189.
Photo courtesy of the Women PeaceMakers Program