Athletics Roundup: Football Wins; Volleyball, Soccer, Cross-Country, Swimming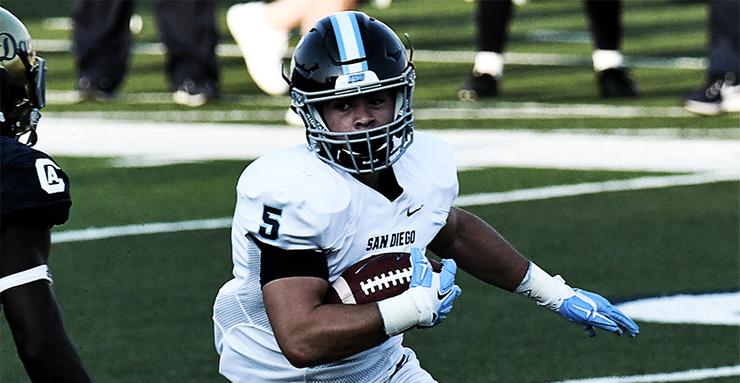 The Pioneer Football League's premier rivalry is built on championship-style football. That's because Dayton and the University of San Diego have combined to win outright or share the most PFL titles (22, 13-9 in Dayton's favor) in the league's 26-year history. This past Saturday, the teams met at Torero Stadium. Add to it that it was USD's Homecoming and you had all the makings of a big game.
The end result? USD edged Dayton, 36-34. The win pushed USD's winning streaks another notch forward — now 32 straight PFL home wins and now a 19-game home winning streak, the longest active streak among FCS teams.
Dayton scored first in the opening quarter, marking the first time in PFL play this season USD has trailed. USD scored a touchdown to counter the Flyers, but the extra-point kick attempt was blocked. Dayton scored again for a 14-6 lead, but USD countered with a 62-yard drive to cut the lead to 14-13.
San Diego got significant momentum late in the second quarter when a muffed punt by Dayton was recovered by USD's Kim Mahoney at the Dayton 2. Emilio Martinez scored for a 20-14 USD lead. A stop by USD enabled them to kick a field goal to take a 23-14 halftime lead.
Dayton scored next to cut USD's lead to 23-21, but USD scored twice early in the fourth quarter for a 36-21 lead. The Flyers weren't done. They scored two more touchdowns, but a potential game-tying two-point conversion pass was batted away. After successfully recovering a Dayton onside kick, quarterback Anthony Lawrence got two first downs to run out the clock.
Statistically speaking, the numbers were big on both sides. USD's Lawrence, named the PFL Offensive Player of the Week, was 29 of 44 for 434 yards and three touchdowns. Receiver Michael Bandy caught 11 passes for 201 yards and had a 74-yard touchdown play. Martinez rushed for a season-high 123 yards on 18 carries and had touchdown runs of 2 and 29 yards. Martinez also caught five passes for 52 yards. Others scoring for USD were receivers Christian Brooks (11-yard TD catch) and Cooper Hagmaier (33-yard TD catch). Dayton quarterback Jack Cook was 29 of 42 for a school-record 432 yards and threw a career-high four touchdowns.
USD's record improved to 4-2 overall, 3-0 in the PFL. Dayton fell to 3-4, 2-2.
Next Game: USD at Butler, Saturday, 9 a.m. (Pacific), Indianapolis, Ind., ESPN Radio 1700.
Following a Oct. 5 home loss to national No. 1 and West Coast Conference foe BYU, the USD volleyball team focused on building itself back up in WCC play on the road and it worked very well.
The Toreros went to Northern California and returned with a pair of WCC sweeps. On Oct. 11, USD topped Santa Clara in a hard-fought 25-22, 26-24, 26-24 triumph. Addie Picha led the team with 11 kills and six blocks. Roxie Wiblin and Katie Lukes each had nine kills. Anna Newsome had 23 assists and nine digs. Wiblin also had nine digs and two serve aces.
The road trip continued at University of San Francisco on Oct. 13. The Toreros swept again, but this one was by a more comfortable margin as the 25-12, 25-18, 25-20 scores indicate. Wiblin and Cami May led USD with 10 kills each, Picha finished with eight kills and eight blocks. Laura Madill had 21 assists and Newsome 17. Kelli Barry had a team-high 13 digs.
The wins evened USD's record to 9-9 overall and improved its WCC record to 6-2. At this Thursday's home match against Pepperdine, which is being televised by ESPNU, there will be a pre-match celebration for Jennifer Petrie to commemorate her 20th year as USD head volleyball coach.
Next Matches: USD hosts Pepperdine, Thursday, 8 p.m., Jenny Craig Pavilion, broadcast on ESPNU; USD hosts Loyola Marymount, Saturday, noon, JCP.
As the USD men's soccer program prepares to recognize its 40th season this Friday, one way to pay homage to the past is to perform strong in West Coast Conference play.
The Toreros traveled last weekend to the Pacific Northwest for games against Gonzaga and No. 7 Portland. The results were a 1-0 win over Gonzaga on Oct. 12 and then, on Sunday, the Toreros tied the nationally ranked Pilots, 1-1.
Against Gonzaga, Miguel Berry scored his fourth goal of the season in the 60th minute off an assist by Gustav Ericsson. The Zags had a 10-9 shots edge, but Gonzaga had to make more saves, 4-3.
Two days later against the unbeaten Pilots, USD took the early lead on Berry's penalty kick goal only two minutes in. The Toreros held the lead until Malcolm Dixon scored in the 82nd minute. The teams couldn't solve the other in the overtimes. The shots were even at nine apiece and USD goalie Matt Wiher had five saves.
The effort evened the Toreros' WCC record at 1-1-1, 5-6-3 overall in Brian Quinn's first year as head coach following Seamus McFadden's 39 years at the helm. Quinn, who was McFadden's top assistant for more than a decade prior, has to be happy with his team's effort against a nationally ranked foe like Portland. Perhaps a tie with Portland is a sign of good things to come.
On Friday night, the Toreros will celebrate 40 years of the program at halftime of its nonconference match with San Diego State. A vote done by the program will reveal USD's finest 11 players during the ceremony.
Next Match: USD hosts San Diego State, Friday, 7 p.m., Torero Stadium.
The USD women's soccer team got its first West Coast Conference win of the season on Oct. 13, edging host Loyola Marymount, 2-1 in double overtime, as Milan Moses scored in the 109th minute on Summer Mason's second assist of the game.
Following a scoreless first half, USD got going on Katie Lapomarda's third goal of the season in the 51st minute off a pass from Mason. LMU tied the game in the 72nd minute. With less than two minutes left in overtime before calling it a tie, Moses tallied her 10th goal of the season.
LMU had 16-8 shot advantage and USD goalkeeper Amber Michel made seven saves.
The win in overtime was cause for celebration as it gave USD not only its first win in four WCC matches this season, but also ended a losing streak in overtime games this season at two. USD is now 5-7-1 overall.
Next Matches: USD at Saint Mary's, Thursday, 3:30 p.m.; USD at Pacific, Saturday, 7 p.m.
The USD cross-country teams ran in UC Riverside's Highlander Invitational and runners from both teams achieved personal best times, but none better than sophomore Hannah Rasmussen in the women's 5K.
Rasmussen put her name atop USD's school record book in the 5K, running in a time of 17 minutes, 8 seconds, to earn a fourth-place individual finish and help USD's women finish third in the team standings. Her time moved her ahead of Sam Mattice, who in 2015 ran a 17:10.
The entire team had personal-best times — 16 USD women — as the Toreros finished third in team standings. Another sophomore, Molly Klein, was 22nd out of 250 runners to finish at 17:50. Ally Roessling, Zani Moore and Madison Lambros packed together and finished, respectively, in 18:03, 18:04 and 18:05.
The men's team had six record personal bests in the 8K race, including freshman Nic Dinsdale's 34th-place showing in 25:26, becoming the first Torero to cross the finish line. Patrick Bruce and Ethan Steiner finished at 25:41 and 26:03, respectively. Ian Converse and Isaiah Quiambao completed the team scoring in 26:23 and 26:28, respectively.
Next Race: Men and Women at WCC Championships, Oct. 27, 9 a.m., Provo, Utah.
Following a Homecoming-related swim meet with USD alumni Oct. 13, the women swim and dive team returns to action on Saturday when it hosts UC Davis at 11 a.m. at the USD Sports Center Pool.
Next Meet: USD hosts UC Davis, Saturday, 11 a.m., Sports Center Pool.
More USD Athletics Information
Keep up with all USD Athletics news, scores and information at its newly redesigned website. Follow the Toreros on social media: Facebook, Twitter and Instagram.