USD to Unveil Burning Man Sculpture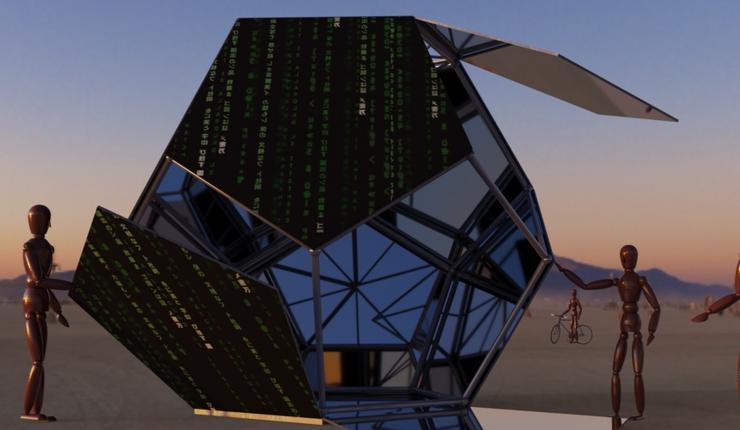 Can't make it to Burning Man? Art and technology lovers can get a taste of the radical and innovative spectacles when the University of San Diego officially unveils the massive 12-foot by 30-foot interactive sculpture it will showcase at Burning Man in late August.
Burning Man is an annual event dedicated to self-expression and self-reliance where a temporary city and community is erected in the Black Rock Desert of northwest Nevada.
The public is invited to USD's free event this Friday, August 10, from 6 to 10 p.m. in the USD parking lot next to Loma Hall. Attendees should use the main (east) USD entrance at the top of Linda Vista Road.
"Unfolding Humanity" is the name of the interactive metal sculpture that calls attention to the connection and contrast between humanity and technology. The sculpture is a dodecahedron with pentagonal walls that unfolds under human power, an engineered design that alludes to Albrecht Dürer's 500-year-old unsolved problem on unfolding polyhedra.
When closed, the reflective interior of the sculpture will make visitors feel as though they are at the center of the universe. Influenced by revolutionary satellite data, the closed sculpture with reflective mirrors gives visitors an opportunity to be at the center of a small universe where light folds back upon itself.
"Burning Man is simply the gold-standard for large-scale sculptures, bar none," said USD Fletcher Jones Professor of Mathematics Satyan Devadoss. "One-half of Silicon Valley is coming to see the newest engineering and artistic feats at Burning Man, and a year-long exhibit at the Smithsonian is showcasing Burning Man as one of the most influential phenomena in our culture."
The USD interactive sculpture project has received strong partnership from the local community (including San Diego Collaborative Arts Project and COLAB), and students and alumni from USD. Having received $35,000 of support from grants and donations, the organizers are looking to raise an additional $5,000 for the artwork.
With coleaders Devadoss and Mathematics Professor Diane Hoffoss, five faculty from the university also are on the team, with expertise in theology, computer science, engineering, and theatre.
"An artwork such as this, dealing with complicated issues of mathematics, cosmology, and engineering, and wrestling with the foundational question of what it means to be fully human, can only be birthed with wisdom from the full spectrum of the arts, humanities, and sciences," said Devadoss.
To learn more and support the project, go to www.sdgeometrylab.org/unfoldinghumanity/