Inspiring the Next Generation of Cyber Stars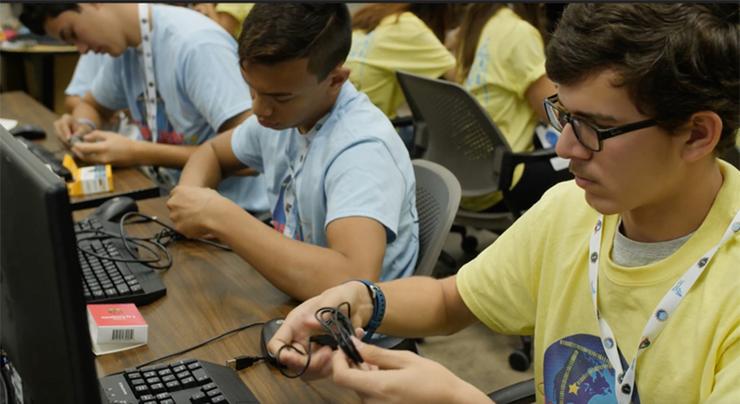 In late June, the University of San Diego Shiley-Marcos School of Engineering welcomed 40 high school students to campus for the annual GenCyber Academy of Excellence. Funded through a National Security Agency grant, the program occurs twice during the summer, offering incoming, college-bound 10th, 11th, and 12th graders with insight into the cyber security field.
"The USD GenCyber camp is a unique opportunity to be educated, but more importantly, inspired about cyber security and the various opportunities that this booming industry provides these students in the future," says Jodi Waterhouse, director of engineering and technology outreach at the Shiley-Marcos School of Engineering. "They come in on Monday naive about cyber and leave on Friday as newly formed cyber warriors."
Selected from more than 200 applicants, this program is an opportunity to introduce high school students to the cyber security industry. This GenCyber camp, which took place June 25-29, is one of two on campus this summer. The next one, slated for July 23-27, is already sold out.
The students, who came from schools throughout the country, had the opportunity to learn from experts in the industry. Hearing from cyber professionals like Darren Bennett, CISO for the City of San Diego, Robert Heyer, director of security for Sea World, and Andy Hess with the cyber division at Booz Allen, students could ask questions and interact with these experts firsthand. Additionally, students worked with USD faculty and staff, gaining hands-on experience with cyber defense tools.
Through strengths finder career assessments, the creation of small computers known as raspberry pies and tours of the local FBI office and General Atomics, these soon-to-be college students got firsthand experience in cyber security and understanding as to what a job in this field could look like. In addition to these activities, students addressed the importance of ethical behavior on the internet and learned how to apply ethics to their career goals.
At the end of the week, family members were invited to campus to watch the students' shark tank presentations, where small groups shared ideas designed to revolutionize the cyber world. From product pitches aimed at counteracting hacking to ways in which we can spread cyber education to young students, the pitches further integrated their discussions, demonstrating that inspiring the next generation of cyber stars starts now.
— Allyson Meyer '16