Volleyball Alumna Schad Embarks on New Opportunities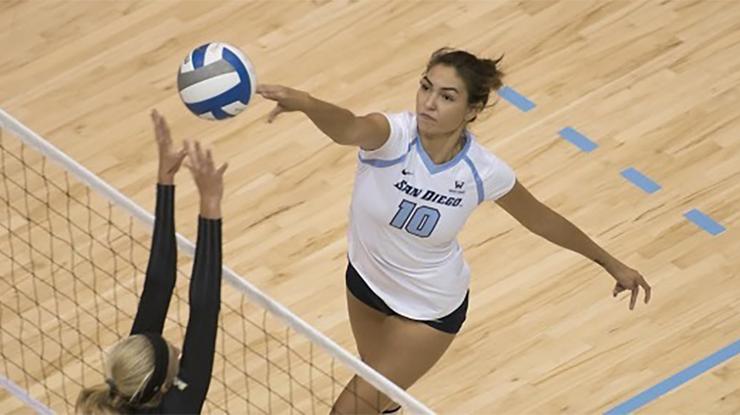 Former University of San Diego volleyball standout Lauren Schad will embark on a pair of exciting opportunities as she continues her professional volleyball career.
The 6-foot-2-inch middle blocker from Rapid City, South Dakota, will continue her professional career in France with VB Nantes Reze Metrople after completing her debut season recently with VBC Chamalieres. Schad competed in 21 matches during her rookie season with VBC Chamalieres.
"I feel very fortunate to have the opportunity to continue playing professionally after my collegiate seasons," said Schad. "It's a constant learning experience to adapt to international play. It's giving me the chance to speak a different language and immerse myself in a different culture, which goes beyond sport. My agent, Elite Volley Agency, has been really good about securing my contracts and making sure I'm prepared as an athlete going overseas."
Schad was also recently named a Nike N7 Ambassador — a group within Nike focused on exposing sport and its benefits to Native American and Aboriginal communities in the United States and Canada.
"I'm really thankful and fortunate to be a part of the Nike N7 team," said Schad. "My advocacy for indigenous youth has followed me through college and I was honored to have this work recognized by USD my senior year via the Father Owen Mullen Community Service award. Being an N7 ambassador allows me to continue to expand and educate others on indigenous communities throughout the United States and internationally.
"I'm humbled to be a part of this tiospaye (extended family) of talented and committed individuals, using sport to inspire and give back to tribal communities."
Schad connected with Sam McCracken, the founder of the Nike N7 initiative, before her rookie season in France. He helped equip her with essential items for her training and professional career.
"I'm excited to see what my second season brings with Nantes Volleyball Club while bringing further awareness to youth wellness in Native populations," said Schad.
Despite being 5,800 miles away from USD as she continues her career, Schad adds, "I'd like to wish the Toreros and especially the women's volleyball team an excellent upcoming season."