May 11 Engineering and Computing Showcase Features Innovative Senior Design Projects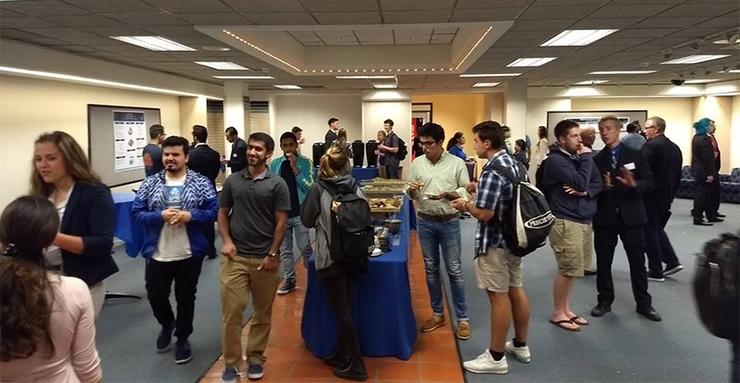 A wearable airbag to protect bicyclists is one of the projects to see and learn about at the University of San Diego Shiley-Marcos School of Engineering and Computing Showcase on Friday, May 11. The free presentation of 30 senior design projects takes place from 2:30 to 5 p.m. on the first floor of Loma Hall.
The reusable bicycle airbag is designed to protect a cyclist's upper body and be comfortable and affordable. The students involved in this project are Rasem Alrashdi, Gunay Cital, Levi Stack and Brook Zalud.
Other projects at the showcase include an improved electrical vehicle (EV) charger that could service four vehicles at a time and a portable wireless speaker called HIVE that will communicate with other speakers and deliver greater sound quality. Both senior design projects are emerging from USD engineering's focus on entrepreneurial ideas.
"The Shiley-Marcos School of Engineering aims to inspire students to innovate, create and ultimately make a difference by practicing real-world engineering and computing," said Dean Chell Roberts. "The school develops thinkers and leaders who have solid technical, communication and problem-solving skills balanced with broad perspective to make things happen locally and globally."
In addition to seniors presenting their design projects that they're being graded on, there will also be capstone project awards presented for the first time to the first- and second-place teams on projects involving mechanical and electrical engineering students. Judging for the capstone projects will be done by representatives of American Society of Mechanical Engineers (ASME) and the Institute of Electrical and Electronics Engineers (IEEE).
Industry partners for the 2018 Showcase include General Atomics, Primo Wind, Cubic Corp., ThermoFisher Scientific, San Diego Gas & Electric, Clarity Design and Vildosola.
— Liz Harman