Torero Athletics: Tennis vs. Texas Tech in NCAA Tourney; Baseball's Hill Reaches 1,000 Wins; Roundup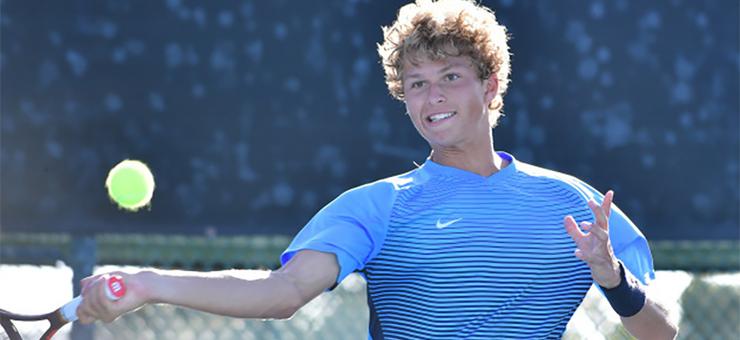 The USD men's tennis team has been riding high the last couple of weeks, taking successful steps forward in a 2018 season in which it has won both the West Coast Conference regular-season and tournament titles.
On May 1, the team learned what, where and who its next steps can be taken against when the NCAA Tournament draw was revealed. On May 12, USD will oppose Texas Tech in a 9 a.m. first-round match at the Los Angeles Tennis Center in an NCAA regional hosted by UCLA. UCLA will play Idaho at approximately noon on May 12 in the other matchup. The winners of these two matches meet on May 13.
The Toreros (16-8) enter the NCAA Tournament ranked 41st in the nation. Texas Tech (19-10) is ranked 30th. This match figures to be a solid challenge if immediate past history is an indicator. USD hosted Texas Tech on March 17 and lost 4-3 to the Red Raiders.
One interesting note is that Texas Tech's head coach is very familiar with USD's tennis program. Brett Masi was USD's head coach from 2009-15. USD's current head coach, Ryan Keckley, was Masi's assistant from 2009-12.
"I have a lot of respect for Brett, he did such a great job while he was USD's coach, getting us to the NCAA Tournament five of six years and starting this trend of USD winning the WCC," Keckley said. "He's been a mentor and a friend to me. Just getting to compete against him in the first round is something to smile about."
The friendship, though, will definitely take a back seat on Saturday. Masi is a passionate coach with experienced players at the top of his lineup. Keckley and his team's desire to win is equal, but Keckley admits USD's chance for success hinge on how well his young college players handle the pressure situation of NCAA Tournament play.
"We've played a lot of tennis, but now it's about what's between the ears and how our players handle their nerves. Three of our six players have never played in an NCAA Tournament," Keckley said.
Winning the doubles point at the start will be a huge confidence boost. Texas Tech won it in the head-to-head matchup on March 17 at USD. The teams battled in singles play, too, with the match ultimately coming down to USD's Joel Gamerov and Texas Tech's Alex Sendegeya at the No. 3 singles position. Sendegeya won, 2-6, 7-6, 7-5.
USD's roster has solid freshmen and sophomores who've stepped up. Freshman August Holmgren recently earned an at-large bid into the upcoming NCAA singles tournament. Another freshman, David Norfeldt, has been a key cog. Sophomore standouts are Nico Borter, Gamerov, Gui Osorio and Garrett Kurtz. The roster has only one senior, Alexandros Araouzos, and Pratt Keerasuntonpong is a junior.
Denmark's Holmgren, one of eight international Torero tennis players on the roster, is experiencing all new things as a college player this year, but he understands what's needed this weekend.
"We have to approach our match with 100 percent focus because that's definitely what it will take for us to win against Texas Tech," he said.
The USD baseball team badly needed wins in a three-game West Coast Conference home series against Gonzaga last weekend to keep slim hopes of qualifying for the WCC Baseball Tournament later this month alive.
Instead, the Toreros dropped another WCC series, losing Friday's opener, 13-3, and then suffering a 5-3 setback on Saturday. On Sunday, the team eked out a 5-4 win in 11 innings to snap a three-game losing streak.
Sunday's win was special because it gave USD Head Coach Rich Hill his 1,000th career coaching victory in 31 years as a head coach (he's also been coach at Cal Lutheran and San Francisco).
USD's record is 21-27 overall and 10-14 in WCC play with only three more WCC games — at Portland this coming weekend — to play. The Toreros have seven games overall left on their schedule, but four are nonconference contests that don't affect the WCC standings.
Friday's game saw Gonzaga collect 17 hits off USD pitchers, including 12 and nine runs (eight earned) against starter Paul Richan. Offensively, Jay Schuyler and Adam Kerner had RBI hits and Brhet Bewley hit a solo home run in the ninth.
On Saturday, the Toreros had 10 hits and Paul Kunst hit his first home run of the season, but Gonzaga scored five runs — all unearned — off USD starting pitcher Chris Murphy. Jeff Houghtby, Kunst, Schuyler and Shane McGuire each had two hits for USD. Bewley, McGuire and Kunst had an RBI.
Sunday, the Toreros won on an 11th inning walk-off home run by McGuire. USD tied the game at 4 on a ninth-inning pinch-hit, three-run homer by Kevin Collard.
Remaining Games: USD Baseball vs. UC Riverside, Tuesday, 6 p.m., Fowler Park; USD vs. Arizona State, Wednesday, 6 p.m., Fowler Park; USD at Portland, Friday-Sunday, 6 p.m., 6 p.m. and 1 p.m.; USD at Oregon State, May 14-15, 5:35 p.m. both days.
The USD softball season concluded in tough fashion as the Toreros suffered its second straight West Coast Conference series sweep at home, this time against BYU.
The Cougars took the opener on May 4, 10-4, and then swept a doubleheader on May 5, with scores of 5-1 and 6-1.
In the opening contest, Lindsay Clare and Hannah Gilliland each homered for USD, but it wasn't enough against BYU.
USD, which finished its season with a 25-27 overall record and a 4-11 mark in WCC play, recognized four senior student-athletes playing their final games on Saturday.
Gilliland, Kailey Hill, Frankie Perales and Sarah Stone were recognized for their efforts over the years.
Stone provided a highlight in Saturday's first game, delivering a home run in the third inning to account for USD's lone run. In the second game, Lauren Kane's solo home run was USD's only run. Taylor Spence went 3 for 6 in the doubleheader.
Torero Tidbits
The USD women's rowing team will compete for the West Coast Conference Championship when racing begins at 9 a.m. on May 12, at Lake Natoma, Calif. ... The USD men's rowing team will compete in the Western Sprints, also on May 12, in Rancho Cordova, Calif. ... The USD women's track team will compete in its final meet of the season, the Occidental College Invitational in Los Angeles May 12 ... A few Toreros made news professionally this past week: Recent USD football standouts, tight end Ross Dwelley and defensive lineman Jonathan Petersen, are getting a taste of the NFL. Dwelley signed with the San Francisco 49ers as an undrafted free agent on April 30. Petersen, an All-America defensive end, was extended an invitation to participate in the Carolina Panthers' rookie mini-camp which takes place May 10-13 in North Carolina ... David Fizdale, a 1996 USD alumnus and a former USD basketball player and assistant coach from 1998-2002, will officially be named head coach of the NBA's New York Knicks this week. Fizdale has previously been head coach of the Memphis Grizzlies and an NBA assistant for Miami, Atlanta and Golden State ... James Borrego has been hired as head coach of the NBA's Charlotte Hornets. Borrego, a 2001 USD alumnus and former USD assistant coach (2001-03) was most recently in his second stint as an assistant coach with the San Antonio Spurs (2015-18 and 2003-10). He's also been an assistant and interim head coach for the Orlando Magic and an assistant for the New Orleans Hornets (now Pelicans) ... Former Torero starting pitcher PJ Conlon (2013-15) was called up to the New York Mets and is slated to start Monday against the Cincinnati Reds. Conlon is the fifth former Torero to be on an MLB roster this season, joining Kris Bryant (Cubs), James Pazos (Mariners), Paul Sewald (Mets) and Sammy Solis (Nationals).
For all USD Athletics news, scores, features and information, visit the website and follow the Toreros on social media platforms: Facebook, Twitter and Instagram.