Torero Athletics: Men's Tennis Wins Fifth Straight WCC Tourney Title; Roundup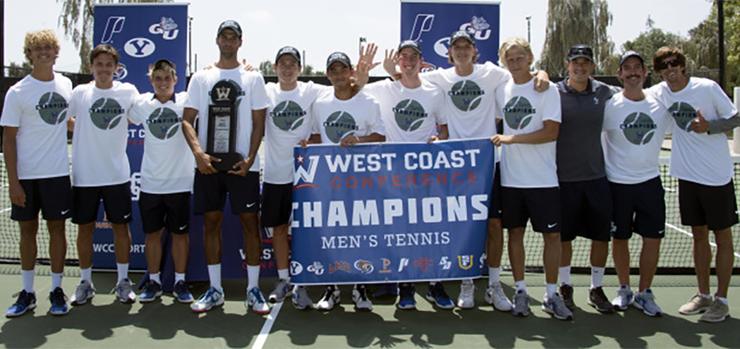 The University of San Diego men's tennis team won its fifth straight West Coast Conference Tournament title to earn an NCAA Tournament berth, upon defeating Loyola Marymount, 4-0, on April 28 at the Biszantz Family Tennis Center in Claremont, Calif.
After winning its sixth WCC regular-season title in the past seven years last week, the Toreros (16-8) delivered a convincing performance against the Lions (19-6) to secure the program's eighth consecutive trip to the NCAA Tournament. The Toreros enter the NCAA Tournament on a six-match win streak.
"I could not be prouder of this team," said Ryan Keckley, who was named WCC Head Coach of the Year and had nine all-WCC players recognized. "They showed a lot of heart during this weekend. This was a big step for this program and we are extremely excited to see where we will head next in NCAAs."
USD started strong and earned the doubles point to take an early advantage, 1-0. Osorio and Nico Borter made quick work of LMU's Charles Boyce and Lucas Moreno in the No. 2 position, 6-0. August Holmgren and Joel Gamerov battled to a 7-6 (5) victory at No. 1 to secure the doubles point.
The Toreros dominated in singles play, winning five of the six first sets. Borter was the first to complete his victory, defeating Lucas Moreno at the No. 3 spot, 6-3, 6-1. Gamerov finished shortly after Borter, defeating Errol Smith at No. 4, 6-2, 6-4.
All eyes turned to David Norfeldt at No. 5 position, as he had won the first set, 7-5, and held a 3-0 lead when Gamerov's match concluded. Norfeldt remained calm and delivered just what his team needed, finishing off Charles Boyce, 6-0. A celebration ensued as Norfeldt was surrounded by his Torero teammates.
The tournament title was particularly special for Alexandros Araouzos, who made USD tennis history becoming the first Torero to be a member of five WCC tournament title teams.
Next Match: USD Men's Tennis will play in the NCAA Tournament. The selection show is May 1 at 2:30 p.m. on NCAA.com
The USD men's rowing team competed this past weekend at the WIRA Championships in Sacramento, advancing three boats to the Grand Finals on Sunday's final day.

After high speed racing in the preliminary heats on Saturday, the three USD crews that made the top finals weren't able to keep up the pace.

The V8+ placed fifth in front of UC Irvine and behind, in order, winner Santa Clara, UC Santa Barbara, UC San Diego and Orange Coast College. The USD crew crossed the line in 6:10.
The 2V8+ finished sixth with a time of 6:34. They went up against UCSD, Santa Clara, UCSD B, UC Santa Barbara and OCC.
After a great showing in the heat and semifinals, the Toreros freshman four wasn't able to grab a top placement in the Grand Final. They finished sixth behind UCSD, Santa Clara, Puget Sound, UC Irvine and UCLA.
Next Race: USD men's crew at Western Sprints, Saturday, all day, at Rancho Cordova, Calif.
The USD baseball team put together a 2-2 week of play, including a West Coast Conference series road win at BYU April 26-28.
Following a 10-7 loss at UC Irvine on April 24 in which Jay Schuyler did go 3-for-3 at the plate with three RBI, the Toreros headed to Provo, Utah, in search of wins and a chance to get back in the WCC race.
It didn't start out well. BYU took Thursday's opener, 9-1, only allowing four hits by the USD offense. Tora Otsuka's double scored Brhet Bewley, who had tripled, for USD's lone run.
But the Toreros rallied to win the series with an 11-6 triumph Friday and a 9-5 win in the rubber game on Saturday.
Friday's win featured a strong pitching performance by USD starter Paul Richan and, offensively, freshman Adam Kerner hit a grand slam home run as USD snapped a five-game skid. Kerner was 2-for-5 with five RBI and two runs scored. Bewley went 3-for-3 with three RBI and two runs scored. Richan completed seven innings, scattering eight hits, allowing just three runs, striking out six and issuing no walks.
The Toreros got their second win as lefthander Chris Murphy pitched eight complete innings, scattered nine hits, gave up all five runs and struck out five in Saturday's series finale. USD totaled 14 hits, led by Kerner, who went 4-for-5 at the plate with two RBI and two runs scored. Bewley hit a home run and both Jeff Houghtby and Schuyler had three hits. All three players drove in two runs for USD (20-24 overall, 9-12 WCC).
Next Games: USD Baseball at Texas Tech, Tuesday, noon; USD hosts Gonzaga, Friday-Saturday-Sunday, 6 p.m., 5 p.m. and 1 p.m., Fowler Park.
The 2018 USD women's track team accomplished not only its best race to date, but one of the best team mid-distance performances in program history at the Adidas/Steve Scott Invitational April 28. A USD record time was set by the all-freshman relay team, while two freshman records were broken in the 1,500- and 800-meter races.
The all-freshman relay team of Kate Kohler, Sera Parvin, Jessica Ong and Molly Klein set a school record in the 4x400-meter race in four minutes and 2.77 seconds. The 2018 Toreros defeated the old mark, set in 2014 by Melissa Mello, Gillian Gorelik, Corey Van Dyke, and Sarah Kapple, by five seconds.

Hannah Rasmussen and Parvin set school records for freshman in the 1500 and 800, respectively. Rasmussen's record time in the 1500 was 4:35.41. Parvin's 800 time was 2:16.76.
Next Meet: USD Track at Occidental College Invite, May 12, all day.
The USD softball team suffered its first West Coast Conference series sweep this season as visiting Loyola Marymount won 7-3 in eight innings and 9-2 in a doubleheader on April 28 and then blanked the Toreros 6-0 in the series finale April 29.
The losses dropped USD's record to 25-24 overall and 4-8 in WCC play.
USD battled back from a 3-0 deficit in the opener, scoring three runs in the fourth inning on a two-run triple by Lauren Kane and a sacrifice fly by Madison Casiano to score Kane and the game went to extra innings. LMU, however, scored four runs in the top of the eighth for the victory.
In the second game, LMU's offense scored four times in the third inning and three more in the fourth inning for a 7-0 lead. USD's two runs came on Hannah Gilliland's RBI triple and a sacrifice fly by Kailey Hill.
On Sunday, four errors through the first three innings put USD in a hole early and led to six unearned runs in the shutout loss to LMU. Offensively, USD's highlight was a 2-for-4 day at the plate by Casiano.
Next Games: USD Softball hosts BYU, Friday, 6 p.m., Saturday, 11 a.m. and 1 p.m., at the USD Softball Complex.
For all USD Athletics news, scores, features and information, visit the website and follow the Toreros on social media platforms: Facebook, Twitter and Instagram.