Seven Minutes, Seven Alumni, Seven Inspiring Stories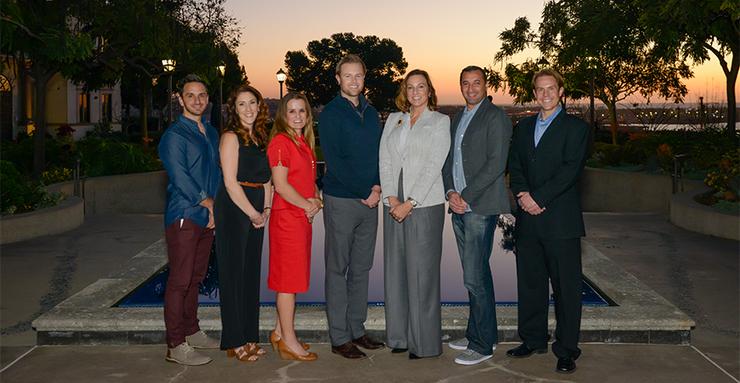 Every University of San Diego student has a story. Everyone has a path they follow toward the life they lead today and each has learned lessons while on that pathway that enable them to thrive. There is inspiration within everyone here.
On March 1 in the Kroc School Peace and Justice Theatre, USD's School of Business hosted a platform for seven alumni to provide their stories to an audience of USD alumni, current students, staff, faculty, administrators and the San Diego community. Called Seven by Seven, this second annual event provided each with a seven-minute opportunity to share their thoughts about innovation, creativity and leadership.
Prior to the alumni speakers, School of Business Dean, Jaime Gomez, gave an update on the School of Business and School of Business Associate Professor of Management, Rangapriya (Priya) Kannan-Narasimhan, spoke on her seven secrets to success.
The seven USD business alumni, in order of presentation, were: Amar Harrag '02 (BBA), owner of Matisse Bistros and Allied Green Realty; Brittan Trozzi '15 (MBA), account director, Marketing Design Group; Chris Lobus '01 (BA), '08 (MS Global Leadership), director of project management for iProspect; Debbie Ruane '14 (MS Executive Leadership), executive vice president and CSO for the San Diego Housing Commission; Chad Beville '05 (BBA), co-founder of Reveel; Maria Thompson '03 (International MBA), founder and CEO of Agile Sourcing Partners; and Noah Lomax '14 (MS Executive Leadership), Global Strategy manager, HP.
View the event in its entirety, please click on the video below (the first alumni speaker begins at 14 minutes, 30 seconds):
— USD News Center
Photos courtesy of HalfFull Photography. Video courtesy of the Kroc Institute for Peace and Justice.