A Good Fit: USD's Isaiah Pineiro Finds His Place to Play Basketball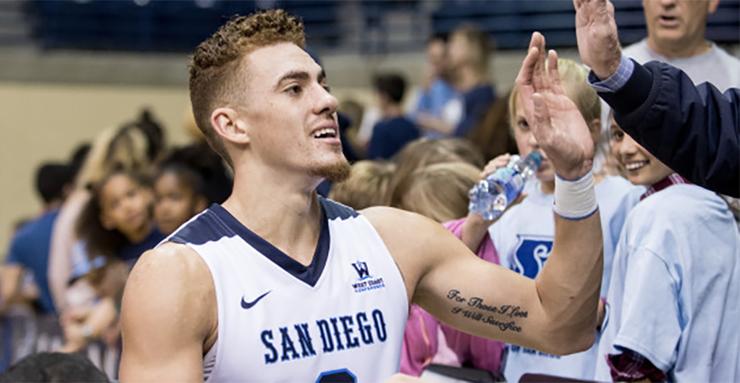 The late M. Scott Peck wrote the New York Times best-selling book "The Road Less Traveled," a spiritual self-discipline compass published in 1978 that sold more than five million copies. University of San Diego junior forward Isaiah Pineiro is in the process of penning basketball's "The Road Less Traveled."
Sit out one season after high school. Play one season at a junior college. Transfer to a Division I program. Average double figures but not be content with the surroundings. Transfer to USD. Sit out another season. Then this year, blossom.
Pineiro led USD in scoring (15.4 points) and rebounding (6.1) this season and this week was rewarded for his patience and work ethic, being selected to the All-West Coast Conference's first team.
"I'm very honored," said the 6-foot-7 Pineiro. "There's a lot of good players up there, some real good names."
Come 1 p.m. on Saturday, March 3, Pineiro and his teammates open WCC Tournament play as the No. 6 seed against No. 3 BYU at the Orleans Arena in Las Vegas. USD is 18-12. BYU is 22-9.
Asked what the player better known as I.P. means to the Toreros, acting head coach Sam Scholl said, "The first thing is an unbelievable example of what hard work is. There is nobody in our program who works harder."
On Monday, an off day for the Toreros, Scholl spotted Pineiro in the weight room.
"He's a guy you always see in the gym at 9 in the morning, asking one of us to rebound (while Pineiro launches shots)," said Scholl. "A tremendous work ethic. Therefore, he garners leadership."
Pineiro attended Placer High in Auburn, Calif. Despite averaging 20.4 points and 10 rebounds, he didn't feel he was physically ready to play college basketball.
"I wasn't as strong as I wanted to be and I felt I wanted to get more athletic," he said.
Pineiro sat out one season, working out with the Sierra Junior College team, plus honed his body lifting weights and practicing plyometrics. After one season at Sierra JC, he transferred to Portland State, where he averaged 12 points and 5.5 rebounds in 2015-16.
His stay, though, would last just one season.
"It just wasn't the right fit," said Pineiro.
Drawn by the Toreros' coaching staff, the San Diego location and USD's academic reputation, he headed south. Sitting out last year's redshirt season, the second time in four years he missed a year of competitive basketball, was not easy.
"One of the hardest things I've done," said Pineiro. "You just have to practice and lift and not get the reward of playing in games."
This season has been memorable on and off the court. Pineiro is Puerto Rican and in September, Hurricane Maria struck the island, killing 64 people. While he has never visited Puerto Rico, Pineiro has relatives who live there.
Every game this season Pineiro has slapped white medical tape across his wrists and in black marker written "Pray 4 PR."
"It's a reminder to be thankful for what we have here and to pray for them," Pineiro said.
He wants to one day play for Puerto Rico's national team.
On Dec. 18, he took his girlfriend of six years, Olivia Holmes, to the beach, dropped to one knee and proposed. She accepted.
"We've been together so long," he said. "There's a security knowing we're committed to each other."
Pineiro has been called a position-less. He can crash the boards. He can put the ball on the floor and attack. He hits the pull-up jumper. He's hit 24 three-pointers.
"It's good to have a guy who can score so many ways, a guy who creates offense in so many ways, a guy who is a matchup nightmare," said Scholl.
There is no secret to how Pineiro earned All-WCC honors. Work, work and more work.
"With the route I've taken, I've had to become a hard worker," Pineiro said. "I enjoy the long workouts. I enjoy lifting on off days. It's become who I am."
All-WCC Basketball, Academic Honors
• Pineiro was one of three USD men's basketball players honored on the All-West Coast Conference teams. In addition to Pineiro on the first team, junior guard Isaiah Wright was selected second team, and junior guard Olin Carter III was an honorable mention.
• Senior forward Cameron Neubauer, a finance major with a 3.27 GPA, was named to the All-WCC Men's Basketball All-Academic Team.
Keep up with USD's men and women's basketball teams at the WCC Tournament by visiting usdtoreros.com or the WCC Tournament Central website.
— USD Athletics