Women's Basketball Tops BYU in WCC Tourney; Plays in Semifinal Monday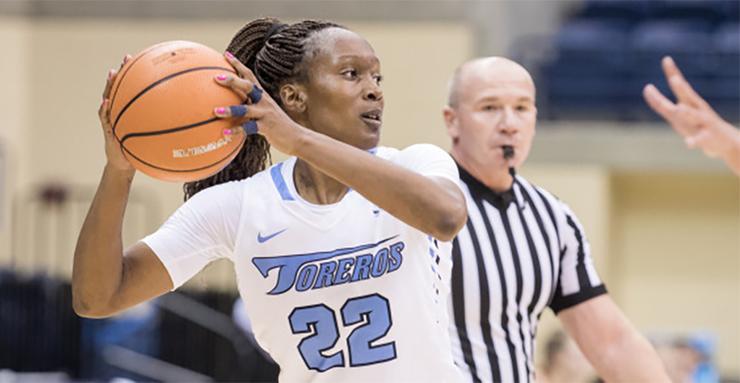 The women's basketball team entered Thursday's West Coast Conference Tournament quarterfinal game against BYU knowing full well what was at stake.
"I think they understand that the postseason is a whole other season," USD Women's Basketball Coach Cindy Fisher said. "We played (BYU) really well both times in the regular season, I thought we really competed and played well at BYU. I think our team has a little confidence, but they understand BYU is going to be ready for us."
Well, the result this year once again went the way of the Toreros, the No. 6 seed. Maya Hood hit a mid-range jumper with 24 seconds remaining in the fourth quarter to deliver the final blow to No. 3-seeded BYU and send San Diego to the WCC Tournament semifinals with a 61-56 victory at the Orleans Arena in Las Vegas.
Hood has hit numerous big shots for the Toreros (16-14) throughout her illustrious career but her final shot in Thursday's game will certainly rank as one of the most memorable. The shot put the game out of reach and ensured the Toreros would avenge last year's overtime loss to the Cougars in the conference tournament and marked the first time in program history USD has swept BYU in a season.
USD advances to the semifinals on Monday at 2 p.m. (Pacific time) and will play either Saint Mary's or Pacific, who played at 2 p.m. Friday in a quarterfinal game.
Caroline Buhr scored a team-high 15 points — the second-most points she has scored in a game this season — to lead the Toreros offensively. She also registered a team-best eight rebounds. Aubrey Ward-El had nine points.
The Toreros led for a majority of the game and dominated the glass, outrebounding BYU, 37-19. USD made the most of its extra opportunities, producing 22 second-chance points to just one for the Cougars.
The Toreros shot 41 percent on the night and went 4-of-8 (50 percent) from three-point range. BYU shot better than USD at 46 percent from the field and 55 percent from behind the arc, but struggled at the free-throw line, converting just 12-of-22 attempts.
A major key to USD's success against the Cougars was getting off to a quick start. The Toreros posted 13 points in the first and second quarters to take a 26-25 lead into halftime.
USD entered the game 15-0 when leading at halftime and extended that streak by outscoring BYU 35-31 in the second half.
All-WCC Basketball, Academic Honors
• Three San Diego players earned all-conference honors. Aubrey Ward-Elwas named All-WCC first team, Maya Hoodwas named to the second team and Myah Pace claimed All-Freshman Team recognition. It is the second all-conference honor of Ward-El's career after being an honorable mention as a junior last year. It's also the second for Hood, who earned second-team honors as a junior in 2015-16.
• USD earned a conference-best eight WCC All-Academic honorees. Hood was named to the WCC All-Academic Team while seven teammates claimed honorable mention recognition: Caroline Buhr, Alexandra Hagen, Ana Ramos, Sydney Shepard, Aubrey Ward-El, Sydney Williamsand Alexandria Young.
Keep up with USD's women and men's basketball teams at the WCC Tournament by visiting usdtoreros.com or the WCC Tournament Central website.
— USD Athletics
Ryan T. Blystone contributed to this story