Humanities Center: Spring 2018 Events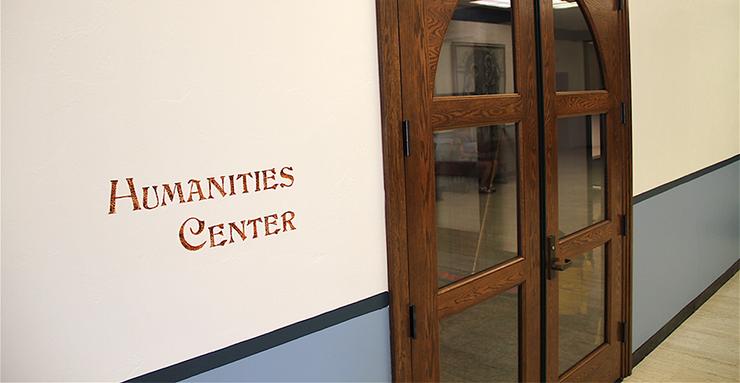 The University of San Diego's Humanities Center, located in Serra Hall 200, continues its second full year of existence with noteworthy spring programming this semester. Here's a look at some of the many ways to engage with the center, a space dedicated to exploring the world through multiple subject lenses and voices.
The Idea of Beauty Series
The Humanities Center will explore the three underlying concepts that constitute the foundation of USD at its inception: beauty, goodness and truth. In the words of co-founder Mother Rosalie Clifton Hill, "Beauty will attract them, goodness will lead them, but the truth will hold them." The program takes place each Tuesday (with two exceptions) from 4-5:20 p.m. in Serra Hall 200 now through May 1. Events are free and open to the public. Refreshments are provided.
The series began Feb. 6. Remaining events are: Beauty and Art, Feb. 20; Beauty and Music, Feb. 27; Beauty in Mathematics and the Natural Sciences, March 6; Philosophers on Beauty: Hume, Burke and Kant, March 13; Theology, Beauty and Vulnerability, March 20; No event March 27 and April 3; Language of Beauty: Reflections from Martha Barnett of "A Way with Words" and Special Guests, April 10; Alcalá Review Reviews Beauty, April 17; Postcolonial Critiques of Beauty, April 24; and Women and the Problem of Beauty, May 1.
Digital Humanities Colloquium Series
The Humanities Center's Digital Humanities series is an opportunity for faculty and students to explore the impact of technology on society and higher education; learn new digital tools for teaching, earning, research and scholarship; and to showcase digital humanities projects and innovations by USD faculty and students. This occasional series runs through May 3 from 12:30-2 p.m. in Serra Hall 200. Refreshments will be provided.
Remaining events are: "Digital Pedagogy and Public Writing: Expanding our Students' Reach Beyond the Classroom," presented by Assistant Professor of English Amanda Moulder, PhD, who is also director of the USD Writing Program; "Better Tools for Tracking Your Revisions: Pandoc and Markdown," March 7, presented by Paul Evans, Digital Humanities Post-Doctoral Fellow; and the "Digital Humanities Pedagogy Showcase: New Work by USD Students and Faculty," is April 26 and May 3. Presenters include Assistant Professors of English Koonyong Kim, PhD, Marcelle Maese-Cohen, PhD, and Bradley Melekian, MFA.
Black History Month
The Humanities Center is celebrating February's Black History Month with three items that are in partnership with a greater collection of events taking place around campus. Two events remain.
"Student-led Symposium on Beyonce's Lemonade," Monday, Feb. 19, 4-5:30 p.m., Serra Hall. This is a symposium for open debate about various aspects of singer Beyonce's album, Lemonade, and the manifold political and social issues it engages.
"On Being Black: USD, San Diego and America — Past, Present and Future," with Christopher Wilson, USD alumnus and current associate director of Alliance San Diego, Wednesday, Feb. 28, 6-7:30 p.m., Warren Auditorium in Mother Rosalie Hill Hall. At Alliance San Diego, Wilson's work centers on empowering communities of color and low-income communities through building bridges, creating collaboration, and identifying common issues. His talk will address both his academic and professional experiences.
Reflections in the Black Mirror
Black Mirror is among the most critically acclaimed and thought provoking shows on television, regularly exploring the intersection of technology and the human condition. Led by USD Communication Studies Professor and Co-Director of the Film Studies Minor, Eric Pierson, PhD, each of four Tuesday sessions — Feb. 20, Feb. 27, March 6 and March 13 from 6-8 p.m. in Serra Hall 200 — will include a screening of an episode and a panel discussion with interdisciplinary faculty members present. The community is invited to attend and engage in reflection.
Humanities Center Exhibitions
The Humanities Center Gallery features exhibitions throughout the semester that showcase student work, acclaimed artists and visiting scholars. Three exhibitions, including one that's currently available for viewing, will take place this semester. Gallery is regularly open noon to 5 p.m., Monday-Friday, in Serra Hall 200.
Screenings 1: Victoria Fu. Velvet Peel 1, 2015. Color Video with Sound (12 minutes, 17 seconds on a loop), now through Feb. 24: Victoria Fu is an assistant professor in the Department of Art, Architecture + Art History at USD. To learn more about her and her artwork, please view the Humanities Center Gallery webpage.
Collecting Women Printmakers at USD: A Student Perspective, March 2-April 9 (Opening reception March 7, 5 p.m.): In 2012, USD had already earned a reputation for its collection of original prints with strengths in the Old Masters: Durer, Rembrandt, Callot, Goya, Rouault, etc. Only two women artists, however, were represented in that small, but fine collection. Since that time, the University Galleries has made a deliberate effort to diversify its holdings, adding more than 100 works by such artists. Katelyn Allen, Class of 2018 and Humanities Center Keck Student Fellow, has studied this exponential growth of women printmakers in the permanent collection. From Baroque engravings by Teresa del Po to lithographs by Kara Walker, Collecting Women Printmakers at USD celebrates this expansion of concern.
Folding Borders, Making Unfoldings, April 16-May 18 (Opening reception April 27, 5 p.m.): Folding Borders, Making Unfoldings will feature work by the father/son duo Martin and Erik Demaine and work created in several parallel creation stations (including two located at USD, one in Linda Vista, and one in Tijuana) that will allow participants to simultaneously and spontaneously create based on certain rules inspired by the work of Martin and Erik. The exhibit will begin with a few pieces by the Demaines and the collaborative creations will be "folded" into the exhibit prior to the gallery opening reception on April 27.
There are many more events hosted or co-sponsored by the Humanities Center, too, this spring. To see a full list of events, times, dates and locations (some events aren't held at the Humanities Center space), view the Humanities Center's website events page.
— USD News Center