CAI Releases New Report: Failing U: Do state laws protect our veterans and other students from for-profit postsecondary predators?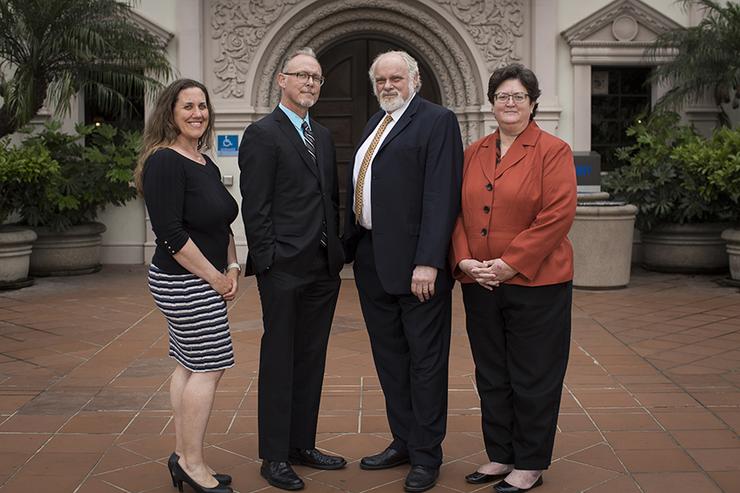 San Diego (January 23, 2018) - University of San Diego (USD) School of Law's Children's Advocacy Institute (CAI) released a report called Failing U which analyzed the extent each state utilizes laws and regulations to protect students from for-profit postsecondary predators. According to the report, 43 of the 50 states earned an F and six others received a D. California was the only state to receive a B.
CAI used seven areas to critique the state laws including whether the laws: (1) provide for a multi-member, publicly accountable oversight body that can, among other things, engage in rulemaking, initiate investigations, and impose penalties for violations of law; (2) require reviews and/or inspections of for-profit postsecondary schools operating within its jurisdiction; (3) provide exemptions from oversight and/or regulation; (4) require institutions to disclose performance measures to prospective or current students; (5) prohibit specific acts regarding advertising and recruiting; (6) provide an appropriate complaint process and other relief for victimized students; and (7) authorize appropriate enforcement mechanisms.
According Robert Fellmeth, CAI's Executive Director, "[t]he title of this report is Failing U' for good reason." He continued, "[t]oo many for-profit schools fail their students by making misleading representations about their academic programs, targeting vulnerable populations (especially veterans and others with access to federal educational funds), promising lucrative employment upon graduation, engaging in predatory marketing tactics, failing to appropriately invest in academic supports, etc., and most states are failing their students by not doing more to weed out the bad actors in the for-profit college industry."
The purpose of the report is to spark discussion regarding the necessities of protection to guarantee that students at for-profit colleges are receiving a quality education and to protect taxpayers who are ultimately the ones to carry the burden of when these institutions fail and cannot repay their federal student loans. In addition, the report will hopefully lead states to learn from one another and use the best practices available to protect students from these predators.
The report was discussed by The Washington Post earlier this week.
The full report can be accessed here.
About Children's Advocacy Institute
The Children's Advocacy Institute (CAI), founded at the nonprofit University of San Diego School of Law in 1989, is one of the nation's premiere academic, research, and advocacy organizations working to improve the lives of children and youth, with special emphasis on improving the child protection and foster care systems and enhancing resources that are available to youth aging out of foster care.
In its academic component, CAI trains law students and attorneys to be effective child advocates throughout their legal careers. Its Child Advocacy Clinic gives USD Law students three distinct clinical opportunities to advocate on behalf of children and youth, and its Dependency Counsel Training Program provides comprehensive training to licensed attorneys engaged in or contemplating Dependency Court practice.
CAI's research and advocacy component, conducted through its offices in San Diego, Sacramento, and Washington, D.C., seeks to leverage change for children and youth through impact litigation, regulatory and legislative advocacy, and public education. Active primarily at the federal and state levels, CAI's efforts are multi-faceted—comprehensively and successfully embracing all tools of public interest advocacy to improve the lives of children and youth.
About the University of San Diego School of Law
The University of San Diego (USD) School of Law is recognized for the excellence of its faculty, depth of its curriculum, and strength of its clinical programs. Each year, USD educates approximately 800 Juris Doctor and graduate law students from throughout the United States and around the world. The law school is best known for its offerings in the areas of business and corporate law, constitutional law, intellectual property, international and comparative law, public interest and taxation.
USD School of Law is one of the 84 law schools elected to the Order of the Coif, a national honor society for law school graduates. The law school's faculty is a strong group of outstanding scholars and teachers with national and international reputations and currently ranks 35th nationally and 6th on the West Coast among U.S. law faculties in scholarly impact and 20th nationally and 4th on the West Coast in past-year faculty downloads on the Social Sciences Research Network (SSRN). The school is accredited by the American Bar Association and is a member of the Association of American Law Schools. Founded in 1954, the law school is part of the University of San Diego, a private, independent, Roman Catholic university chartered in 1949.