Torero Athletics: Another Basketball Split Week; Swim Results; Spring Sports Arrive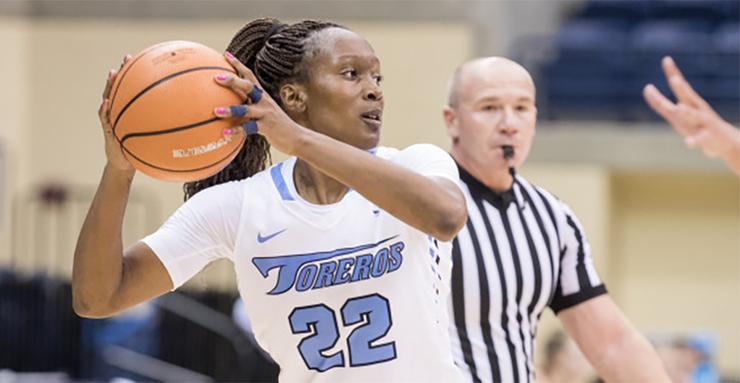 The University of San Diego men's basketball team earned a hard-fought 75-71 victory over the Loyola Marymount Lions on Jan. 13 to claim its 13th win in 18 games so far this season and improve to 4-2 in West Coast Conference play.
Sophomore forward Juwan Gray, coming off the bench, scored a career-high 17 points and was followed by Isaiah Wright (16 points) and Isaiah Pineiro (15 points). San Diego won despite a 30-point effort by LMU junior guard James Batemon.
For the game the Toreros shot 55.8 percent from the floor (29-52) and made 8-of-21 three-pointers. Freshman forward Yauhen Massalski gave the Toreros a big lift late, scored six points and grabbing four rebounds. He was a perfect 4-of-4 from the free-throw line. Wright added six assists and five rebounds.
Earlier last week on the road, the Toreros dropped a 74-70 WCC decision to Pacific Jan. 11 at the Alex G. Spanos Center in Stockton.
Isaiah Pineiro scored a team-high 23 points, but the Toreros couldn't overcome Pacific's free-throw shooting (33-of-35, 94.3 percent). USD, meanwhile, made 11 of its 15 attempts. Tyler Williams (20) and Isaiah Wright (13) also reached double-digit scoring.
For the game, USD shot 48 percent from the field (24-50) and outrebounded the Tigers 34-29. The Toreros converted 11-of-24 three-pointers and held the Tigers to no three-pointers in the second half, finishing the game 5-of-16. For USD, Pineiro made 9-of-14 shots from the field, including 4-of-5 beyond the arc. Williams made 4-of-7 threes and 6-of-9 overall.
January games: Men's Basketball hosts Portland, Jan. 18, 7 p.m., JCP; USD at BYU, Jan. 20, 6 p.m.; USD hosts Santa Clara, Jan. 25, 7 p.m., JCP; USD at Loyola Marymount, Jan. 27, 1 p.m.
It was another split for the USD women's basketball team last week — one win, one loss — in West Coast Conference play but this time it was a loss at home, a 81-68 setback against Pacific on Jan. 11 in Jenny Craig Pavilion, followed up by a road win, 60-54 at Loyola Marymount.
Both outcomes carry significance. The Toreros, now 10-7 overall and 3-3 in the WCC, lost for only the second time at home in eight games to date while the road win improved their mark to 3-5 away from the JCP.
Coaches say winning home games, especially in conference play, is critical. Winning on the road is important, too, and it provides a confidence boost.
Against Pacific on Jan. 11, Maya Hood scored a season-high 24 points to lead the Toreros but it was not enough against a hot-shooting Pacific team. The Toreros did cut an early 15-point deficit to 65-64 with 6:40 to play, but the Tigers closed the game on a 16-4 run to seal the victory.
The Toreros shot 39.3 percent from the field but the Tigers were 29 for 50 (58 percent) from the field and 5 for 10 (50 percent) from three-point range.
San Diego had four players score in double-digits. Along with Hood, Ana Ramos, Sydney Williams both had 11 and Aubrey Ward-El added 10.
Two days later at Loyola Marymount, Ward-El scored a team-high 21 points to lead San Diego to victory. With the score knotted at 52-52, Madison Pollock converted a layup with 1:26 to play to give the Toreros a lead it would not relinquish. USD closed on an 8-2 run.
USD shot well from the field (48 percent) despite going 0 for 7 from 3-point range. Maya Hood chipped in 14 points, while Myah Pace added nine (and five assists) and Pollock had eight.
The Toreros outrebounded the Lions 42-32. Pace pulled down 11 while Hood grabbed nine. Hood now has 867 career rebounds and is one rebound shy of tying Amber Sprague (2004-09) for the most rebounds in program history.
January games: Women's Basketball at Portland, Jan. 18, 7 p.m.; USD hosts BYU, Jan. 20, 2 p.m., Jenny Craig Pavilion; USD at Santa Clara, Jan. 25, 7 p.m.; USD hosts Loyola Marymount, Jan. 27, 2 p.m., JCP.
Toreros Alex Hubel and Danielle Taylor each won an individual event but it wasn't enough to take down Fresno State in a 167-104 loss on Jan. 13 at the Sports Complex Pool.
Hubel flew to a first-place finish in the 100-yard butterfly in 56.99 and out-touched the second-place finisher by two-one hundredths of a second. Hubel added a third-place finish in the 200 fly in 2:07.73. Taylor paced the field in the 100 freestyle with a time of 52.28. She notched second-place results in the 100 backstroke (59.00) and 50 free (24.53).
Hubel and Taylor were two of nine Toreros who combined for 12 top-three finishes in the meet.
January Meets: Swim Team at San Diego State, Friday, noon; USD hosts UC San Diego, Jan. 27, noon, Sports Center pool.
When USD women's tennis player Carolin Nonnenmacher notched the Toreros' lone singles win in a 6-1 nonconference loss to the host University of Southern California on Jan. 14, that became the first USD spring sports team to compete in 2018.
The women return to action at 11 a.m. Sunday when the University of Oregon faces USD in the latter's home opener at the Skip and Cindy Hogan Tennis Center, located behind Mother Rosalie Hill Hall.
The men's tennis team opens its 2018 spring season this Friday with two home matches — playing UC Irvine at 10:30 a.m. and then UC San Diego at 2:30 p.m.
The bulk of USD spring sports teams will begin play in their respective seasons in February.
• Head USD Softball Coach Melissa McElvain begins her 17th season at USD with a three-team tournament with Campbell (N.C.) and California State University, Bakersfield Feb. 8-11.
• First-year women's rowing head coach, Sarah Trowbridge, will lead her student-athletes into a Feb. 10 meeting against UCLA.
• The men's golf team, under the direction of new head coach and former PGA Tour player Chris Riley, opens its spring season hosting its own USD Intercollegiate Tournament at The Farms Golf Club in Rancho Santa Fe, Feb. 12-13.
• The USD Baseball program is hosting its 16th annual fundraiser, the For the Love of the Game event, this Saturday, Jan. 20, aboard the Hornblower Inspiration for an exclusive three-hour sailing trip program around San Diego Bay. On Sunday, Jan. 21 at 10:30 a.m., is the Alumni Game at Fowler Park. Head Coach Rich Hill and his Toreros' regular-season opening day is Feb. 16 when they'll host the University of Cincinnati at 6 p.m. at Fowler Park. The game is part of a three-team weekend series with both Cincinnati and the Cal Golden Bears.
• USD men's crew, under the direction of veteran head coach Brooks Dagman, will compete in the San Diego City Championships on Feb. 25.
Keep up with all USD Athletics news, scores and information by visiting the website and following the Toreros on social media: Facebook, Twitter and Instagram.