Meet Jocelyne Olguin, USD-Bayside AmeriCorps VISTA Member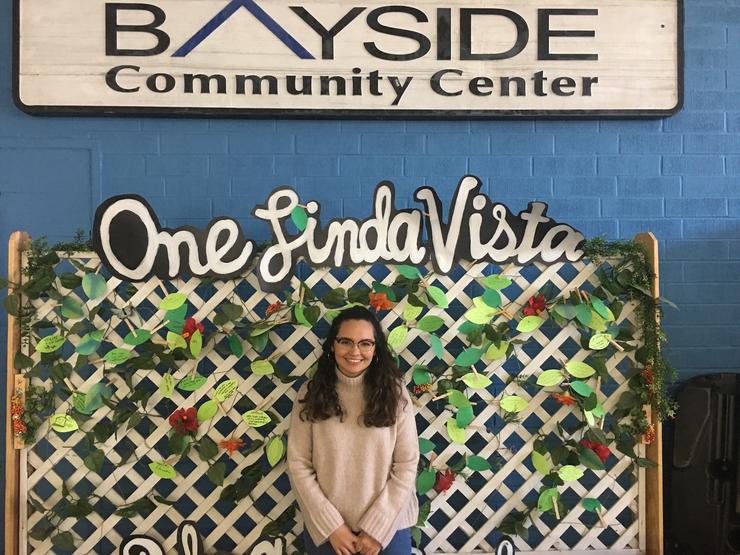 USD has a tradition of engaging with the community of Linda Vista. One of its oldest partnerships is with Bayside Community Center and this year marks a new chapter in our collaboration. USD, together with Bayside, was selected to host an AmeriCorps VISTA member who would focus on capacity building for some of Bayside's flagship programs (e.g. Youth Leadership Academy), support the efforts of the Linda Vista Collaborative and serve as a liaison between USD and Bayside. We are pleased to announce that Jocelyne Olguin '17, BBA, is the new USD-Bayside AmeriCorps VISTA member.
Her work will embody the collaboration between the Linda Vista community and USD. According to Dr. Corey Pahanish, Executive Director of Bayside, maintaining the partnership takes a lot of effort and a variety of strategies, one of which is the AmeriCorps VISTA position.
"Having Jocelyne represent both USD and the community is huge!" commented Pahanish. Building the capacity of the USD-Bayside partnership will be no easy task. Bayside serves as a corridor for USD faculty, staff and students. To get an idea, last year Bayside had 1,500 USD students come through their doors, according to Pahanish. Let's get to know more about the woman up for the task ...
Why did you choose this particular AmeriCorps VISTA position after graduation?
When I was a business student at USD, I knew I wanted to do more than earn money. I looked to the Mulvaney Center at USD and got involved with border immersion trips. The last stop on these trips is Linda Vista and that is how I got to know some of the community members. I wanted to work at Bayside because they do so much! Linda Vista is so diverse and I felt like it was a family here.
Can you tell me more about the people you met through Bayside?
(Big smile). Tomasa, Irma and Maria are part of the Bayside Women's Saving Group and they would invite USD students that went on the trips to their homes for meetings. This created a deeper relationship with the community because not everyone invites you to their home! I think it also helped to burst the bubble of USD as the castle on the hill and helped me (and other USD students) get to know more about Linda Vista.
How do you see your position as an AmeriCorps VISTA member bridging the gap between Linda Vista and USD?
Part of my job is to be a liaison between USD and Bayside. I will work on developing opportunities to bring Linda Vista residents (through Bayside) to campus to get to know it better, access on-campus resources and bring USD undergrads to Bayside to collaborate and get to know Linda Vista better. I am happy that I can use what I learned at USD and apply it to the real world by engaging with the Linda Vista community.