Torero Athletics: Men's Basketball Sweeps WCC Openers; Women Split on Road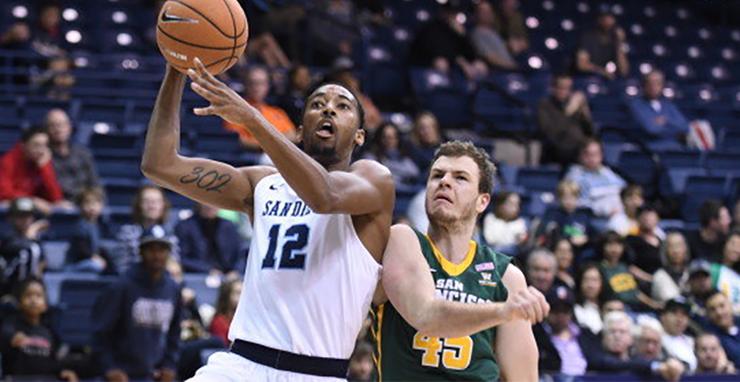 The winning formula that existed in abundance in the nonconference portion of the USD men's basketball season continued to shine in the early going of the West Coast Conference schedule late last month.
On Dec. 28 and 30, USD opened its WCC schedule at home — a first since third-year head coach Lamont Smith took the coaching reins — and the results were a 73-63 victory over San Francisco and a 74-66 triumph over Pepperdine.
The wins gave the Toreros (11-3 overall, 2-0 WCC) a three-game win streak as they prepare for their first road WCC games this Thursday and Saturday at Portland and Saint Mary's, respectively. Thursday's game will be USD's first road game since Dec. 12 (a 69-59 win at Colorado).
Against San Francisco, USD earned a solid WCC-opening victory over USF. Junior forward Isaiah Pineiro scored a season-high 23 points to go with eight rebounds and junior guard Isaiah Wright added 17 points, eight rebounds and six assists. Olin Carter chipped in with 13 points and the Torero defense limited the Dons to just two made three-pointers.
USD shot 45.8 percent from the field (22-48), 44.4 percent from beyond the arc (8-18) and a solid 75 percent from the line (21-28). The Toreros outrebounded the Dons 38-34 and finished with nine blocked shots (7 coming in the first half).
Following a 9-3 nonconference performance, USD's win over San Francisco was also a boost in that it was USD's first WCC-opening victory since the 2012-13 campaign.
Two days later, playing a Saturday afternoon game at home against Pepperdine, Olin Carter did what a team captain needs to do from time to time. The junior buried seven three-pointers on his way to a season-high 27 points as USD topped a pesky Pepperdine squad. The win boosted USD's record to a program-best 11-3 start in the Division I era.
USD converted 11 three-pointers on 28 attempts and were a solid 17-21 from the free throw line. Isaiah Wright (13 points, nine assists, and six rebounds), Juwan Gray (11 points, 11 rebounds) and Tyler Williams (11 points) followed Carter in double-digit scoring. USD also collected 10 blocked shots.
January games: USD Men's Basketball at Portland, Thursday, 7 p.m.; USD at Saint Mary's, Saturday, 8 p.m.; USD at Pacific, Jan. 11, 7 p.m.; USD hosts Loyola Marymount, Jan. 13, 7 p.m., Jenny Craig Pavilion; USD hosts Portland, Jan. 18, 7 p.m., JCP; USD at BYU, Jan. 20, 6 p.m.; USD hosts Santa Clara, Jan. 25, 7 p.m., JCP; USD at Loyola Marymount, Jan. 27, 1 p.m.
The women's basketball team split its first two West Coast Conference games — both on the road — against San Francisco on Dec. 28 and Pepperdine on Dec. 30 to put its record at 8-5 overall and 1-1 in the WCC. These games were the first for USD's women's team since a Dec. 16 victory over University of Texas-San Antonio.
Aubrey Ward-El scored a season-high 24 points to lead San Diego to a 60-54 conference-opening victory at San Francisco.
Ward-El put up 13 points in the first half and finished strong with 11 in the second to guide the Toreros to victory. Her 24 points were just two shy of her career-best of 26, scored against BYU on Jan. 14, 2017. Maya Hood chipped in 12 points, while Myah Pace and Sydney Williams added eight apiece. Ward-El and Hood led USD with nine rebounds and three steals apiece.
The Toreros played well defensively, forcing 20 Dons turnovers and turning the extra possessions into 14 points. USD was held to 33 percent shooting but connected on four-of-11 three-pointers and did well to get to the free-throw line, converting 12-of-16 attempts.
Against Pepperdine two days later, Ward-El's three-point shot attempt with four seconds left fell short and the Waves made a free throw to seize a 66-62 victory over the Toreros.
Three San Diego players scored in double digits, but it wasn't enough. Alexandria Young led the Toreros with 17 points, Ward-El added 12 and Hood chipped in 11.
USD was held to 36.5 percent shooting on the day, including a 1-for-11 mark from three-point range. The Toreros were 15-of-24 at the free-throw line.
USD, which led 46-42 after three quarters, played well defensively but could not slow down a Pepperdine offense that heated up in the final quarter to score 24 points.
The Toreros are now home for three consecutive WCC games starting on Thursday, Jan. 4 against Portland. Tipoff is at 6 p.m. in the Jenny Craig Pavilion.
January games: USD Women's Basketball hosts Portland, Thursday, 6 p.m., Jenny Craig Pavilion; USD hosts Saint Mary's, Saturday, 2 p.m., JCP; USD hosts Pacific, Jan. 11, 6 p.m., JCP; USD at Loyola Marymount, Jan. 13, 2 p.m.; USD at Portland, Jan. 18, 7 p.m.; USD hosts BYU, Jan. 20, 2 p.m., JCP; USD at Santa Clara, Jan. 25, 7 p.m.; USD hosts Loyola Marymount, Jan. 27, 2 p.m., JCP.
Keep up with all USD Athletics news, scores and information by visiting the website and following the Toreros on social media: Facebook, Twitter and Instagram.