USD Undergraduate Business Program Ranks Third in California, Among Nation's Top 50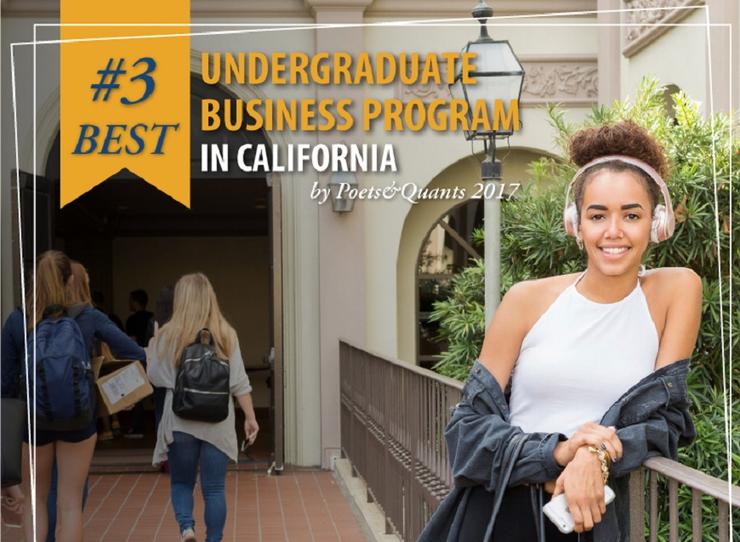 The University of San Diego School of Business undergraduate program is one of the top 50 program in the nation, according to the 2017 ranking by Poets&Quants for Undergrads, a leading news site for business education.
The USD undergraduate program ranks 45th out of 82 schools on the list, the third-highest ranked school in California and the only school in San Diego to make the list. USD School of Business and competing schools represent the top 16 percent of accredited undergraduate business schools in the United States.
USD's program scored particularly well in career outcomes with 91 percent of undergraduates finding jobs within three months after graduation. The ranking also equally weighs admission standards and alumni satisfaction.
"We are honored to receive this recognition which reflects our commitment to providing our students the knowledge and skills to be successful in today's global economy," said USD School of Business Associate Dean for Undergraduate Programs Stephen Conroy. "Our rigorous, relevant program is based on small classes and personalized instruction led by engaged professors that offers students the best in career-building, networking and study-abroad opportunities."
USD School of Business's accounting program also was recognized in December. The program was ranked 19 out of 607 programs nationwide by Collegefactual.com.
Poets & Quants is led by former BusinessWeek Executive Editor John A. Byrne. Click here to the view the complete ranking list and its methodology. For more information about USD's program, visit www.sandiego.edu/business.