Two Torero Football Players Earn Associated Press FCS All-America Recognition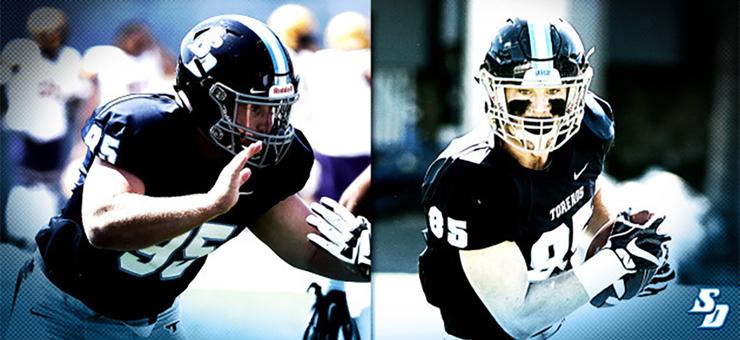 The USD football team received outstanding news today with the announcement that senior defensive end and team captain Jonathan Petersen was named to the 2017 Associated Press FCS All-America First Team for defense. He was joined by teammate and senior tight end Ross Dwelley, who was named to the Third Team Offense.
"This is not a surprise, both are five-year guys who have proven their worth over the last four years," said USD Head Coach Dale Lindsey. "Jonathan is tough, physical and committed to the game to do it the right way. Ross the same way. He did it with hard work and dedication to his craft. Not only are they good on the field, but they are just as good in the classroom and off the field."
Petersen, the unanimous choice for the 2017 PFL Defensive Player of the Year honor, led the FCS in sacks (18, 1.38 per game) and tackles for loss (25.5, 2.0 per game). He ranked second in the FCS in forced fumbles (7, 0.54). A STATS Buck Buchanan Award Finalist, he finished fourth in voting out of 25 candidates. With his three first-half sacks against North Dakota State on Dec. 2, he became the all-time FCS leader in sacks with 44.
"This season was just another year for Jonathan," added Coach Lindsey. "What he did this year he has done every year he has been here. He just refuses to be denied. There are guys bigger, stronger and faster, but none play harder or longer than he does."
Dwelley, a First Team All-PFL pick, finished this season with 50 receptions for 663 yards and 10 touchdowns despite missing almost two full games after dislocating a finger early in the UC Davis contest. His 10 touchdown receptions led all tight ends in the FCS this season. He totaled five games with six or more receptions with a season-high 7 catches against Drake for 95 yards and one score. In the first-round playoff win at Northern Arizona he hauled in six balls for 74 yards with two touchdowns (26 and 13 yards). His four-year totals finished at 197 receptions (third all-time at USD) for 2,305 yards and 26 touchdowns.
"After coming back from an early-season injury he sustained in the UC Davis game I thought Ross was fabulous," added Lindsey. "He always made the plays for us when we needed them and he was a good blocker at the line of scrimmage. You can't go wrong with these types of guys. If you can get these types of guys at any of your positions you are going to have a good team."
During their four-year run the Toreros won four consecutive PFL Championships; advanced to the FCS playoffs three times, and won first round playoff games the past two seasons. Petersen becomes the first Torero to make the First Team since receiver John Matthews was selected in 2008. Other Toreros named first team included defensive end Eric Bakhtiari (2007) and return specialist J.T. Rogan (2007).
Additional Toreros who have been recognized on AP All-America teams include running back Jonah Hodges, 2016, 2nd Team), defensive end Blake Oliaro (2011, 2nd Team), defensive end Mario Kurn (2010, 2nd Team), quarterback Josh Johnson (2006, 3rd Team), Eric Bakhtiari (2006, 3rd Team), and defensive back Jeb Dougherty (1996, 3rd Team).
See a complete list of 2017 Associated Press FCS All-America Teams.
— USD Athletics