Torero Athletics: Football, Volleyball Successes; Great Starts for Basketball; Student-Athletes Honored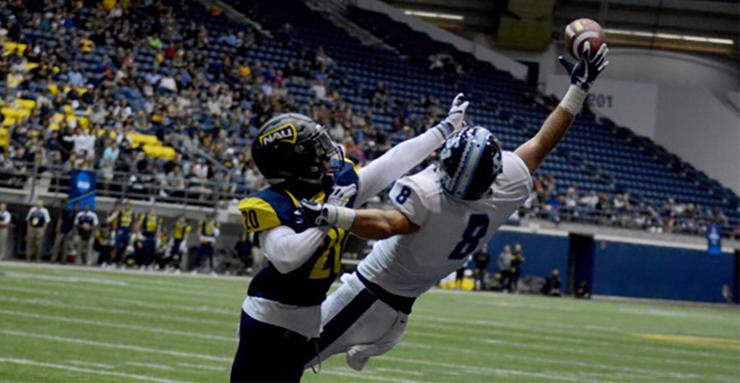 The University of San Diego football program has made an impact in the postseason for the second straight season. Last year, it was a road victory at Cal Poly in a first-round NCAA Division I FCS playoff game. This past Saturday, facing Northern Arizona, the No. 25 ranked FCS team in the nation, the Toreros made another statement.
Quarterback Anthony Lawrence threw for 238 yards and three touchdowns, including a highlight reel one hand catch by Justin Priest that made it onto ESPN's SportsCenter Top 10 plays nationally, Ross Dwelley had two touchdown receptions, Emilio Martinez ran for 117 yards and a score and the Torero defense held its own in a 41-10 victory over the host Lumberjacks in Flagstaff, Ariz.
"We prepare every week to play sixty minutes of football and you can't ask any more than what these guys did today," USD Head Coach Dale Lindsey said. "Our goal every week is to be as physical as we can be for sixty minutes, establish the running game which helps with our passing game, and defensively out-hit you and not give up the explosive play. If we can do that we feel we have a good chance to win the game."
It worked again and for the second straight year, it advanced the Toreros back to Fargo, N.D. in early December for a second-round meeting with No. 2 national FCS seed North Dakota State, which had a bye last week. Last year, NDSU beat USD 45-7. While the challenge awaits, the confidence of a playoff win helps.
"We have great respect for North Dakota State. Their program has been at the pinnacle of FCS football for the last five or six years and they gave us a nice little whipping last year. We look forward to playing them again," Lindsey said. "We feel like we didn't play our best last year, but we are going to give them our best shot. That is all we can ask these guys to do. I don't think in my five years here that our guys have ever felt they didn't give it their best when walking off the field at the end of the game."
This week: FCS Playoffs, Second Round: USD Football at North Dakota State, Saturday, 12:30 p.m. PST, Fargo, N.D. Game can be heard on ESPN Radio 1700.
For the first time since 2013 and the first time for senior standouts Kristen Gengenbacher, Jayden Kennedy, Kaity Edwards, Lizzy Tardieu and Merve Tanyel, the USD women's volleyball team is once again the West Coast Conference champion.
The volleyball team secured the program's 10th WCC Championship with a four set victory Nov. 21 against Pepperdine in the Jenny Craig Pavilion. Pepperdine won the first set, 25-15, but USD followed it with wins of 25-18, 25-19 and 25-22 to secure their 14th consecutive match victory and a share of the title with BYU. But USD earned the automatic qualifier into the NCAA Tournament by winning the WCC tiebreaker of head-to-head total points in USD-BYU matches. Both teams won a four-set match against the other, but USD had two more points.
Against Pepperdine, USD got another stellar effort from Kennedy, who led the team with 16 kills, Addie Picha with 12 kills and Edwards 10. Gengenbacher was a double threat, recording 47 assists and 10 digs from her setter position. Tardieu led all Toreros with 18 digs.
The win earned USD (24-4) its 21st appearance in the NCAA Tournament, which begins this Friday against LSU (20-9) in a four-team regional hosted by USC. A win Friday by USD advances it to Saturday's second-round match against the USC-Central Arkansas winner.
This Week: NCAA Tournament, First Round: USD Volleyball vs. LSU at USC, Friday, 5 p.m., Galen Center in Los Angeles; NCAA Tournament Second Round: USD-LSU winner vs. Central Arkansas-USC winner, Saturday, 5 p.m., Galen Center.
The USD men's basketball team is the only undefeated team in the West Coast Conference right now, today. At 5-0, on the heels of a 72-62 victory over host Grand Canyon University on Nov. 25 to complete a 4-0 run in the Grand Canyon Classic, USD Coach Lamont Smith has his team off to the program's best start since 2013-14.
The latest win came with four players scoring in double figures, led by Yauhen Massalski and Isaiah Pineiro with 17 points apiece, Isaiah Wright missing a triple double by one rebound (16 points, 10 assists, nine rebounds) and Olin Carter III with 15. The victory over previously undefeated Grand Canyon was also acquired thanks to a defensive effort that allowed only one field goal in the game's final 8 minutes, 59 seconds. Grand Canyon had averaged 75.8 points in its first four games prior to being limited to 62 by USD.
"I'm extremely proud of our guys for showing great toughness and grinding out a win in a hostile environment," said Smith, whose team played before a crowd of 7,397 in Phoenix. "Our defense the last nine minutes of the game was the difference."
This Week: USD Men's Basketball vs. San Diego State, Thursday, 8 p.m., Jenny Craig Pavilion; USD at UC Santa Barbara, Saturday, 7 p.m. Both games can be heard on ESPN Radio 1700 AM.
Coach Cindy Fisher's USD women's basketball team picked up a pair of wins over Big West Conference foes, Long Beach State at home and at UC Santa Barbara, to improve its record to 5-1 this season.
The team's 71-58 win over UCSB Nov. 27 was doubly special in that it marked Fisher's 300th career coaching victory. Between this, her 13th season as head coach at USD and a previous head coaching stint at the University of Wyoming (1998-2003), she has amassed a record of 300-232. Fisher has won 241 games at USD.
Against Long Beach State on Nov. 22, USD dominated, 74-40, behind 18 points from Sydney Williams and a 12-point, 10-rebound effort by Maya Hood. In all, 13 Torero players scored at least a point in the win.
At Santa Barbara to begin a four-game road trip, the Toreros had three players score in double figures and got a 16-3 run in the fourth quarter to break away from the Gauchos. Alexandra Hagen led all Toreros with 18 points, while adding five rebounds and three assists. Hood had 16 points and eight rebounds and Aubrey Ward-El notched 15 points and a game-high seven rebounds.
This Week: USD Women's Basketball at San Diego State, Wednesday, 6:30 p.m.; USD at Seattle University, Saturday, 2 p.m.
Conference Honors for Football, Volleyball
The two University of San Diego fall sports teams still competing in their respective NCAA postseason endeavors, football and volleyball, received major recognition for the regular-season success that got them there.
Football: The Pioneer Football League announced San Diego junior quarterback Anthony Lawrence and senior defensive lineman Jonathan Petersen were named PFL Offensive and Defensive Players of the Year, respectively, leading the league's major award recipients revealed on Monday. The undefeated PFL champion Toreros were led by Lawrence, who became the second straight USD student-athlete to earn the league's top offensive honor. Petersen was a unanimous pick as the league's top defensive standout.
Furthermore, 19 Toreros were named to All-PFL teams. Ten players were first-team selections: Offense — Justin Priest, WR; Anthony Lawrence, QB; Ross Dwelley, TE; Zach Nelson, FB; Miles McArdle, OL; Joe Hurney, OL; Daniel Cooney, OL; Defense — Jonathan Petersen, DL; Max Michaels, LB; Colton Giorgi, DB. Another three were second-team: Emilio Martinez, RB; Ray Clark, DB; and Jack Flatau, P. Six players were honorable mention: Michael Bandy, WR; KJ Mahoney, LB; Kishan Patel, CB; Trevor Provencio, OL; Connor Spencer, DL; and Marcus Vaivao, LB.
Volleyball: The women's volleyball program was rewarded for winning its first West Coast Conference championship since 2013 with three major award recipients: Senior setter Kristen Gengenbacher was named WCC Player of the Year, freshman outside hitter Roxie Wiblin was named co-WCC Freshman of the Year and USD's head coach since 1999, Jennifer Petrie, earned her fifth WCC Coach of the Year honor. Furthermore, Gengenbacher was joined by senior opposite hitter Jayden Kennedy and junior middle blocker Addie Picha as All-WCC First Team selections. Kaity Edwards, a senior middle blocker, was an honorable mention.
Fall All-Academic Team Honorees
Cross Country: The USD cross country program had eight runners — five women, three men — honored on their respective WCC All-Academic teams. Senior Mary Tenuta (3.75, Biology), senior Shannon Conlon (3.61, International Relations/Spanish), sophomore Madison Lambros (3.87, Accountancy), sophomore Beth Wade (4.0, undeclared), senior Julie Giannini (3.68, Biology), and sophomore Hope McLaughlin (3.7, undeclared) were the Torero women representatives. On the men's team, seniors Liam Burke (3.58, Anthropology and Economics) and Max Pedrotti (3.37, Political Science) were named honorable mention. Making his second appearance on the list is senior TJ Hodges (3.8, Accountancy).
Men's Soccer: Djordje Babic and Thomas Olsen were among nine USD players named to the WCC Men's Soccer All-Academic Team. Babic (3.93, finance) and Olsen (3.40, political science) represented the Toreros on the academic team while honorable mentions went to Miguel Berry, Cian Kennedy, Patric Krall, Allen Luhrs, Patrick McGrath, Freddy Polzer and George West.
Women's Soccer: Summer Mason was among six San Diego players named to the WCC Women's Soccer All-Academic Team. Along with Mason's selection, five players earn honorable mention: Kelley Carusa, Abby King, Maddie Marotta, Ally Ocon and Halle Walls.
Keep up with all USD Athletics news, scores and information by visiting the website and following the Toreros on social media: Facebook, Twitter and Instagram.