Torero Athletics: Football Perfect in PFL; No. 12 Volleyball Sweeps; Basketball Starts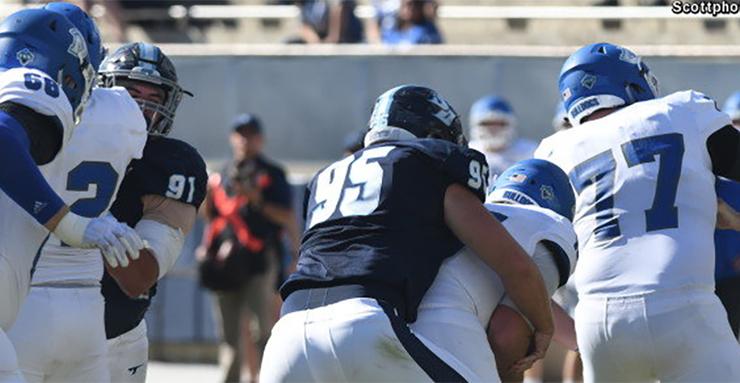 The USD football team maintained its strong momentum in Pioneer Football League play with a 45-15 victory over Drake Nov. 4 at Torero Stadium.
The win kept the Toreros perfect in league with a 6-0 mark (7-2 overall) and a few team win streaks grew again. USD has won 19 straight PFL games and 30 PFL home games in a row.
One individual career milestone was reached, too, as senior defensive end Jonathan Petersen, who totaled three sacks, became USD's all-time leader in the category. He needed only one sack to set the record. Petersen sacked Drake quarterback Grant Kraemer for an eight-yard loss to surpass the 35 recorded by Eric Bakhtiari (2004-07). Petersen's two additional sacks give him 37.5 with two more regular-season games and, quite likely, playoffs, too.
Saturday's game was a big one for both the Toreros and Bulldogs, who came in with a 4-1 PFL record. But the Toreros, who are averaging 45 points in PFL games this season, proved to be too much for the opposition.
Quarterback Anthony Lawrence completed 27-of-36 passes for 326 yards and four touchdowns. Justin Priest caught eight passes for 91 yards and a score. Ross Dwelley had seven catches for 95 yards and a touchdown. Michael Bandy and Zack Holland each caught a touchdown pass. The ground game was led by freshman Emilio Martinez, who had 16 carries for 99 yards (and five receptions for 55 yards) and scored on a 13-yard run in the fourth quarter. Joseph Binda scored on a 1-yard run.
USD kicker Patrick Murray made a 24-yard field goal as time expired in the first half to give the Toreros a 17-7 halftime lead.
Defensively, Petersen had a solid all-around day with three sacks, four tackles for losses and five total tackles. Linebacker Marcus Vaivao had eight tackles and safety Colton Giorgi had six stops. The Toreros limited Drake to 240 yards of total offense, sacked Kraemer five times, intercepted him once (Kishan Patel), and Daniel Cooney blocked a field goal attempt.
This Week: Football plays its final regular-season road game at Davidson College, 9 a.m. Pacific, Saturday. The game will be live on ESPN Radio 1700 AM.
Women's Volleyball
It's becoming an all-too familiar result for the USD volleyball team. Victories? Yes, the team is currently on a nine-match win streak. A sweep? Yes, this past week, USD swept West Coast Conference foes Saint Mary's and Pacific in the Jenny Craig Pavilion on Nov. 2 and 4, respectively, notching sweep victories No. 14 and 15 this season.
In both matches, senior Jayden Kennedy, who was named the WCC Player of the Week, registered 15 kills to pace the No. 12-ranked Toreros, whose record is now 19-4 overall and 12-1 WCC. During the nine-game win streak, USD has won 25 of 28 sets.
Against Saint Mary's, Kennedy had 15 kills, but Kaity Edwards posted a .688 hitting percentage with 11 kills to highlight the Toreros' win. Roxie Wiblin had nine kills and Addie Picha added seven. Kristen Gengenbacher continued to set the Toreros up for success, contributing 37 assists.
The Gaels had trouble getting past Picha at the net who registered a team-high six blocks. Lizzy Tardieu, Gengenbacher and Wiblin each hit double digits in digs to combine for 33 of the Toreros' 50 in the match.
Against Pacific, Kennedy's 15 kills came on a .522 hitting percentage. She led an efficient and balanced Toreros attack that hit .337 on the day with seven players registering at least one kill.
Lauren Fuller had 12 kills, six digs and a block. Wiblin and Edwards chipped in seven kills apiece. Gengenbacher had a team-high 36 assists. Tardieu had a team-best 11 digs. Merve Tanyel added seven digs and three kills.
This Week: Volleyball closes out its regular-season road schedule with matches at Portland, 7 p.m. Thursday and at Gonzaga, noon, Saturday.
Men's/Women's Basketball
Basketball season has arrived for the USD men's and women's teams.
Head Women's Basketball Coach Cindy Fisher's team, which is loaded with experienced players, including medical redshirt Maya Hood, will play its lone exhibition game tonight (Nov. 7) at 6 p.m. against Biola in the Jenny Craig Pavilion.
On Friday, Nov. 10, USD's official opener is against San Diego Christian at 6 p.m. but there will be a twist. The game will be played in USD's former home gymnasium, the Sports Center. To celebrate this rare occurrence, the team invites all women's basketball alumni who played their games in the Sports Center to attend Friday's game. Susie (Erpelding) Barroso '00, who is the program's all-time leading scorer in the Sports Center, will present the game ball. Alumni players can get free tickets by contacting Associate Head Coach Mary Ann Falcosky at maryann@sandiego.edu.
The men's basketball team, meanwhile, hosted a special exhibition game on Nov. 1 against Arizona State. All proceeds went to Catholic Charities USA's relief efforts to help those in Puerto Rico following devastation caused by Hurricane Maria.
Arizona State won 85-77, but fans got their first glimpse of the 2017-18 Toreros in a game that featured 21 successful 3-pointers in 50 attempts by the two teams. USD made 13 of 30 attempts and Arizona State went 8 for 20. Olin Carter III was 5-of-11 from the 3-point line for the bulk of his USD-high 19 points. Isaiah Pineiro chipped in 15 points and USD's lone senior, Cameron Neubauer, scored 14. Arizona State had four players in double figures, led by Remy Martin's 25 points.
This Week: Women's Basketball vs. Biola (exhibition), 6 p.m., Tuesday, JCP; WBB vs. San Diego Christian, 6 p.m., USD Sports Center Gym. Men's Basketball at San Jose State, 2 p.m., Sunday, live on ESPN Radio 1700.
Women's Soccer
The women's soccer team started West Coast Conference play strong with four consecutive wins, but a 2-3 second-half mark proved to be its undoing in hopes of securing the program's first WCC title since 2011.
The Toreros' season concluded with a pair of WCC road losses, a 3-0 setback at Santa Clara on Nov. 2 and 2-0 defeat at San Francisco on Nov. 4.
The losses closed out Coach Louise Lieberman's debut season at 8-11 overall, 6-3 WCC. The team did finish third place, a major improvement from the preseason coaches' poll prediction of USD finishing seventh.
Against Santa Clara, in a game postponed after last month's Northern California wildfires, the Toreros were unable to convert opportunities and slow down the Broncos' potent attack.
Amber Michel played well in goal, making five saves on 11 shots, including eight on frame. USD generated eight shots but could only manage one on frame. Ally Ocon paced the attack with two shots and six players had a shot apiece.
Against San Francisco, an unfortunate bounce and a late second-half goal proved to be too much for San Diego as the Dons won, 2-0.
With 11 seconds left in the first half, Amber Michel tried to clear a pass back to her by a defender. Her clearance hit a USF player who was turning away from the play on the back and the ball ricocheted back into the goal.
USD had seven shots, four on goal, but couldn't find the finishing touch. Summer Mason, Ocon and Kelsi Dantu had two shots and one shot on goal apiece.
Men's Soccer
Sean Bowman scored a goal for San Francisco in the 66th minute and it was enough to send San Diego men's soccer team to only its second home loss of the season, a 1-0 Dons win on Nov. 3.
The Toreros (8-5-3, 2-2-2 WCC) have lost two of their past three after producing a seven-game unbeaten streak from Sept. 17 to Oct. 22. The defeat put a damper on a night dedicated to USD's senior class of Merlin Baus, Djordje Babic, Leon Mueller-Wiesen, Patrick McGrath, and goalkeeper Thomas Olsen.
USD had its chances throughout the match but could not find the finishing touch. The Toreros outshot the Dons 14-10 — including a 12-6 margin in the second half — and held a 4-3 edge in corner kicks.
Miguel Berry was the most dangerous target up top for USD, generating a team-high five shots with four on goal. The Toreros dominated the final 20 minutes of the match, outshooting the Dons, 9-1.
This Week: USD Men's Soccer closes out its regular season at Santa Clara, Saturday, 7 p.m.
Cross Country
The USD men and women's cross-country teams are focused on strong races against the best competition in the western United States as the Toreros vie in the NCAA West Regional meet at Jefferson Golf Course in Seattle, Wash. The women's race starts at 10:30 a.m., followed by the men's race at 11:30 a.m.
There will be 40 colleges and universities represented, including nine of the 10 West Coast Conference schools. BYU is running, instead, in the NCAA Mountain Regional in Logan, Utah.
Top runners for the Toreros are seniors Liam Burke, Max Pedrotti and TJ Hodges for the men's team, and freshman Hannah Rasmussen, redshirt freshman Madison Lambros and senior Julie Giannini for the women's team.
Keep up with all USD Athletics news, scores and information by visiting the website and following the Toreros on social media: Facebook, Twitter and Instagram.