Torero Athletics: Successful Weekend for Soccer, Volleyball; Homecoming Football, Reunions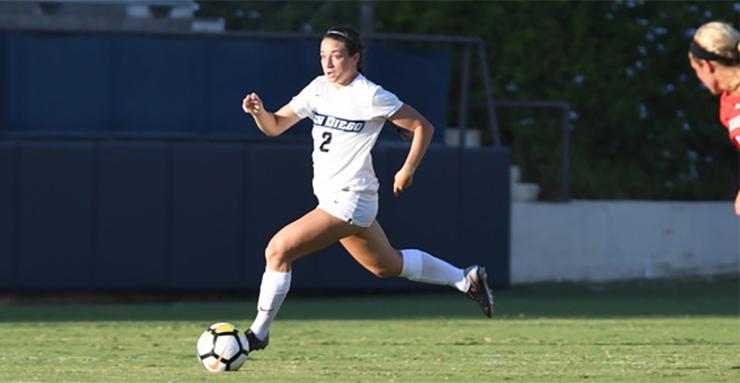 It's a festive time for fall sports teams at the University of San Diego. While the annual Homecoming and Family Weekend celebration takes place this week, women's volleyball, men and women's soccer just recorded a great weekend, too.
The volleyball team went on the road for two West Coast Conference matches and came away with a five-set thrilling victory against Pacific and a sweep of Saint Mary's. The women's soccer team improved its WCC record to 3-0 on the strength of home wins against Saint Mary's and Pacific. The men's soccer team opened WCC play after a two-week game layoff and shut out Loyola Marymount.
The USD football team had a bye last week, but the Toreros are looking to join in on the victory celebrations on campus when they host Homecoming opponent Morehead State at 2 p.m. this Saturday in a Pioneer Football League contest. USD brings a 3-2 overall mark and 2-0 record in PFL play into Saturday's game. The Toreros also put their current 28-game PFL home win streak on the line against the Eagles (2-4, 1-2 PFL). One interesting statistic is that this will be the 11th meeting between these teams — and first since 2014 — and USD has won all 10 previous games.
Women's Soccer
Quite an eventful week for the USD women's soccer team. Both Sami Fairweather and Emma Barrow scored their first collegiate goal — Barrow's coming in 86th minute — to lift the Toreros to a thrilling 2-1 home win over Saint Mary's on Oct. 5. Two days later, Summer Mason notched her first collegiate hat trick, scoring all three USD goals in a 3-1 home triumph against Pacific on Oct. 7.
The results of this make San Diego the class of the West Coast Conference at the moment. Three WCC wins to start conference play and this is the team's fourth win in a row, improving its overall record to 5-8 under first-year head coach Louise Lieberman.
Mason's hat trick — her goals came in the 24th, 68th and 72nd minute — earned the junior forward the WCC Women's Soccer Player of the Week honors. She had eight shots in the win against Pacific. Mason's hat trick is the first for a Torero since former standout Stephanie Ochs did it Aug. 21, 2011 against USC.
This week's game: USD plays at Santa Clara, Saturday, 1 p.m.
Volleyball
The best way to remedy a setback is to erase it from memory and focus on the next match. That mindset and having senior setter Kristen Gengenbacher on your team played a vital role in the USD women's volleyball team's two-road win week in WCC play.
The Toreros put a four-set loss to BYU on Sept. 30 behind them and followed the lead of Gengenbacher to improve to 12-4 overall and 5-1 in WCC play.
Gengenbacher had 52 assists and a season-high 18 digs to set up the Toreros' offense in a five-set victory over Pacific on Oct. 5. Jayden Kennedy had 19 kills for USD in the win. Two days later, Gengenbacher notched 34 assists to support the Toreros in a three-set sweep at Saint Mary's. Kennedy again led USD with 12 kills.
Gengenbacher was rewarded for her 86 assists and 23 digs as she was selected as the WCC Volleyball Player of the Week. Gengenbacher is averaging a career-high 11.6 assists per set, which is the best among WCC setters and is 25th nationally. Her play has lifted the Toreros into the top 10 nationally in team kills and assists average per set.
The two wins improved the Toreros' national ranking, too, as they moved up one spot in the national AVCA poll rankings to No. 18.
This week's matches: USD hosts Gonzaga, Thursday, 7 p.m., Jenny Craig Pavilion; and USD hosts Portland, Saturday, noon, JCP.
Men's Soccer
Leon Mueller-Wiesen and Jimmy Ryan tallied their first goals of the season — and first in collegiate action — to lift the USD men's soccer team to a 2-0 WCC-opening victory at home against Loyola Marymount.
The win gave USD (6-3-1, 1-0) its third consecutive victory and third in a row in which the team kept the opposition from scoring.
Goalkeeper Thomas Olsen, with the help of backline defenders Henry Lander, Josiah Benjamin, Aidan Marmion and Aaron Frey, increased USD's shutout streak to 366 minutes, 20 seconds. The last time USD was scored on was in the 14th minute of a game against Cal State Fullerton on Sept. 17.
This week's games: USD hosts Portland, Friday, 7 p.m., Torero Stadium; USD hosts Gonzaga, Sunday, 1 p.m., Torero Stadium.
Cross Country
The USD cross-country teams will get a chance to see how they stack up against the competition as West Coast Conference counterpart Santa Clara hosts the Bronco Invitational on Saturday morning at Baylands Regional Park in Sunnyvale, Calif.
The men's eight-kilometer race begins at 9 a.m., followed by the women's 6K race at 9:45 a.m. Both USD teams are coming off third-place finishes in the Rim Rock Classic in Lawrence, Kansas on Sept. 30.
Homecoming Alumni Events
The campus will be experiencing numerous celebrations during Homecoming and Family Weekend, Oct. 12-15, and USD Athletics and USD club sports teams are among the many hosting affinity reunions. Click on the link to learn more about each sport's celebratory event.
Men and Women's Crew — Friday (off campus)
Swimming and Diving — Saturday
Men's Lacrosse — Friday (off campus), Saturday and Sunday
Cross Country — Sunday (off campus)
Also, the pre-football game tailgate on Saturday from 11 a.m. to 2 p.m. is at USD baseball's Fowler Park this year for the first time. There is also a beer garden (cash bar) inside Torero Stadium, starting at 12:30 p.m. for those 21+ years who possess a football ticket for Saturday's 2 p.m. game. The Class of 2007's 10th year reunion event is at the beer garden site, too.
Keep up with all USD Athletics news, scores and information by visiting the website and following the Toreros on social media: Facebook, Twitter and Instagram.