Torero Athletics: Football Tops Dayton; Volleyball Falls to BYU; Women's Soccer Wins WCC Opener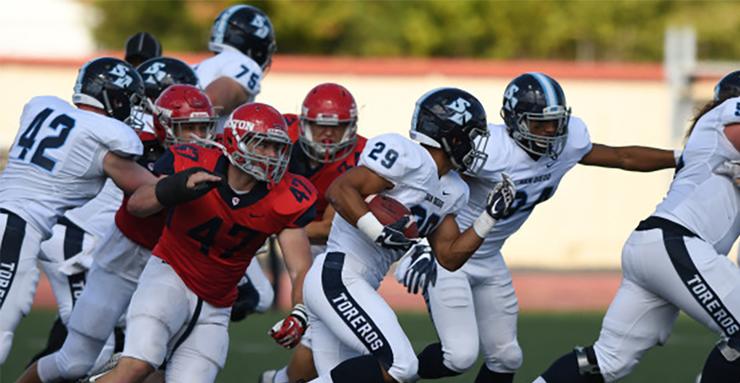 In the Pioneer Football League, there are two teams who, in terms of championship glory, stand above the rest. Dayton has won 12 PFL titles and USD is second with eight. On September 30 in Dayton, Ohio, the Torero football team took a second PFL step closer to adding to its championship aspirations with a 23-7 victory over the Flyers.
The USD (3-2, 2-0 PFL) defense turned in an excellent group effort in limiting Dayton (1-4, 0-2 PFL) to just 294 yards of offense and the Toreros recorded a safety in the third quarter.
Offensively Torero quarterback Anthony Lawrence completed 19-of-30 passes for 273 yards and two scores, ran for another and freshman running back Emilio Martinez rushed for 114 yards on 29 carries.
USD led 21-0 on Lawrence's 2-yard run, a 32-yard touchdown pass from Lawrence to Alex Spadone and then a 16-yard scoring pass to Zack Holland. Dayton made it 21-7 just before halftime.
Other standouts for USD were receivers Ross Dwelley and Justin Priest. Dwelley had six catches for 82 yards while Priest caught five passes for 90 yards, including a 42-yard reception that set up Lawrence's rushing touchdown.
USD has a bye this week, but returns to PFL action on Oct. 14 in the annual Homecoming and Family Weekend game, a 2 p.m. kickoff against Morehead State.
Volleyball
The USD women's volleyball team dropped a showdown West Coast Conference match in four sets to visiting Brigham Young University on Sept. 30, a match-up of two nationally ranked teams.
BYU won the opening set, 25-23 and USD rallied to tie it with a 25-23 decision in the second set. BYU, however, closed it out with wins of 25-20 and 25-18 to improve its record to 15-1 and 4-0 in WCC play. The Cougars, on Monday, rose to No. 8 in the new AVCA national Top 25 poll, up from ninth. USD's loss dropped its record to 10-4, 3-1 and its ranking down from No. 17 to 19th.
Despite the setback, four Toreros had double-digit kill totals, led by Jayden Kennedy's 14. Roxie Wiblin had 13, Lauren Fuller had 12 and Addie Picha finished with 10 kills. Lizzy Tardieu had a career-high 24 digs while setter Kristen Gengenbacher totaled 55 assists and eight digs.
The Toreros came into the match riding a six-match win streak, including a home WCC sweep of Loyola Marymount on Sept. 26. Against LMU, in which USD earned its ninth sweep victory of the season, Kennedy had 13 kills.
USD returns to WCC play this week on the road against Pacific this Thursday at 7 p.m. and a 1 p.m. match at Saint Mary's on Saturday.
Women's Soccer
The USD women's soccer team scored early and goalkeeper Amber Michel made a career-high 11 saves en route to West Coast Conference-opening 2-1 victory at BYU on Sept. 29.
Kelsi Dantu and Courtney Coate each scored a goal less than 23 minutes into the match to put the Toreros (3-8, 1-0 WCC) up early. That was all USD needed.
The Toreros turned to its defense and Michel in goal to secure the win. Michel's 11 stops eclipse her previous career high of 10, set earlier this season against Texas A&M on Aug. 20. USD's backline — consisting primarily of Coate, Natalie Copenhaver, Abby King, Tara Meier and Molly Melanson — played well throughout the match. The group limited the Cougars primarily to shots outside the box and away from the center of the goal.
It was the Toreros' first victory against BYU since Oct. 29, 2011, and snapped a five-game losing streak against the Cougars. USD improved to 3-0 in games it holds a lead at halftime and it was first-year coach Louise Lieberman's first WCC victory.
The Toreros look to continue its momentum this week in home WCC matches against Saint Mary's on Thursday at 7 p.m. and Pacific on Saturday at 7 p.m.
Cross Country
The USD men's and women's cross-country teams competed on a sunny Midwest day at the historic Rim Rock Jayhawk course on Sept. 30 in Lawrence, Kansas, both securing a third-place team finish.
Freshman Hannah Rasmussen led the Torero women for the second race in a row, finishing in a time of 22 minutes, 27 seconds, good for 10th place in the 6k race. Completing in quick succession after Rasmussen was Madison Lambros (22:32) and Julie Giannini (22:34), placing 11th and 12th, respectively.
On the men's side, senior Max Pedrotti took eighth place with a time of 25:16 on the 8k course. Liam Burke was the next Torero to cross the finish line in 25:22. Isiah Quiambao ran in 26:22.
Men's Soccer
Seamus McFadden's farewell season as USD men's soccer head coach will add another "last" to the list as the Toreros will open the West Coast Conference portion of their schedule this Sunday, Oct. 8, in a 5 p.m. game against Loyola Marymount in Torero Stadium.
The Toreros haven't played since Sept. 24 when they blanked San Jose State 1-0. USD (5-3-1 overall) is 2-0-1 in its last three games.
This Sunday's game begins a four-game homestand for the Toreros, who'll also play Portland on Oct. 13, Gonzaga on Oct. 15 and then a huge nonconference game Oct. 22 against UCLA in Torero Stadium.
Men's/Women's Basketball
The games aren't official until near mid-November, but for the men and women's basketball teams, Sunday, Oct. 1 was the official start of the 2017-18 season as official fall practices began at the Jenny Craig Pavilion.
The opening games this year are Nov. 10 at home against Biola University for the women's team and Nov. 12 at San Jose State for the men.
Learn more about USD Women's Basketball Head Coach Cindy Fisher's team with a first-look preview and a list of the Toreros' game schedule. Learn about USD men's basketball third-year head coach Lamont Smith and how his team is looking in this early preview and check out the season schedule and broadcast game schedule.
Keep up with all USD Athletics news, scores and information by visiting the website and following the Toreros on social media: Facebook, Twitter and Instagram.