Fall 2017: Humanities Center Offers Engaging Speakers, Series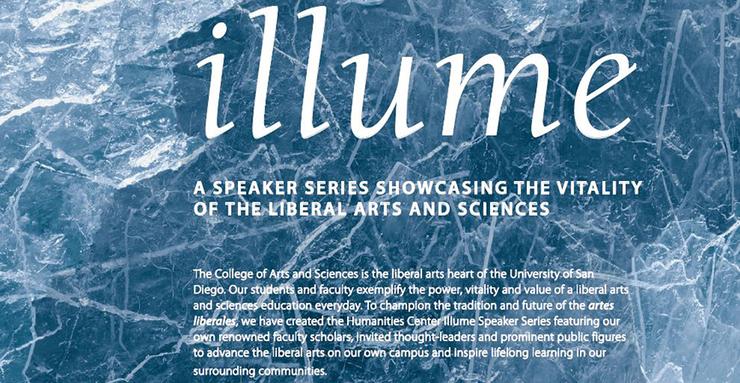 The University of San Diego's Humanities Center, located in Serra Hall 200, embarks on its second year of existence with several series, lectures, conversations, special events and exhibitions slated for the 2017 fall semester.
"Banned" Series Discussions
An examination of the word "banned," will be addressed in three separate series of events:
• USD faculty will discuss controversial ideas and theories in the arts, sciences and politics. Topics for exploration include the perceived tension between freedom of expression and the contemporary vogue for "safe spaces" and "trigger warnings." This series of talks will take place on Sept. 19, Oct. 4, Nov. 14 and Dec. 12, each from 4-5:30 p.m. in the Humanities Center.
• A film series called "Conversations in Censorship" encourages conversation about film content, freedom of speech and art, film rating system, and the changing ideas in the film industry. This discussion will be led by Eric Pierson, PhD, who is a professor in Communication Studies and director of USD's Film Studies minor. These conversations will take place from 6-9 p.m. on Sept. 19 (Indiana Jones and the Temple of Doom), Oct. 10 (This Film is Not Yet Rated), Oct. 17 (Lenny), Nov. 14 (Glen or Glenda), and Dec. 12 (A Clockwork Orange) in the Humanities Center space.
• A political ideas and ideologies series titled, "Dangerous Music and Radical Politics," is an interdisciplinary series that focuses on the political dimensions of the work of three great composers: Beethoven, Wagner and Shostakovich. This series of discussions will be led by Timothy Wyman McCarty, PhD, assistant professor in the Political Science and International Relations Department and Jeff Malecki, DMA, professor of practice in the Department of Music. The dates for this series are Oct. 26, Nov. 2, Nov. 9 and Nov. 16, each from 12:30-2 p.m. in the Humanities Center.
Illume Speaker Series
Illume, which means "to enlighten as with knowledge; transitive form of illuminate," will return for its third year at USD. The Illume Speaker Series, which the center states "showcases the vitality of the liberal arts and sciences," will have 10 different talks all across campus given by authors and university and non-USD faculty.
• Author Gretchen Rubin, "The Four Tendencies," will speak on Wednesday, Sept. 20 at 7 p.m. in the Joan B. Kroc Institute's Peace and Justice Theatre; Mario Ramiro, professor of visual arts at the University of Sao Paulo, Brazil, will speak on Old "New Media": Xerox Art in Brazil on Monday, Sept. 25 at 6 p.m. in the Manchester Auditorium in USD's Manchester Hall; Author Gary Wills, "What the Qur'an Meant," will speak on Sunday, Oct. 8 at 4 p.m. in the KIPJ Theatre; Author Alice Hoffman, "The Rules of Magic," will speak on Monday, Oct. 16 at 7 p.m. in the KIPJ Theatre; Linda Tuhiwai Smith, PhD, FRSNZ, CNZM, a professor at New Zealand's University of Waikato, will speak on "Decolonizing Methodologies and Indigenous Insights on Wednesday, Nov. 8 at 6 p.m. in the KIPJ Theatre; Astronaut and Author Scott Kelly, "Endurance: A Year in Space, A Lifetime of Discovery," will speak on Monday, Nov. 13, 7 p.m. in Camino Hall's Shiley Theatre; Amanda Petersen, PhD, associate professor of Spanish in USD's Department of Languages, Cultures and Literatures and affiliated faculty for the Latin American Studies and Women's and Gender Studies programs, will speak on her co-edited book, "Espectros: Ghostly Hauntings in Contemporary Transhispanic Narratives," on Monday, Nov. 20 at 6 p.m.; and Author Isabel Allende, "In the Midst of Winter," will speak on Thursday, Nov. 30, 7 p.m. in Camino Hall's Shiley Theatre.
• Beverley Clack, PhD, a professor in the philosophy of religion at Oxford Brookes University, will be at USD for an Illume Speaker Series two-part event called "Hannah Arendt, Work and Technology: Two Lectures." These lectures, discussion and response will take place at 4 p.m. on Oct. 11 and Oct. 25 in the Humanities Center. The Oct. 11 lecture is titled, "Business and the Banality of Evil in a Corporate World" while the Oct. 25 lecture is "The Problem of Work and Technology." These talks will delve into answers to a question: "When money, economics and technology take over, what happens to human value?" Clack will be joined by USD's School of Business and the Shiley-Marcos School of Engineering representatives who will give a response to the subject matter.
• English Professor and USD Department of English Chair Abraham Stoll, PhD, will give a lecture on Monday, Oct. 30 at 6 p.m. about the conscience in early modern English Literature. Stoll is an affiliated faculty member for The Old Globe and USD Shiley Graduate Theatre Program, teaching Shakespeare and serving as a dramaturg.
Reformation Series
Two events, one October 2 and the other on Oct. 24, closely examine the 500th anniversary of the Protestant Reformation.
Marianne Pfau, PhD, professor of music history in USD's Department of Music, will host a 5 p.m. talk on Oct. 2 in the Humanities Center called, "500 Years Protestant Reformation (1517-2017): A Revolution in Music."
Peter Gregersen, superintendent of religious instruction in the state of Schleswig-Holstein, Germany, the home of the Reformation, will give a talk about Martin Luther's Opposition to Commercial Interest on Oct. 24 at 5 p.m. in the Humanities Center.
Russian Revolution Series
On the 100th anniversary of the Russian Revolution, the Humanities Center will host a series of programs that focus on the "dangerous idea" of a revolt against — and overthrow of — government.
First, a double-feature film screening will take place Nov. 6 and Nov. 7 from noon to 3 p.m. in the Humanities Center. Films to be shown are 1928's "October: Ten Day that Shook the World," and 1929's "Man with the Movie Camera," on the respective days.
English Professor Irene Williams, PhD, will lecture and lead a discussion about the Russian Revolution that centers on Isaac Babel, who was tortured and executed on the orders of Joseph Stalin for the crime of being a writer whose stories did not glorify the Bolshevik Revolution and the modern conformist state. Williams' talk is on Thursday, Nov. 9, at 6 p.m. in the Humanities Center.
Art Exhibition
As part of the USD University Galleries' Xerografia: Copyart in Brazil, 1970-1990, exhibit that's mainly on display from Sept. 15-Dec. 16, 2017 in the Robert and Karen Hoehn Family Galleries in Founders Hall, the Humanities Center will host a satellite exhibition from this collection Sept. 15-Oct. 20 within its gallery space in the center.
Learn more about all fall semester events hosted by the USD Humanities Center by visiting its website.
— Compiled by USD News Center