Torero Athletics: No. 17 Volleyball Wins 2 of 3, Hosts SDSU Tonight; Roundup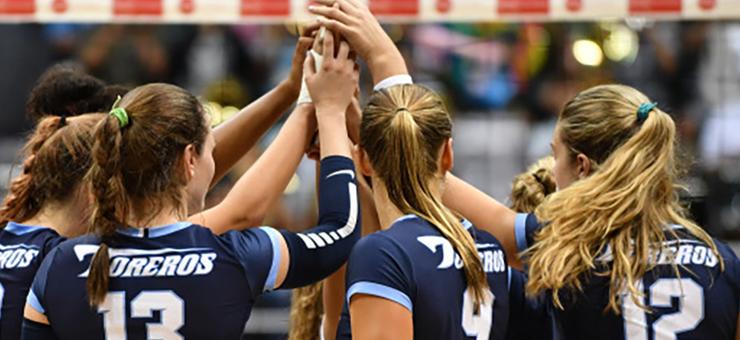 The No. 17-ranked University of San Diego women's volleyball team had another winning weekend in tournament play, this time recording three-set sweeps of Missouri and Wisconsin-Green Bay the day after a tough five-set loss to tournament host and nationally ranked Utah.
Jayden Kennedy recorded 44 kills in the three matches, including a career-high 20 against Utah. Kaity Edwards had 29 kills over the three matches as both players were named to the all-tournament team. Kennedy has been an all-tournament selection in all three USD tournaments at Hawaii, USD's tournament and now in Utah.
The Toreros, now 6-3 overall, will turn their attention to one match, a nonconference tilt against San Diego State, at 6 p.m. tonight in the Jenny Craig Pavilion. It's Faculty and Staff Appreciation night and the Torero Program Board will host a tailgate event for all USD students.
This is the final nonconference match prior to USD beginning West Coast Conference play at San Francisco on Sept. 21.
Football
USD running back Jordan Charles scored a touchdown on a five-yard run late in the first quarter for the Torero football team to tie the score against host UC Davis, but the Aggies put up 518 yards of total offense and scored the next 28 points en route to defeat USD 35-7.
The Toreros gave up two touchdowns of 70-plus yards — one through the air and another on the ground — and UC Davis quarterback Jake Maier threw for 369 yards and three scores.
USD (1-1) had 298 of total offense. Quarterback Anthony Lawrence was held to 150 yards passing, Emilio Martinez carried the ball 18 times for 65 yards and Michael Bandy was USD's top receiver with 64 yards on four receptions. Zack Holland also had four catches for 44 yards.
The Toreros will travel to the east coast this week for Saturday's noon game (9 a.m. Pacific time) kickoff against Princeton University. Follow the game on 1700 ESPN Radio. USD's next home game is Sept. 23 at 2 p.m. against Butler in the Pioneer Football League opener.
Men's Soccer
The USD men's soccer team scored four goals and came away with a pair of wins in Northern California last weekend. A 2-0 shutout against Sacramento State on Sept. 8 was followed up two days later with a 2-1 triumph at UC Davis.
Miguel Berry and Freddy Polzer tallied first-half goals against Sacramento State to lead USD. Allen Luhrs assisted on Berry's game-winning goal while Reuben Dass set-up Polzer's first collegiate goal.
In the win against UC Davis, the Aggies scored in the 65th minute, but USD's Dass tied the game in the 73rd minute and Luhrs then scored the game-winner less than 10 minutes later. The win gave the Toreros a three-game win streak heading into this weekend's action.
USD (3-2-0) will host Lipscomb University at 7 p.m. this Friday in Torero Stadium, followed by a road game on Sunday against Cal State Fullerton. The game starts at 5 p.m.
Women's Soccer
A 3-0 loss at Long Beach State on Sept. 8 was tough, but the USD women's soccer team sure isn't shying away from the pre-conference competition.
After a game in which USD's defense held LBSU without a goal for 52 minutes, the Toreros will now turn their attention to home games against UC Irvine this Friday night at 5 p.m. and then against defending national champion USC at 1 p.m. on Sunday afternoon.
The Toreros have a 1-5 record going into the second-to-last week of nonconference play. USD will play at Cal State Fullerton on Sept. 22 at 7:30 p.m. and then at Cal State Northridge at 2 p.m. on Sept. 24 before opening WCC play at BYU on Sept. 29.
Cross Country
The Torero cross-country teams will compete in their lone home meet this Saturday, September 16, beginning at 8 a.m. in Mission Bay. The women's six-kilometer race and the men's eight-kilometer race will be contested on the same course as last year's two USD-hosted meets, which included the West Coast Conference Championship meet.
Top runners for USD's women's team, which is coming off a third-place finish on Sept. 2 in the Covert Classic, include Julie Giannini, Hope McLaughlin, Madison Lambros and Maggie Scholle.
The men's team, which finished ninth at the Covert Classic but did so without the services of a few of its top runners, will have Mitch Manis, Liam Burke and Max Pedrotti in the fold.
Women's Swimming and Diving
The USD women's swim and dive team open their season this Saturday when they'll travel over to crosstown rival San Diego State's pool for a 1:30 p.m. meet. The Torero will then host USC in a two-day meet Sept. 22-23.
Keep up with all USD Athletics news, scores and information by visiting the website and following the Toreros on social media: Facebook, Twitter and Instagram.