Torero Athletics: Football, Cross-Country Teams Start; Volleyball, Soccer in Full Swing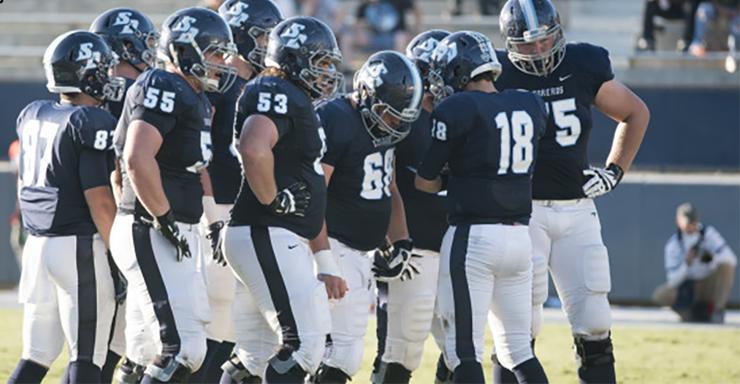 The defending Pioneer Football League champion University of San Diego Toreros football team is getting ready to return to the field for the 2017 season.
The Toreros, picked by PFL coaches in a preseason poll to repeat as league champions, will first prepare with nonconference opponents, including this Saturday's home and season-opening foe, Western New Mexico at 2 p.m. in Torero Stadium.
Head Coach Dale Lindsey's team returns 12 starters — eight on offense and four on defense — and has 43 players back in all from the 2016 team that not only won the PFL, but reached the second round of the FCS playoffs and earned a No. 19 ranking in the final STATS FCS Top-25 poll.
Several Toreros have received preseason accolades heading into the 2017 season. Seven players were named to the 2017 All-PFL preseason squad. Senior defensive end Jonathan Petersen and senior offensive tackle Miles McArdle were selected for the second consecutive year. Joining them are redshirt junior quarterback Anthony Lawrence, senior tight end Ross Dwelley, senior offensive center Joe Hurney, redshirt junior offensive tackle Daniel Cooney and senior safety Ray Clark. Furthermore, Cooney (Second Team) and Petersen (Third Team) were named to the STATS FCS Preseason All-America Teams and Lawrence has been named as one of 22 players nationally for the 2017 preseason watch list for the STATS FCS Walter Payton Award.
Prior to Saturday's opener, there will be a tailgate party from noon to 1:45 p.m. in the Vistas parking lot. There will be sliders, sodas, beer and wine for $20 as well as a coach's scouting report on Western New Mexico at 12:45 p.m. For more information and to RSVP, click here.
Volleyball Goes 2-1 in Hawaii, Kennedy Gains WCC Honor
The USD volleyball team opened its season last weekend competing in the University of Hawaii's Texaco Rainbow Wahine Invitational. The Toreros, who came into the tournament ranked 22nd nationally, were swept by No. 13 UCLA in the first match, then recorded a sweep of No. 20 Hawaii and capped the trip with a sweep of Marquette.
Leading the way was senior opposite Jayden Kennedy, whose 37 kills in the three matches, paced USD (2-1). Kennedy had eight kills against UCLA, a career-high 17 against Hawaii and 12 against Marquette. Her efforts resulted in Kennedy being selected as the West Coast Conference's first Player of the Week honoree of the 2017 season. Kennedy and setter Kristen Gengenbacher were named to the all-tournament team.
Against UCLA, Kaity Edwards had a team-high nine kills, Roxie Wiblin had nine digs and five kills and Gengenbacher had 18 assists for the Toreros in the 25-16, 25-12, 25-22 setback. Against Hawaii, which was played in front of 6,000 fans, Kennedy's 17-kill performance was accompanied by Edwards' 10 kills, Wiblin had nine kills and nine digs, Lizzy Tardieu had 13 digs and Gengenbacher had 39 assists in the 25-23, 25-13, 25-21 win. USD closed out the weekend with the 25-20, 25-19, 25-18 triumph over Marquette. In addition to Kennedy's 12 kills, Edwards had 10 kills, Lauren Fuller and Wiblin had nine kills apiece, Tardieu had 14 digs and Gengenbacher had 42 assists.
The Toreros moved up to No. 17 in the first AVCA national regular-season poll released Monday. USD hosts a tournament this Friday and Saturday in Jenny Craig Pavilion. USD will play Georgia Tech at 1:30 p.m. on Friday, against Villanova at 10 a.m. Saturday and then USD gets a showdown with No. 4 Texas at 7:30 p.m.
Tough Indiana Weekend for Men's Soccer
The final head coaching season for USD men's soccer's Seamus McFadden began with the kind of competitive matches that can help his team's development as the year goes on. The Toreros opened the 2017 season with games Aug. 25 and 27, respectively, at No. 10 Notre Dame and then No. 7 Indiana (also played in South Bend).
Against Notre Dame, USD goalkeeper Thomas Olsen made four saves and the defense played well, but it wasn't enough to slow down the Irish's pressing offense in a 2-0 setback. Notre Dame, which had 17 shots, scored in the 41st and 84th minute. USD's offense had few chances with only Patrick McGrath and Leon Mueller-Wiesen getting credited with goal-potential shots.
On Sunday, USD battled Indiana to a scoreless 90 minutes to force overtime. Indiana got the win when Griffin Dorsey's shot on the right side of the field from 25 yards slipped past USD's Olsen in the 100th minute. Olsen had four saves in a game where Indiana had 15 shots, though only five on target. USD's offensive play was better with nine recorded shots, four on goal. Miguel Berry, McGrath, Djordje, Henry Lander, Patric Krall and Reuben Dass were each credited with shots and McGrath (2), Krall and Berry with shots on goal.
The Toreros will apply what they learned into Friday's 8:30 p.m. home opener against UC Santa Barbara at Torero Stadium.
Defense-Minded Women's Soccer Still Seeking First Win
First-year USD women's soccer head coach Louise Lieberman is still looking for her first regular-season win and goal, but she's mainly seen her defense step up in season-opening losses to Virginia Tech (1-0 loss in double overtime) on Aug. 18, Texas A&M (2-0) on Aug. 20 and then this past Sunday, a 1-0 home loss to Texas Tech in which the Red Raiders didn't score until the 86th minute.
Toreros goalkeeper Amber Michel and the defense in front of her have been busy so far this season. Sunday's game was the latest example. Texas Tech generated 20 shots with Michel making five saves and her defense blocking six shots.
Texas Tech's Kirsten Davis scored the game's lone goal off a pass by Gwennie Puente.
USD's offense was led by Summer Mason's four shots, and Mina Ghazizadeh sent in a dangerous cross into the goal box that had to be cleared off the goal line by Texas Tech defenders three minutes after the game's lone goal.
USD (0-3) will seek its first win when it plays at San Diego State in a 7 p.m. game Friday and again on Sunday, at home, against University of Denver at 1:30 p.m.
Cross-Country Teams Open Season at Covert Classic
The men and women's cross-country teams open their 2017 meet season this Saturday at the Mark Covert Classic, hosted by California State University, Fullerton, at Brea's Carbon Canyon Regional Park. The men's eight-kilometer race is scheduled for 8:30 a.m., followed by the women's 5K at 9:15 a.m.
Keep up with all USD Athletics news, scores and info by visiting the website and following the Toreros on social media: Facebook, Twitter and Instagram.