Torero Athletics: New Coach, Season for Women's Soccer; New Women's Rowing Coach Hired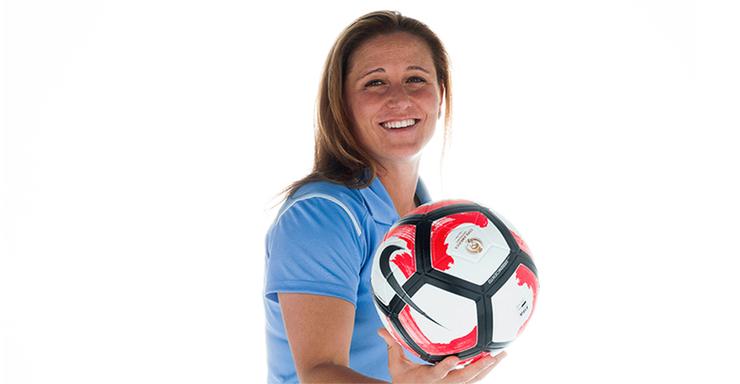 The 2017-18 University of San Diego athletics season commences this Friday as the women's soccer team plays a 7 p.m. home game against Virginia Tech at Torero Stadium. Just as it will be the first official game of the year for the student-athletes, Friday will also be the introduction to Louise Lieberman, USD's new head coach, to Torero fans.
"I'm thrilled for the opportunity I have here," Lieberman said. "I'm honored to be part of this incredible university."
Lieberman, who was named the fourth head coach in USD women's soccer program history in January, brings a wealth of soccer experience and knowledge to San Diego. She was a four-year player at UCLA (78 games, 31 points, 2 Pac-10 Conference titles, 3 NCAA Tournament appearances) and came to USD following the last eight years as an assistant coach for her college alma mater, which won an NCAA national title in 2013. She's played professionally in the WUSA, has been an assistant coach at Cal Poly Pomona and has club soccer experience as director of coaching for the LA Rampage FC and coaching young teams within the Cal-South Olympic Development Program and working with the U.S. Soccer Under-18 National Team.
"We've hired a really special leader in Louise Lieberman," stated Bill McGillis, associate vice president and executive director of athletics, when she was hired. "Her warm and dynamic personality, brilliant soccer mind, outstanding pedigree as a player and assistant coach in one of the nation's elite programs at UCLA and her Southern California roots make Lou a terrific match for the University of San Diego. Lou has coached for, and been mentored by, three of the best coaches in the world over the last eight years at UCLA, including U.S. Women's National Team Head Coach Jill Ellis, U.S. U-17 National Team Head Coach BJ Snow, and current Bruin Head Coach Amanda Cromwell. I believe that experience, coupled with a deep passion for providing a positive student-athlete experience, will result in championship success for the women in our program on and off the playing field."
Lieberman has spent the first several months getting Torero players onboard, building team unity and they'll be working to build onto that foundation as the season progresses.
This weekend are the first opportunities to see where the Toreros stand. Following Friday's game against Virginia Tech, USD hosts Texas A&M in a 1:30 p.m. match on Sunday, Aug. 20. The team has four home games in August, including an exhibition Aug. 25 against UC San Diego.
USD's roster has many first-year college players, but there are four seniors, six juniors and five sophomores who will contribute. Some of the notable players Lieberman is looking to includes senior defender Tara Meier, senior midfielder Ally Ocon, junior forward-midfielder Summer Mason, freshman midfielder Mina Ghazizadeh and redshirt sophomore goalkeeper Amber Michel.
Men's Soccer Wins Exhibition vs. UC Riverside
A goal in the 88th minute by Allen Luhrs propelled USD to a 2-1 exhibition game victory against UC Riverside on Aug. 12 at Torero Stadium.
With the score knotted at 1-1, USD pressed forward and sent a cross into the penalty box from the left side of the field. Ernesto Truqui was waiting in the center of the box but let the cross run between his legs, drawing two defenders to his spot. The crafty play left Luhrs wide open on the right side of the box. He took a touch with his right foot then buried a left-footed strike to the top left corner of the goal for the deciding tally.
The Toreros looked sharp from the start and maintained a majority of the possession throughout the contest. It was a team effort for USD, which utilized 22 players throughout the match.
"It was a good start," said USD Coach Seamus McFadden. "We played the first group in the first half and they played well. Then we had the second group in the second half and they did well, were resilient and got the win. I like our group right now."
Thomas Olsen made one save in goal for the Toreros, while Connor Hountalas entered the game in the second half and had two stops.
The Toreros broke through in the 58th minute. Jake Hughes flicked on a header into the center of the box from a throw in that found the foot of George West. West put a solid touch on his shot that found the back of the net to give USD a 1-0 lead.
UC Riverside responded in the 83rd minute when Saul Reyes capitalized on a loose ball near the top of the Toreros' box to tie it.
The Toreros host Point Loma Nazarene in a 7 p.m. exhibition game this Thursday at Torero Stadium before starting the regular season with two road games in Indiana later this month.
Olympian Sarah Trowbridge Named Women's Rowing Head Coach
Sarah Trowbridge, a 2012 U.S. Olympian, has been named head coach for the women's rowing program at USD, it was announced today by Bill McGillis, Associate Vice President and Executive Director of Athletics. Trowbridge replaces Kim Cupini who recently accepted the head coach position at Southern Methodist University.
Trowbridge comes to San Diego with an outstanding resume filled with both international coaching experience and elite rowing experience on the U.S. national team. She most recently was with Vesper Boat Club in Philadelphia, Pa., where she was head coach of the high-performance rowing program that includes six 2017 World Championship athletes and 20 elite rowers. Sarah's experience — both as a club rower and as an athlete at the U.S. Rowing Training Center — will provide invaluable insights in directing USD's student-athletes to continued success.
"I am very pleased that Sarah Trowbridge has joined the Torero family as our head women's rowing doach," stated Bill McGillis. "She brings an incredible profile with elite coaching experience at the collegiate, national and international levels, and the personal pedigree of a world-class rower and Olympian. More importantly, Sarah brings to USD a value system that aligns with our university and the fierce determination, unbridled optimism and positive, inspirational leadership that we are seeking to provide the student-athletes in our women's rowing program. She will be an outstanding role model for the women in our program, and, I believe, she will facilitate an amazing student-athlete experience for each of them."
Read more about Trowbridge by clicking here.
Football Scrimmage Saturday is Open to the Public
Torero fans can get a sneak preview of the 2017 USD football team this Saturday, Aug.19, when the squad lines up for a scrimmage at Torero Stadium at noon. The scrimmage is free to the public. There will be a tailgate brunch beginning at 11 a.m. and USD Coach Dale Lindsey will address the group at 11:30 a.m.
There will also be a bounce house for kids and a post-scrimmage autograph signing session on the field with the players. For more information, please contact the USD Athletics Development office at (619) 260-5917 or email athleticsdevelopment@sandiego.edu. Please Click here to register for tailgate brunch and football scrimmage.
Volleyball Ranked 22nd in AVCA Coaches Preseason Poll
The USD volleyball team debuted at No. 22 in the AVCA Coaches Preseason Top 25 Poll. The Toreros went 24-6 in 2016 and were ranked as high as No. 5.
Six opponents from the Toreros' 2017 schedule also appeared in the preseason poll, including No. 1 Texas, the 2016 national runner-up, who USD will host Sept. 2 at 7:30 p.m. Other 2017 opponents in the rankings include: No. 10 BYU, No. 13 UCLA, No. 19 Missouri, No. 20 Hawaii and No. 23 Utah.
The Toreros lost three starters from last year's team, including WCC Player of the Year and All-American Lisa Kramer, but return Kristen Gengenbacher and Lauren Fuller, who both were selected to the U.S. National Collegiate Team over the summer. In all, USD returns 13 letterwinners from the 2016 team, who finished the season with a No. 22 ranking.
The Toreros open their season in Hawaii for the Aug. 25-27 Texaco Rainbow Wahine Invitational. USD will play UCLA, Hawaii and Marquette.
USD Hires Harris, O'Rourke for Athletics Development Department Roles
The University of San Diego has hired Zach Harris and Meghan O'Rourke for positions within the athletics development department, it was announced Aug. 9 by Tyler Mariucci, senior associate athletics director for development.
Harris joins USD in the role of assistant athletics director for development, and former USD soccer standout O'Rourke '15 will be the department's assistant director of development. Both will serve all functions of the department. Harris will focus on higher end annual and major gifts, while O'Rourke will focus on annual fund programs, operations and events as well as managing a portfolio of annual and major gift donors.
"After a nationwide search, we are excited to welcome both Zach and Meghan to the USD athletics family," said Mariucci. "Both bring a unique set of skills and experiences to our development office, that I am confident will help move the fundraising needle forward. Zach's prior experience as a director of development at two universities, his engaging personality and track record of fundraising success make him a great asset for our team. Meghan's previous athletics development experience, service-oriented mindset, combined with being a decorated former USD student-athlete, will also serve as a tremendous asset to our team and donor base."
To learn more about Harris and O'Rourke, click here.
For all USD Athletics news, scores and information, visit the website and follow USD Athletics on social media: Facebook, Twitter and Instagram.