USD Football Coaches Host Camps June 10; Former Coach Harbaugh to Assist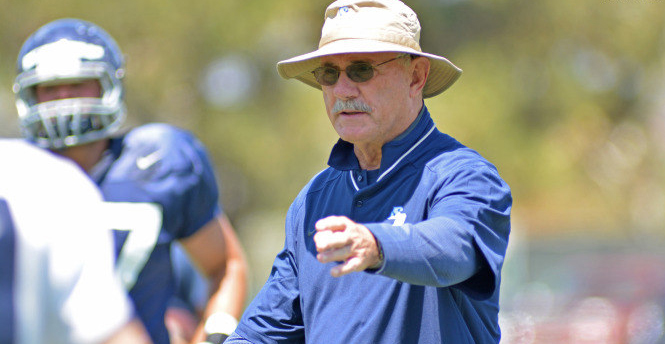 University of San Diego head football coach Dale Lindsey and his staff will host a High School Big Man Camp and Developmental Camp this coming Saturday, June 10, on the USD campus.
The Toreros are coming off a 10-2 season that included a Pioneer Football League championship, a playoff win over Cal Poly and a final national ranking of 19th in the country among FCS programs.
Also on hand to help at the camp will be former Torero head coach and current Michigan head coach Jim Harbaugh. Additionally, staff members from Michigan, BYU, Nevada, Fresno State, University of Redlands and Ottawa University (AZ) will be on hand.
The Big Man Football Camp will be held on the Valley Field and focus on the development of offensive and defensive lineman. Campers will be taught the fundamentals for the position and how to utilize such skills in competitive situations. There will be agility stations, individual drills, and 1-on-1 run block and pass rush drills. Helmets and shoulder pads are required for Big Man Camp, but USD does not rent equipment.
The High School Football Developmental Camp is a one-day camp that will have a morning and afternoon session focusing on position-specific fundamentals, along with various competitive drills. It will be held at Manchester Field behind Fowler Park. There will be agility stations, individual drills, 1-on-1 drills and a fastest man competition. Participants should wear cleats, shorts and t-shirt.
Both camps are for players in grades 9-12 (Fall 2017 grade year), cost is $50 advance registration and $60 day of. Walk-up campers must have a completed medical and liability form signed by parent or legal guardian in order to participate.
Camp features include coaching by USD Coach Dale Lindsey and the Torero football coaching staff; practice/games on the USD campus; a camp ratio of one coach to every 10 participants; football fundamentals taught and developed; and lifelong skills (i.e. teamwork, accountability) emphasized.
For registration and itinerary go to www.usdcamps.com