McNair Scholars Cohort Graduates Toward a Successful Future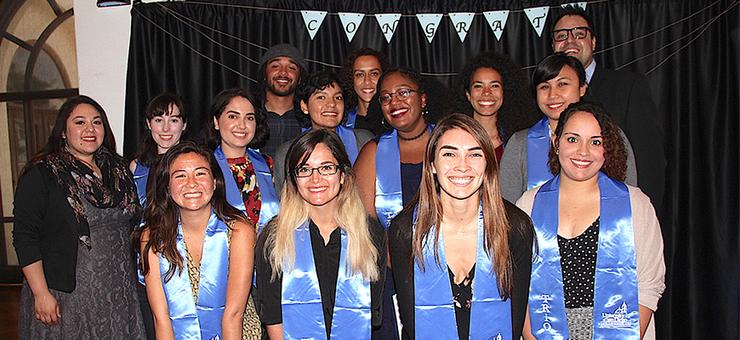 Jessica Noe distinctly remembers when she first learned about USD's Ronald E. McNair Scholars program. It was a day that completely changed the outlook on her future.
University of San Diego Student Support Services Academic Coordinator Diana Velazquez met with her at the end of Noe's junior year to discuss goals. "I told her, 'I don't know, but I don't feel done. I'm not ready to stop learning,'" Noe recalled.
Velazquez asked if Noe had considered graduate school as a next step. "I haven't," she replied. "That's when she told me about McNair, the opportunities it would afford me and that I was eligible to do it. I started working on it right away."
Noe, who will receive an undergraduate degree in Communication Studies at the May 28 College of Arts and Sciences Commencement, will begin a fully funded Communications PhD program at the University of North Carolina-Chapel Hill this fall.
"It all happened really fast, going from finding out what McNair was in a meeting because I didn't know what I wanted to do with my life, to being in McNair and seeing all of the these pieces that had worked the last three years start to knit together," Noe said. "I know I would not be pursuing graduate school and would not have been accepted for graduate school at Chapel Hill without McNair Scholars. I wouldn't have known where to start."
Eleven McNair Scholars Head to PhD, Master's Programs
Noe is one of 11 McNair Scholars in USD's Class of 2017 who will continue their educational journey at graduate schools throughout the nation this fall. Ten are receiving full funding to enter PhD programs. Chelsea McLin will pursue a master's in English Literature at the University of Maryland.
The 2017 USD McNair Scholars cohort is quite an impactful group. Kyle Proctor, just last week, became the 10th PhD acceptance. He will enter a Water Resource Engineering program at Oregon State to work on developing water treatment methods using phytoplankton to help underprivileged people. Jane Henderson, attending University of California at Berkeley's Geography PhD program, recently received a prestigious National Science Foundation Graduate Research Fellowship Award. Student-athlete Olivia Gonzalez, who is headed to USC's PhD program in Communications, recently served as the USD President for a Day, switching places with USD President James T. Harris.
The remaining PhD-bound scholars are: Joylene Aguirre (Mechanical Engineering, University of Washington), Briana Capuchino (Industrial and Organizational Psychology, Texas A&M), Chyna Gray (Molecular Biology, Cell Biology and Biochemistry, Brown University), Micaella Jorge (Chemistry, Vanderbilt), Jessica Ruiz (Clinical Psychology, University of Central Florida) and Ciera Villegas (Environmental Sciences, Oregon State).
Significance of the McNair Program
The TRiO Ronald E. McNair Post-Baccalaureate Achievement Program, named in honor of the late NASA astronaut, is open to college juniors and seniors from disadvantaged backgrounds who demonstrate strong academic potential. The goal is to increase the attainment of PhD degrees by students from underrepresented segments of society.
The program, which was first proposed in 2003 by USD's Dr. Cynthia Villis, Assistant Provost, Institute of College Initiatives and TRiO, is funded by the U.S. Department of Education. USD's McNair Scholars Program is currently run by Ramiro Frausto.
"Since (2003), USD McNair developed through the leadership of three directors and two subsequent competitions to bring us to USD McNair in 2017 and its substantial achievements," Villis said. "In April, we uploaded the most recent proposal for USD McNair, which — if funded — will continue our program and its achievements through to 2022."
Recently, the national McNair Program has been considered as a potential casualty in President Trump's proposed education budget.
"The current political climate is targeting McNair for elimination as a program that "has never worked," with at best "a six percent success rate," Villis recalled from recent reports. "But McNair leadership nationally, just like Ramiro and me, know that #TRiOworks and #McNairworks and we welcome the support of those who have also experienced its value."
Strong Student Commitment
This is USD's 13th graduating class and it will raise USD McNair's alumni total to 174. So far, 73 graduate degrees have been earned, 61 percent have either earned a graduate degree or are currently in graduate school, and 23 percent have earned a PhD within 10 years.
The value of the program, past and present, has clearly been demonstrated by USD participants.
"It's their high-level commitment," said Frausto when asked what he admires most about his 2017 graduates. "It can be scary to put yourself out there and say I'm applying to a PhD program. It's scary to say this is the next step when for so many of our students, getting an undergraduate degree is an amazing accomplishment on its own. They are the first to do it, the first to blaze the trail."
The biggest value of McNair stems from the amount of research training and scholarly experiences that students are exposed to each year. At USD, they're eligible to participate in the McNair Summer Research Program. As summer research interns, they conduct an eight-to-10-week research project in collaboration with faculty mentors, attend a graduate school boot camp in San Jose to learn all of the ins and outs about the graduate school application process, produce a scholarly essay on their research, and present their work at two academic conferences.
Confident Students Via Research Experiences, Faculty Mentors
Noe enjoyed her research and collaboration with USD faculty mentor Communication Studies Assistant Professor Dr. Antonieta Mercado. Noe's research "The Whistling Bull: A Narrative Exploration of the Experience of Indigenous Migrants in a Globalized World," was presented at the 2016 UC San Diego Summer Conference and 2016 SACNAS Conference in Long Beach, Calif.
"Actually doing research was something I didn't think I'd get to do as an undergrad. It's not that common at larger schools and that was my only perception of what research would be. But leading a research project, doing research with a faculty mentor, presenting it at conferences and using it as a stepping stone to graduate school was unprecedented," Noe said.
Each McNair Scholar had a faculty mentor: Mechanical Engineering's Frank Jacobitz (Aguirre), Psychological Sciences' Stephen Pearlberg (Capuchino and Ruiz), Environment and Ocean Sciences' Ron Kaufmann (Cristina Clark), Biology's Hugh Ellis (Gray), Communication Studies' Susannah Stern (Gonzalez), Ethnic Studies' Jesse Mills (Henderson), Chemistry and Biochemistry's Joan Schellinger (Jorge), Business Economics' Lawrence Chisesi (Mary Ann Lee), English's Carlton Floyd (McLin), Caster Family Center for Nonprofit and Philanthropic Research Director Mary Jo Schumann (David Oken), and Environmental and Ocean Sciences' Jennifer Prairie (Proctor and Villegas).
"That's what makes us unique," Frausto said. "A lot of sister (McNair) programs are at tier one research institutions. Because USD is a student-focused university, there's an opportunity for students to get closer to professors early on and gain exposure to research opportunities whereas at other institutions, you have to hustle to find it. Here we recruit professors and they have students do the research."
Giving McNair Scholars resources to build their self-confidence, gain experience and develop a pathway to success, it's no wonder Frausto, a San Diego State McNair alumnus, enjoys what he does. As McNair alumni numbers increase at USD, he hopes to build an alumni mentor program for future participants. They bring credibility and, combined with faculty mentor input, can vouch that the program works, just like Noe and her fellow graduates have learned and valued while at USD.
"(Our success) speaks to our students understanding that if 'I do this, if I follow these steps, I'm going to be successful,'" Frausto said.
Noe has referred fellow students she knows who are contemplating their future to speak with Frausto about applying to the program.
"My advice to them is to set up an appointment and just talk to Ramiro. He'll help you find what you want. If what you want is to attend graduate school, McNair will make it happen."
— Ryan T. Blystone
Homepage photo by Chris Keeney; McNair Scholars Video by Yajaira Nuñez; Group photo by Ryan T. Blystone