JVC-Bound Mary Beth Putz '17 Grateful for USD Experiences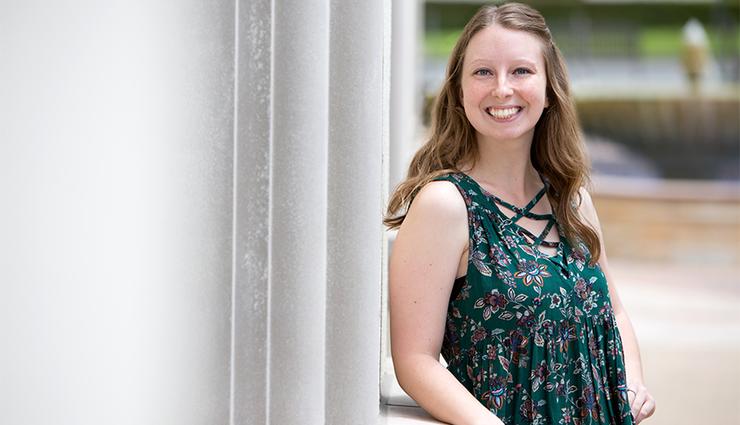 When Mary Beth Putz '17 looks back on her time at the University of San Diego, there is one word that comes to mind: "grateful." With a major in behavioral neuroscience, minors in Spanish and chemistry and plans to attend medical school to become a doctor, Mary Beth's time at USD has been marked by academic excellence. As an exceptional high school student, it's not surprising that she was asked to join the Honors Program as a freshman, but Mary Beth's gratitude for USD stems from more than academics.
"To be able to take the academic side, which has always been super strong, and combine it with these new social justice aspects [at the University of San Diego] has been the greatest blessing. I'm so grateful for that," she explains.
Even though she didn't know it at the time, Mary Beth's journey into social activism began at University Ministry's Pre-Orientation Retreat in 2013. But it wasn't until she applied to lead the retreat during her second year that Mary Beth truly found her calling in social justice activism. After leading the initial program, she began to lead trips to Tijuana, Mexico through University Ministry.
"We visit the Mission across the border and then spend time with residents at an HIV clinic. We also go to a migrant home and spend time with the residents there. The idea is solidarity. It's about recognizing that we are not that different than our neighbors."
The trips across the border eventually led her to sign up for another trip through University Ministry, this time to El Salvador. During an Intersession break, Mary Beth served as a student leader for a trip to the South American country.
She explains, "I kind of define my life as before El Salvador and after...While I was there, I realized that medicine doesn't have to just be a job. It can be a vocation. I also made the decision to sign up for the Jesuit Volunteer Corps (JVC)."
After hearing her University Ministry mentors and older peers talk about their time in the JVC for years, Mary Beth finally decided to take the plunge and sign up herself.
Starting August 13, Mary Beth will embark on a gap year with the Jesuit Volunteer Corps in Albuquerque, N.M. She will be stationed at Casa de Salud, a health care center for uninsured and undocumented people who need medical help.
With plans to enter medical school after her gap year, Mary Beth is looking forward to seeing how medicine can be used as a tool to help underserved populations.
"I came into college as an undeclared biology major because I had an interest in social justice — the macro-level issues. Medicine is the culmination of all these different interests."
One of the aspects Mary Beth is most looking forward to during her time in the JVC is similar to what she loved most about being a student at USD: a commitment to community. With four defining values — spirituality, simple living, community, social justice — the Jesuit Volunteer Corps is committed to the development of the whole person.
"A lot of University Ministry staff and students have gone through JVC and hearing about their experiences has inspired me. I'm looking forward to having a community to go home to, at JVC and at USD."
As Mary Beth prepares to end one chapter and embark on another, she returns to her theme of gratitude.
"I feel like this all has been God's plan. I don't really want to leave, but I'm also excited to go on. It's exciting to think about how the next year will change me. The past four years here have been more than I ever imagined."
— Taylor Milam
Photos by Chris Keeney; Video by Gary Payne