USD to Honor 10 Extraordinary Torero Alumni April 22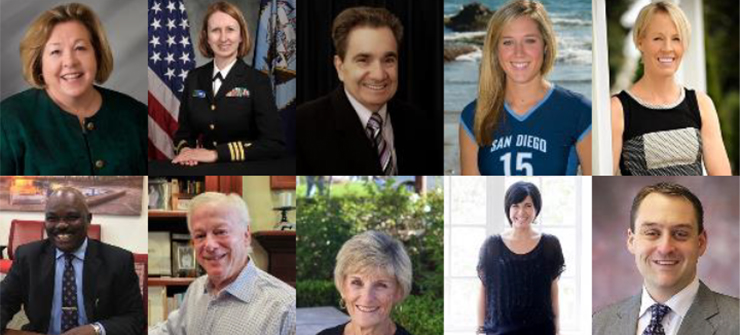 The University of San Diego will honor 10 extraordinary Torero alumni representing five separate decades when its annual Alumni Honors celebration takes place on the evening of Saturday, April 22 at the Joan B. Kroc Institute for Peace and Justice.
Recipients of the Mother Rosalie Clifton Hill Award and the Bishop Charles Francis Buddy Award, the Author E. Hughes Career Achievement Awards, Alumni Emerging Leader Awards and the newest inductee into the Chet and Marguerite Pagni Family Athletic Hall of Fame will be feted at a ceremony beginning at 6 p.m. A starlit soiree will commence at 7:30 p.m. with tantalizing fare from an array of food stations as well as live music.
This year's special honorees are Shannon Smith '86 (BA, BBA), a correspondent account executive with Pacific Union Financial, LLC, who is receiving the Mother Hill Award; A. Barry La Forgia '76 (JD), founder and executive director of International Relief Teams, is the Bishop Buddy Award recipient; and Ali Troost '11 (BA), a standout member of USD's women's volleyball program from 2007-10, will be inducted into the Pagni Family Athletic Hall of Fame.
The Author E. Hughes Career Achievement Awards will be bestowed to School of Business alumna Michele L. Moore '85 (BBA), who is the co-founder and former chief financial officer for Zemax LLC; CAPT (sel.) Heather C. King '13 (PhD), regional director for nursing research at Navy Medicine West Region, is the Hahn School of Nursing and Health Science celebrant; the Kroc School recipient is Honorable Roosevelt Z. Willie, BSc, LLB, '11 (MA), who is a judge in Criminal Court 'A' in Montserrado County, Liberia and president of the National Association of Trial Judges of Liberia; Michael Kaplan '72 (JD), co-owner of ARKA Properties Group, Inc., is the School of Law honoree; and retired educator Marsha McDonald '86 (MA), is the School of Leadership and Education Sciences recipient.
Two Alumni Emerging Leader Awards will be presented: Julie Chavez '94 (BA), founder of Chavez for Charity, is the College of Arts and Sciences honoree. The Shiley-Marcos School of Engineering's honoree is Matthew E. Craig '03 (BS/BA, Industrial and Systems Engineering), who is regional vice president, eastern region, for Meijer, Inc.
Tickets to attend Alumni Honors are $75 per person and $55 for young USD alumni who graduated between 2006 and 2016. Register now to attend or, for more information, please visit the Alumni Honors website.
Two Alumni Honorees Speak April 21
On April 21, the day before Alumni Honors, both emerging leader award winners will be speaking to students in separate events.
Matthew Craig will share his insights on how the engineering design process is key to leadership in any field from 12:15 to 1:30 p.m. in Loma Hall's Cymer Ideation Space. Pizza and drinks will be provided.
Chavez will meet with students from 2 to 3:30 p.m. in the Kroc Institute for Peace and Justice's Conference Room D. She will talk about her path from an interest in becoming an elementary school teacher to founding one of the most successful jewelry lines in the world. The first 40 students who attend Friday's talk will receive a Chavez for Charity bracelet.
— Ryan T. Blystone